We promise not to reduce the quality of service due to small quantities, and to provide customers with the best quality Nicotinamide Mononucleotide anti aging, s-adenosyl-l-methionine disulfate tosylate solubility, a glutathione tripeptide and services is our mission! Facing the complicated competitive environment, in order to compete for market share, price has become the most direct means of competition. By building an open innovative R&D system, the company focuses on product processing and can only build a manufacturing platform.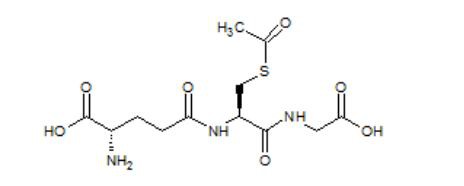 Product Name: S-Acetyl-L-Glutathione
Synonyms: S-ACETYL-L-GLUTATHIONE;S-acetylglutathione;Glutathione-S-acetate;S-Acetylglutamylcysteinylglycine;S-acetyl-L-gultathione;S-acetyl-L-gultathione;S-Acetylglutamylcysteinylglycine;Glutathione-S-acetate;L-γGlu-S-Ac-L-Cys-Gly-OH;γGlu-S-Acetyl-L-Cys-Gly-OH
CAS: 3054-47-5
MF: C12H19N3O7S
MW: 349.36016
EINECS: 221-275-5
S-acetyl-l-glutathione werking is a acetylated form of glutathione. This form is well-absorbed and more stable throughout the digestive tract than other forms on the market.
Glutathione is known as the master antioxidant and highly active in human lungs and many other organ systems and tissues. It has many reported uses. It has a critical role in protecting cells fromoxidative stress and maintaining the immune system. Higher blood levels of glutathione have been associated with better health.
Function:
a.Daily nutraceuticals & Dietary supplement --(food /cosmetic grade)
1) Anti-aging, antioxidant, maintain skin vigor and luster.
2) Whitening skin: restraining the melanin
3) Improve immunity: enhance immune cells function effectively prevent viruses.
b.Drug treatment and prevention--(pharmaceutical grade)
1) Protect liver: prevention & treatment of liver diseases.s-acetyl-l-glutathione dosage
2) Detoxification: drugs and other kinds of poisoning auxiliary treatments,helpful for excreting toxins.
3) Prevention and treatment of eye diseases.
4) Auxiliary treatment of diabetes.
Company Information
SHENZHEN GSH BIO-TECHNOLOGY CO.,LTD. was established in 2013 and is located in Shenzhen. It is an innovative high-tech enterprise with the core of enzyme catalysis technology in the field of synthetic biology and the interdisciplinary application of multidisciplinary technology.
The company's R&D center is located in Beijing, and the two major production bases are located in Anhui and Jilin. The factory is designed and constructed in accordance with GMP requirements, and production and operation comply with EUGMP requirements.
We always adhere to our faith, deliver high-quality and high-value Horizontal Disc Type Bead Mill, Sand Mill for API for each customer, focus on the customer's glory and achievements and continue to provide customers with value-added services. We steadfastly believe that outstanding employees are the company's greatest wealth and also our core competitiveness, thus we always respect everyone. We are looking forward to cooperating with you and providing our best services for you.