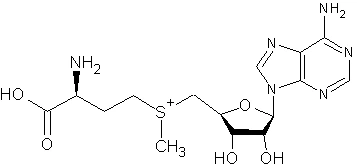 High quality S-Adenosyl-L-methionine disulfate tosylate 97540-22-2
| | |
| --- | --- |
| Cas | 97540-22-2 |
| Name | s-adenosyl l-methionine disulfate tosylate tablets |
| Appearance | White powder |
| Application | API |
Specification:
| | |
| --- | --- |
| Name | S-Adenosyl-L-methionine Disulfate Tosylate CAS 97540-22-2 |
| CAS NO. | 97540-22-2 |
| Molecular Formula | C22H34N6O16S4 |
| Molecular Weight | 766.78 g/mol |
Chemical and Physical Properties

Appearance

White to off-white Powder

Quality standard

USP,Enterprise standard
Application

Drug Indication

Use of SAMe for the treatment of depression in adults should be investigated further. Be useful to treat various liver diseases.

Formulations/Preparations

Soluble tablets
Handling and storage

Handling and storage

Keep container tightly closed in a dry and well-ventilated place. Light sensitive. This material is extremely easy to absorb moisture, keep container tightly closed, protect from light. Recommend storage temperature 2-8 ℃.

Suggestion

Operating environment (including sampling) temperature 18-26 ℃, relative humidity not more than 30%, once open packing, please use all material one time at short time.

Sample package

Aluminium foil bag

Commercial package

Fiber drum

UN Code

Not classfied

HS Code

2934999090.00

Shipping group

Shipment at ambient temperature for no controlled and no dangerous goods

Sales restriction

NO

Origin

China
Function
1.S-Adenosyl-L-methionine (SAMe) is a coenzyme involved in methyl group transfers. It is made from Adenosine Triphosphate (ATP) and methionine by methionine adenosyltransferase (EC 2.5.1.6). Transmethylation, transsulfuration, and aminopropylation are the metabolic pathways that use SAMe. Although these anabolic reactions occur throughout the body, most SAMe is produced and consumed in the liver.
2.The methyl group (CH3) attached to the methionine sulfur atom in SAMe is chemically reactive. This allows donation of this group to an acceptor substrate in transmethylation reactions. More than 40 metabolic reactions involve the transfer of a methyl group from SAMe to various substrates such as nucleic acids, proteins, and lipids.
3.In bacteria, SAMe is bound by the SAMe riboswitch, which regulates genes involved in methionine or cysteine biosynthesis.
4.Another major role of S-Adenosylmethionine is in polyamine biosynthesis. Here, SAMe is decarboxylated by adenosylmethionine decarboxylase (EC 4.1.1.50) to form S-adenosyl-5'-3-methylpropylamine. This compound then donates its n-propylamine group in the biosynthesis of polyamines such as spermidine and spermine from putrescine.
5.TGY Provide S-Adenosylmethionine is required for cellular growth and repair. It is also involved in the biosynthesis of several hormones and neurotransmitters that affect mood, such as dopamine and serotonin. Methyltransferases are also responsible for the addition of methyl groups to the 2' hydroxyls of the first and second nucleotides next to the 5' cap in messenger RNA.
6.In the United States, S-Adenosylmethionine is sold as a nutritional supplement under the marketing name SAMe-e (also spelled SAMe or SAMee). Some research has indicated that taking SAMe on a regular basis help fight depression, liver disease, and the pain of osteoarthritis. Multiple clinical trials indicate benefits for depression, some liver conditions and osteoarthritis. All other indications are not yet proven.
1.SAMe is a good nutrition for the liver,can prevent alcohol, drugs and the liver-cell injury;
2.SAMe has remarkable preventive effects on chronic active hepatitis, and other factors caused liver injury,heart disease, cancer and so on.
3.SAMe has been found to be as effective as pharmaceutical treatments for arthritis and major depression as well.
Packing and transportation
According to conventional packaging or Customized.