We focus on the field of Nicotinamide Mononucleotide gras, glutathione reduced jarrow, Skin Whitening S-Acetyl-L-Glutathione manufacturing, focus on high-end independent brands, and insist on a combination of independent innovation and cooperation. Our advanced technology products are quickly and well recognized by consumers, and we feel value for money in use, that is, we quickly turn the technical advantage into the market competitive advantage. Over the years, we have conscientiously fulfilled our economic, political and social responsibilities as an enterprise and adhered to our mission of development.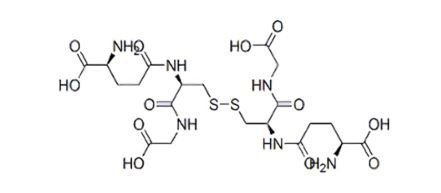 GSSG is obtained by oxidizing the GSH rich in yesat by microbial fermentation, and then separated and purified by modern technology. It is widely present in organisms and mainly plays a role of redox electron transfer. It can protect red blood cells from oxidative damage and keep the hemoglobin in cysteine in a reduced state.oxidized glutathione assay can reach 98%.
Function
1. Anti-aging
2. Skin whitening
3. Medicine
Application
Cosmetics
Ultraviolet rays can penetrate collagen, destroy the dermis, and cause premature skin aging. Glutathione powder is a powerful antioxidant that protects collagen fibers from free radical damage, thereby protecting the elasticity of the skin.
Exposure to ultraviolet light will increase the number of melanocytes, resulting in hyperpigmentation and darkening of the skin. Oxidized glutathione powder can reduce the production of melanin by limiting the activity of tyrosinase and changing the synthesized Eumelanin.
Medicine
Protect the -SH group in the enzyme molecule, exert the activity of the enzyme, restore the activity function of the -SH group in the lyase molecule, restore the activity of the enzyme, and inhibit the invasion of ethanol, protect the liver, and reduce fatty liver. It can also be combined with toxic compounds, heavy metal ions or carcinogens entering the human body to promote its excretion and neutralize detoxification
Product Properties-oxidized glutathione antioxidant
CAS No.: 27025-41-8
Formula: C20H32N6O12S2
Appearance: White powder
Heavy metals: Not more than 10ppm
Purity ( HPLC ): 98.0% ~ 100.0%
Loss on drying: Not more than 0.5%
FAQ
Q: What's your term of the delivery?
A: Our ordinary delivery term is FOB China. We also accept CIP, CFR, CIF, DDP, DDU etc. We'll offer you the shipping charges and you can choose the one which is the most convenient and effective for you.
Q: Which shipping way can you provide?
A: We can provide shipping by sea, by air and by express.
Q: What's your after-sale service?
A: Our quality warranty period is one year. Any quality problem will be solved to customer satisfactions.