L-Glutathione powder Oxidized is a ubiquitous antioxidant involved in many cellular functions such as detoxification, amino acids transport, production of coenzymes and recycling of vitamins E and C. By serving as a critical nucleophilic scavenger, glutathione blocks free radical damage to all types of tissues. Reduction of glutathione (G-SH) of lipid peroxides can restore hydroxy compounds itself into oxidized glutathione (GSSG).glutathione reduced adalah,glutathione reduced absorption.
Fuction
1) Anti-aging, antioxidant, maintain skin vigor and luster.
2) Whitening skin: restraining the melanin
3) Improve immunity: enhance immune cells function effectively prevent viruses.
b.Drug treatment and prevention--(pharmaceutical grade)
1) Protect liver: prevention & treatment of liver diseases.
2) Detoxification: drugs and other kinds of poisoning auxiliary treatments,helpful for excreting toxins.
3) Prevention and treatment of eye diseases.
4) Auxiliary treatment of diabetes.
Product Properties
CAS No.: 70-18-8
Formula: C10H17N3O6S
Appearance: White or almost white powder
Solubility: Freely soluble in water; very slightly soluble in alcohol and in dichloromethane
Specific optical rotation: −15.5° to −17.5°
Melting point: 187 ~ 195 °C
Purity ( HPLC ): 98.0% ~ 101.0%
Loss on drying: Not more than 0.5%
Packing
According to conventional packaging or Customized.
Product Line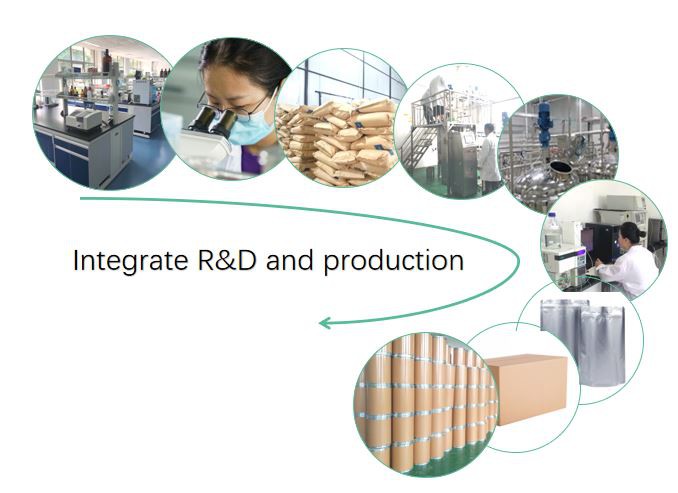 We implement strict management and control throughout the entire process from research and development, procurement of raw materials, production and input, to final product testing, packaging, delivery, and transportation. The entire production supply chain is traceable.
R & D Center
The company's R&D headquarters is located in Beijing Fengtai Science and Technology Park, with complete molecular biology, synthetic biology and fermentation laboratories. The R&D team is composed of well-known domestic universities and personnel studying in the United States and Germany, with a bachelor degree of 100%.
FAQ
Q: Inspection?
A:We will provide test samples for check quality of products, before the shipping.
Q: Producing?
A:Full-time inspectors through check the operator self-inspection, and review and sign in the corresponding record. Full-time inspection is responsible for inspection of finished product, and make the finished product incoming inspection records.