We are committed to looking for talents with innovative ideas, courage to practice, and willing to fight for the development of NMN vitamin, Raw Material SAMe, Nicotinamide Mononucleotide hplc industry. In the company's development process, we rely on leading technology and continue to develop new products based on market demand. The scientific design of enterprise salary system can play a significant role in stimulating and promoting, and has a positive impact on improving enterprise performance. Our strong and professional R&D team and advanced and perfect sales and service concept make our products have a high reputation and market share at home and abroad. Under the economic situation of the new era, our work is facing major tests of development, reform, and transformation.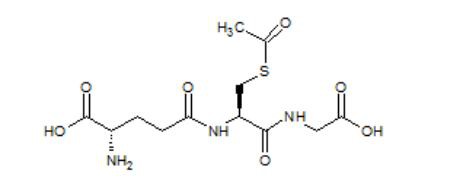 Product Description
Product Name

S-Acetyl-L-Glutathione bulk,s-acetyl-l-glutathione selfhacked

Product Form

White powder

Brand

Brand or your brand

Main Ingredient

S-acetyl Glutathione powder

Main Function


Skin Whitening

Anti-aging

Antioxidant

Storage

Sealed, keep in a cool and dry place, avoid directly sunshine

Shelflife

2 years

Packing


1kg/bag, 25kg/drum.

MOQ


1kg

Payment Method

T/T

Shipping Method

1.By Express,like TNT,DHL,FedEx,UPS,EMS
2.By air cargo
3.By sea

Delivery Time

Depends on your quantity and packing type, normally within 1 week.
Company information
The company is the pioneer of the global enzymatic catalyzed coupled ATP regeneration technology. It has a number of independent intellectual property rights. It has been granted 6 national invention patents and is under review. There are more than ten patents and two PCT patents.
The company's main products are L-Glutathione Reduced(GSH), Phosphocreatine (CP),
β-nicotinamide mononucleotide(NMN) and Adenosylmethionine (SAM) and other raw materials. The acid market share ranks among the top three in China, and the products are exported to Europe, America, South Korea, India and other parts of the world.
We continue to develop and produce trend-leading new products of Wholesale Bulk Price Food Grade Hyaluronic Acid Ha CAS 9004-61-9. We develop and produce products according to customers' requirements, and ensure that the whole process of product design, raw material procurement, manufacturing, inspection, packaging, protection and delivery, and after-sales service is under control. Our company has always followed closely the development trend of the industry, constantly upgrading technology, and maintaining the advanced technology, processing and testing equipment.
Hot Tags: sag powder, China, suppliers, manufacturers, factory, pricelist, quotation, free sample, made in China, glutathione reduced cas , nicotinamide mononucleotide gmp , glutathione booster , nicotinamide mononucleotide hplc assay , s-acetyl-l-glutathione reddit , skin whitening oxidized glutathione