Adenosine Triphosphate (ATP) is an unstable high-energy compound consisting of 1 molecule of adenine, 1 molecule of ribose and 3 molecules of phosphate groups. Adenosine triphosphate is formed by connecting adenine, ribose and three phosphate groups. It releases more energy when hydrolyzed, and is the most direct energy source in organisms.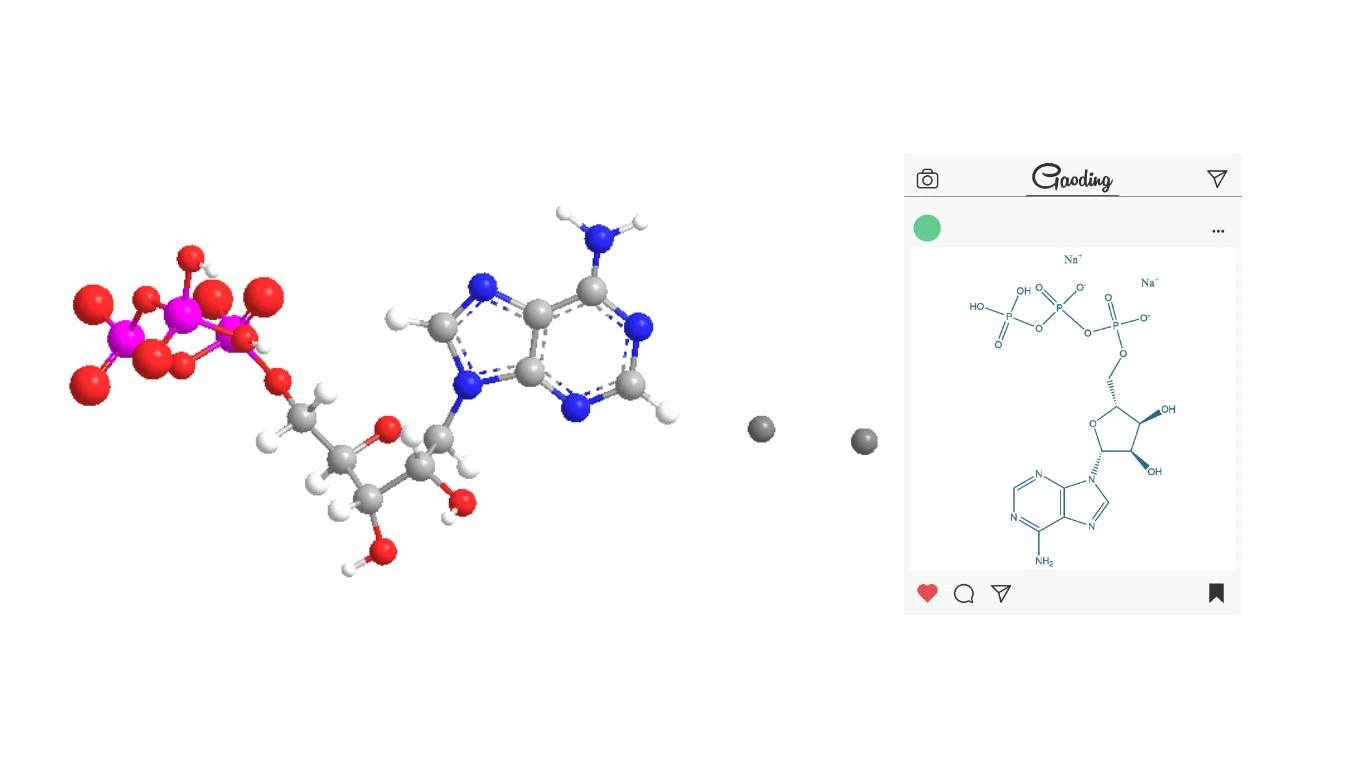 Adenosine Triphosphate Disodium(C10H14N5Na2O13P3)

CAS NO.

987-65-5

Appearance

White or almost white powder

Assay

C10H14N5Na2O13P3≥95%(on the dried basis)

Heavy metals

Not more than 10 ppm

Loss on drying

Not more than 8%

Application

Raw material、medicine

Shelf Life

18 months when properly stored.
What is ATP powder used for?
Adenosine triphosphate is safe and effective in the treatment of supraventricular tachycardia in children, and it is the first-line drug to terminate the attack of supraventricular tachycardia. In addition, adenosine triphosphate can improve the metabolism of the body, participate in the metabolism of fat, protein, sugar, nucleic acid and nucleotide in the body, and is suitable for diseases caused by the decline of cell enzymes after cell damage.

Why do athletes use ATP powder?
The way the body supplies energy during exercise can be divided into two categories: one is anaerobic energy supply, that is, in the case of anaerobic or relatively insufficient oxygen supply, it mainly relies on the decomposition of ATP and CP for energy supply and the anaerobic glycolysis of glycogen for energy supply (That is, glycogen is decomposed into lactic acid in the absence of oxygen and supplies energy to the body at the same time). The other type is aerobic energy supply, that is, the energy mainly comes from the aerobic oxidation of glycogen (fat, protein) during exercise. According to research, the physical strength of athletes is mainly reflected in the content of energy (namely ATP) and its conversion rate. Any movement of the body is caused by skeletal muscle contraction, and muscle contraction requires a lot of energy. The only direct energy for skeletal muscle movement is adenosine triphosphate (ATP). The stock and conversion ability of ATP determine the physical fitness of athletes. Studies have shown that exogenous supplementation of ATP supplements can improve the training performance of athletes.
About us
GSH BIO-TECH is an innovative high-tech enterprise with enzyme catalysis technology as the core, dedicated to the research, development, production and sales of biomedicine. The company adopts advanced production technology and quality inspection technology, and the product quality is excellent. Stable performance, won the trust of customers. We have been constantly developing and innovating to meet the needs of various customers. The products are exported to the United States, Europe, Japan, Australia and other places, and are widely used in medicine, health food, cosmetics, food supplements and beverages and other industries. The company's main products are glutathione (GSH), β-Nicotinamide Mononucleotide and Citicoline sodium (CDPC), Should you have interests in us, please don't hesitate to get in touch with us, we will be pleased to supply any further information you require.
Product Line

FAQ
Q: Are you trading company or manufacturer?
A: We are professional manufacturer specialized in active pharmaceutical ingredients products. And we trade our products with our clients directly.
Q: Can you do OEM and ODM?
A: Yes, OEM and ODM are both acceptable. The purity, mesh, packing can be customized, the basic quantity we will advise after we discuss.
Q: Can we use our own logo?
A: Yes, we can print your private logo according to your request.
Q: How many packaging do you have?
A: We have four packages including PE bag, Aluminum Foil Bag, drum, carton box currently depend on your order quantity.
Q: Can you do our own packaging?
A: Yes, you just provide the package design and we will produce what you want. We also have the professional designer can help you do the packaging design.