What is an ATP? Adenosine Triphosphate (ATP) is the direct source of energy required for all life activities of tissue cells in the body. It is known as the "molecular currency" of intracellular energy. It stores and transmits chemical energy and is required for the synthesis of proteins, fats, sugars and nucleotides Participation can promote the repair and regeneration of various cells in the body, enhance the metabolic activity of cells, and have strong pertinence for the treatment of various diseases.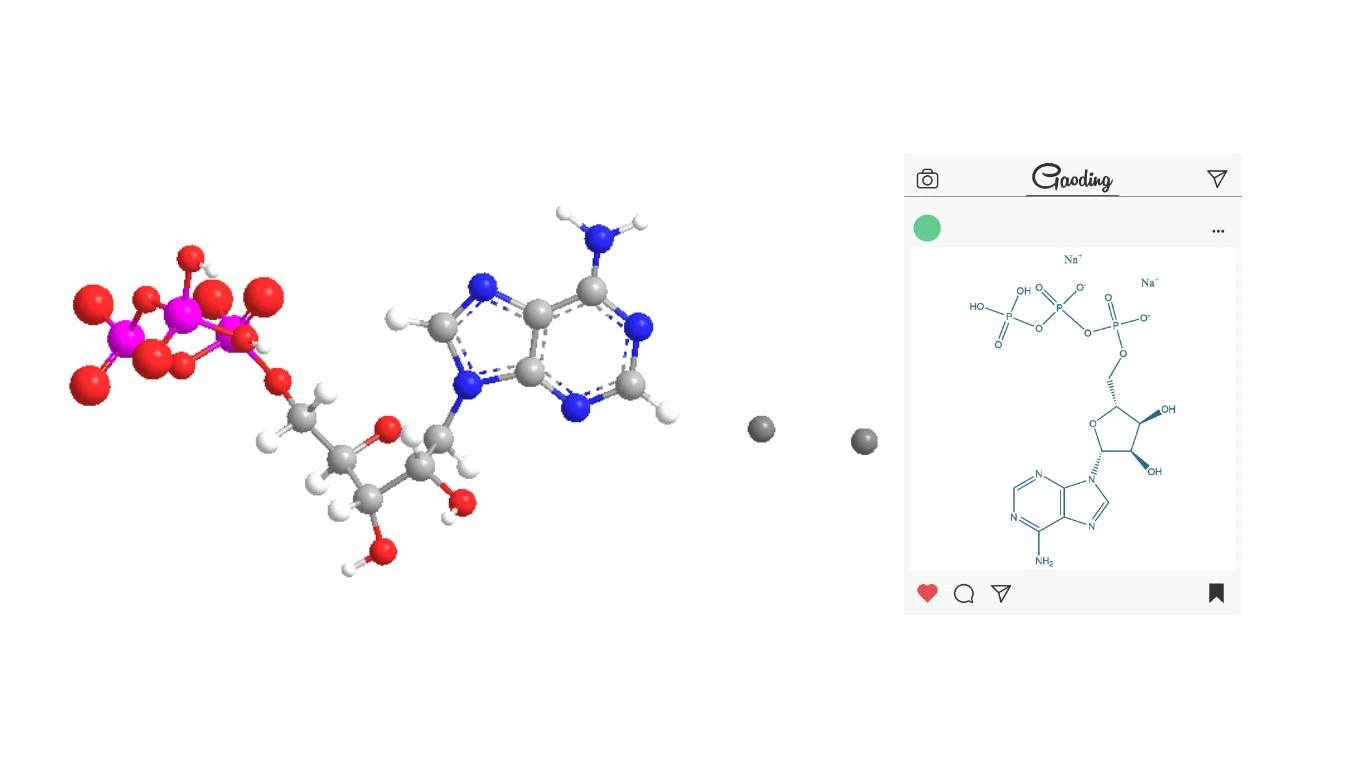 Adenosine Triphosphate Disodium(C10H14N5Na2O13P3)

CAS NO.

987-65-5

Appearance

White or almost white powder

Assay

C10H14N5Na2O13P3≥95%(on the dried basis)

Heavy metals

Not more than 10 ppm

Loss on drying

Not more than 8%

Application

Raw material、medicine

Shelf Life

18 months when properly stored.
Under the action of ATP hydrolase, the third phosphate root of ATP is quickly removed from the ATP molecule and changed from ATP to ADP. The high-energy phosphate bond is broken, and a large amount of energy is released, which is directly used by life activities. Or ADP is under the action of ATP synthetase, and a phosphate is combined on ADP to form a high-energy phosphate bond and convert it into ATP to store energy. Therefore, in medicine, ATP, as a drug, has the function of providing energy and improving the metabolism of patients. It is often used to assist in the treatment of muscle atrophy, sequelae of cerebral hemorrhage, myocarditis and other diseases. ATP tablets can be taken orally, and injections can be injected intramuscularly or intravenously.
How is ATP actually used?
1. It can participate in the metabolism of fat, protein, sugar and nucleic acid in the body, and can effectively promote the normal physiological metabolism of the above three substances. ATP tablets are coenzymes and the source of human energy.
2. When the absorption and secretion ability of the human body is poor, the nutrients cannot be fully absorbed or the catabolic rate is increased and consumed, appropriate supplementation of ATP tablets can provide the human body with nutritional energy.
3. For patients with heart failure, myocardial infarction, myocarditis, cerebral arteriosclerosis, and cerebral infarction, appropriate supplementation of ATP tablets can effectively relieve heart function, and brain function can play a certain nutritional role on cardiovascular and cerebrovascular cells.
About us
GSH BIO-TECH is an innovative high-tech enterprise with enzyme catalysis technology in the field of synthetic biology as the core and cross-application of multidisciplinary technologies.The company's main products are glutathione (GSH), β-Nicotinamide Mononucleotide and Citicoline sodium (CDPC), Should you have interests in us, please don't hesitate to get in touch with us,we will be pleased to supply any further information you require.
Product Line

Purchase Notes
COMPETITIVE PRICING : The digital factory establishment, strong production capacity and labor cost saving make our prices competitive in the industry.
UNMATCHED QUALITY :They take quality as our life. They strictly control the quality of each process and establish a complete quality control system. We promise to bring best quality products to customers.
TRANSPORT CAPACITY :There have professional freight agents, customs clearance agencies set up in the destination. Deliver your package safely.
According to the customer's transport needs can choose: FEDEX UPS TNT DHL air charter and sea.
FAQ
Q: Are you trading company or manufacturer?
A: We are professional manufacturer specialized in active pharmaceutical ingredients products. And we trade our products with our clients directly.
Q: Can you do OEM and ODM?
A: Yes, OEM and ODM are both acceptable. The purity, mesh, packing can be customized, the basic quantity we will advise after we discuss.
Q: Can we use our own logo?
A: Yes, we can print your private logo according to your request.
Q: How many packaging do you have?
A: We have four packages including PE bag, Aluminum Foil Bag, drum, carton box currently depend on your order quantity.
Q: Can you do our own packaging?
A: Yes, you just provide the package design and we will produce what you want. We also have the professional designer can help you do the packaging design.