Citicoline sodium is the monosodium salt of choline cytosine nucleoside diphosphate, which is a nucleoside derivative, and the dry product contains no less than 98% of Citicoline Sodium.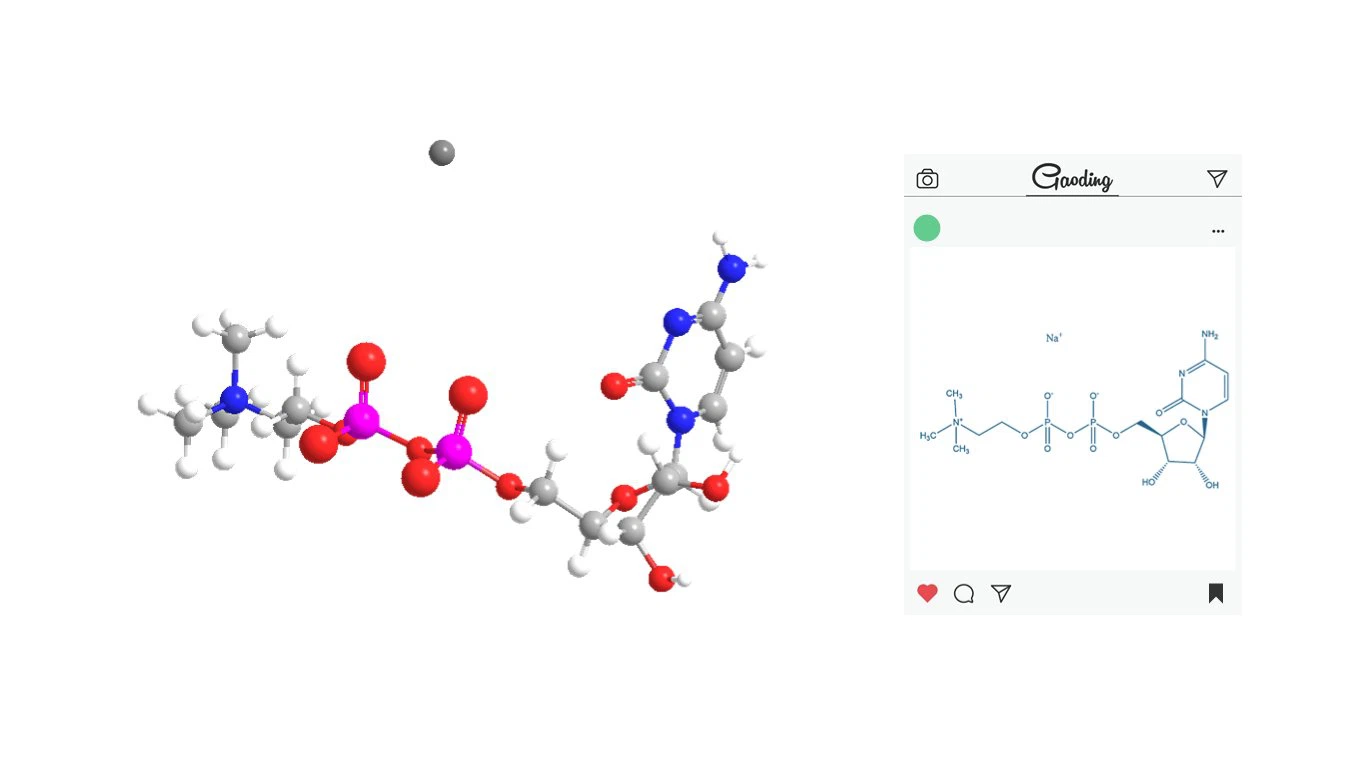 Product details of Citicoline Sodium bulk drug:
Citicoline sodium(C14H25N4NaO11P2)

CAS NO.

33818-15-4

Appearance

White powder

Assay

≥98.0%

Loss on drying

Not more than 1%

Heavy Metal

Not more than 10ppm

Application

Raw material、medicine

Shelf Life

24 months when properly stored.
What is citicoline sodium drug?
Pharmacological action of citicoline sodium bulk drug:
By reducing cerebrovascular resistance and increasing cerebral blood flow, it can promote brain substance metabolism and improve cerebral circulation. It can also enhance the function of the ascending reticular activation system of the brain stem, enhance the function of the vertebral system, and improve motor paralysis, so it has a certain effect on promoting the recovery of brain function and waking up. After injection of citicoline sodium injection, it can quickly enter the blood, and part of it enters the brain tissue through the blood-brain barrier. The choline part becomes a good methylation donor in the body, and can transmethylate a variety of compounds. About 1% of choline is excreted in urine.

Clinical indications: Consciousness disorder after acute craniocerebral trauma and brain surgery, hemiplegia caused by cerebral apoplexy can gradually restore the function of limbs, and it can also be used for function and consciousness disturbance caused by other acute injuries of the central nervous system, as well as ischemia cerebrovascular disease and vascular dementia.
About us
GSH BIO-TECH is an innovative high-tech enterprise with enzyme catalysis technology in the field of synthetic biology as the core and cross-application of multidisciplinary technologies. We provide citicoline and citicoline sodium, both of which are produced in GMP certified workshops, with a purity of more than 99%, and the density can be customized, Should you have interests in us, please don't hesitate to get in touch with us,we will be pleased to supply any further information you require.
Product Line

QUALITY CONTROL
We have QC team to gurantee the quality. All products must have been inspected before delivery.we do inline inspection and final inspection.
1.All raw material checked once it arrive our factory.
2.All details checked during production.
3.All packing details checked during production.
4.All production quality and packing checked on final inspection after finished.
FAQ
Q:Can we get some samples? Any charges?
A:Yes, free samle is available, you need to pay shipping cost.
Q:How can we get a quote?
A:Just contact us directly.
Q:What's the trade term and payment term?
A:Usually 100%T/T in advance is prefered.Payment term:T/T, Western Union, PAYPAL etc.