Citicoline is a mononucleotide composed of ribose, cytosine, pyrophosphate and choline, belonging to a class of nucleoside derivatives. Citicoline is a key substance in the biosynthesis of structural phospholipids in human cell membranes. It plays an important role in repairing cell membranes, maintaining the activity of cell membrane-related enzymes, maintaining the stability of the intracellular environment, coupling receptors and intracellular signals, etc. .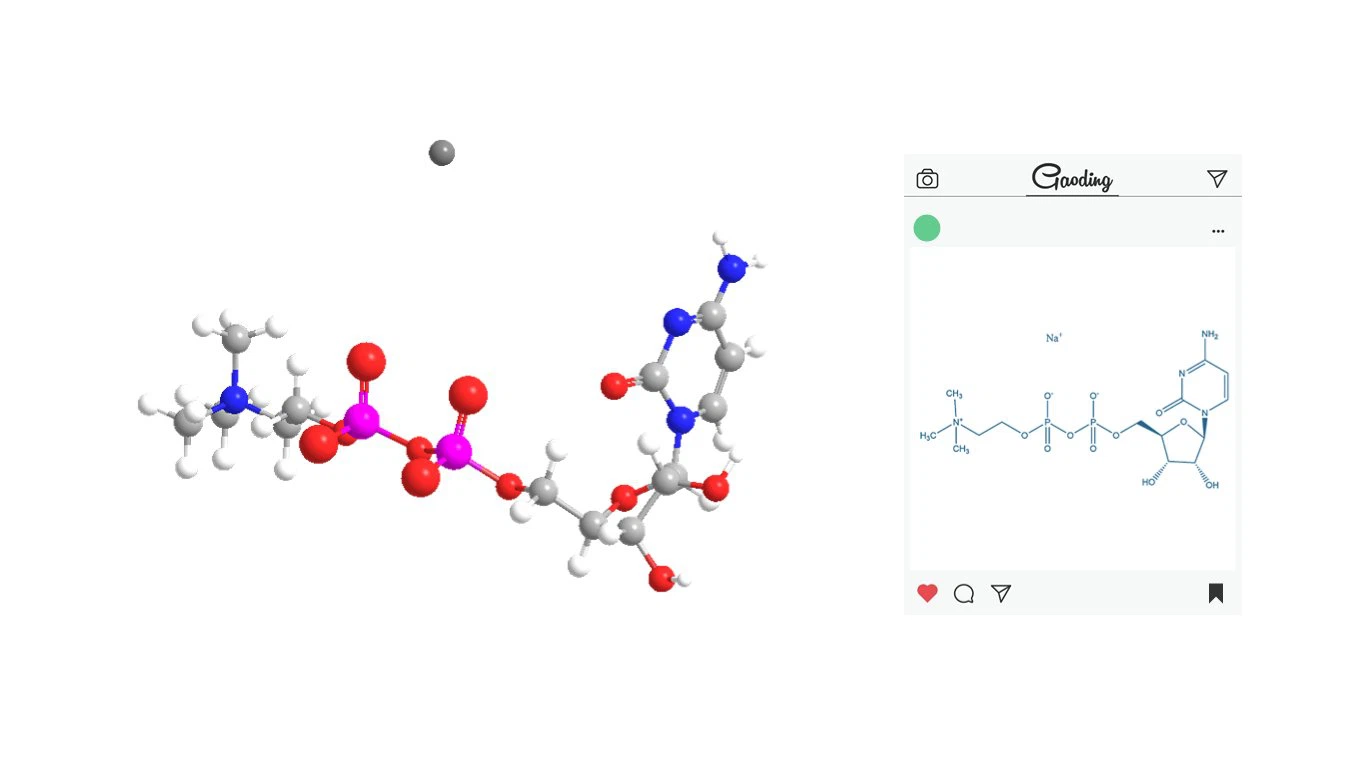 Citicoline Sodium(C14H25N4NaO11P2)

CAS

33818-15-4

Appearance

White powder

Assay

≥98.0%

Loss on drying

Not more than 1%

Heavy Metal

Not more than 10ppm

Application

Raw material、medicine

Shelf Life

24 months when properly stored.
Citicoline generates the neurotransmitter acetylcholine through acetylation, which can improve memory and cognitive ability, improve attention and learning ability, enhance brain thinking ability, improve cerebrovascular tension, and promote cerebral blood circulation in the human body.
Citicoline can enhance the levels of norepinephrine and dopamine in the central nervous system, thereby treating cerebrovascular diseases, brain trauma and cognitive impairment caused by various reasons, and has no obvious side effects.
Citicoline Sodium can enhance the brainstem reticular structure, especially the function of the ascending reticular structure activation system closely related to consciousness, enhance the function of the pyramidal system, inhibit the function of the extrapyramidal system, and promote awakening. At the same time, it can reduce cerebral vascular resistance, increase cerebral blood perfusion, and promote brain substance metabolism. It is mainly used to treat the sequelae of the nervous system caused by craniocerebral injury and cerebrovascular accident, and can be used for the treatment of Parkinson's syndrome, and has a certain effect on senile dementia; it is used for the treatment of cerebrovascular and cardiovascular diseases; Others such as delaying aging, improving learning and memory, etc. also have certain curative effects.
Citicoline is a kind of drug for the treatment of nervous system diseases. At present, citicoline preparations with citicoline as the main component have been widely used in ischemic stroke, traumatic brain injury, craniocerebral injury, cognitive impairment, It also plays an important role in the field of adjuvant therapy for Parkinson's disease and Alzheimer's disease.
Drugs prepared with citicoline as the main raw material include citicoline preparations, citicoline sodium tablets, citicoline sodium for injection, citicoline sodium capsules, etc.
At present, Anhui GSH Bio-Technology Co.,LTD. has completed the production and research of Citicoline Sodium, and the product pipeline can reach an annual production capacity of 200 tons, realizing the commercial scale production of Citicoline Sodium.