Citicoline sodium is used in ischemic and hemorrhagic stroke and its sequelae, brain trauma sequelae, cognitive impairment, ischemic hypoxic encephalopathy, optic atrophy and other diseases, among which the most widely used in cerebral infarction, cerebral Cognitive impairment caused by cerebrovascular diseases such as hemorrhage - vascular dementia.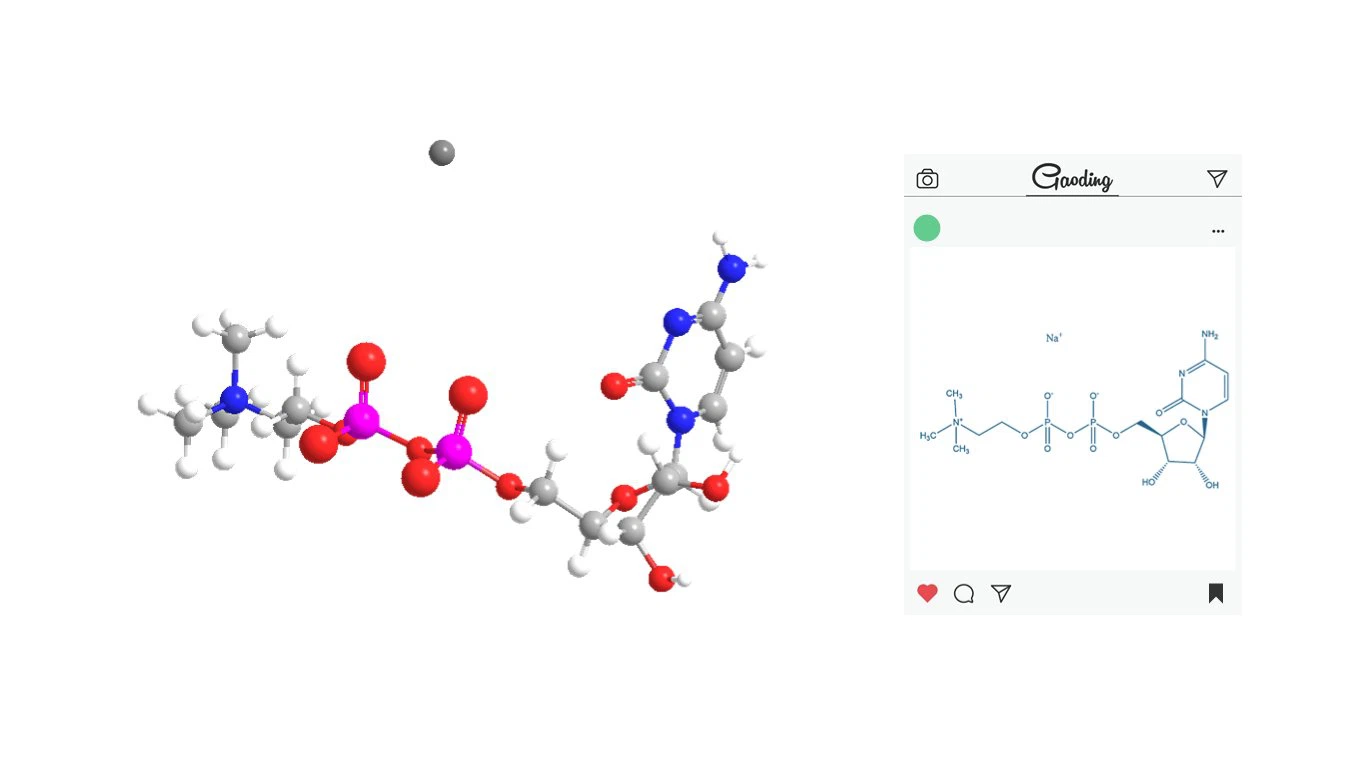 Citicoline Sodium(C14H25N4NaO11P2)

CAS

33818-15-4

Appearance

White powder

Assay

≥98.0%

Loss on drying

Not more than 1%

Heavy Metal

Not more than 10ppm

Application

Raw material、medicine

Shelf Life

24 months when properly stored.
The antioxidant component citicoline contained in it can effectively reduce vascular resistance and improve vascular function.
The pharmacological effects are mainly divided into three parts: protecting the lipid structure of the cell membrane; stimulating the neurotransmitter system; promoting the energy metabolism of brain tissue.
Main treatment diseases:
Vascular dementia: As an activator of human metabolism, Citicoline Sodium can enter the brain tissue of patients through the blood-brain barrier, improve blood flow in the brain, help restore nerve function and speed up the recovery of patients. In addition to improving cognitive impairment, citicoline sodium can also reduce the incidence of sequelae of vascular dementia, and can effectively improve the prognosis.
Cerebral infarction: Studies have shown that citicoline sodium can significantly improve the cognitive function and living ability of patients with cerebral infarction. Moreover, it has less adverse drug reactions, and is a drug that can safely and effectively treat cerebral infarction.
Optic atrophy: Studies have shown that citicoline sodium can effectively treat amblyopia in children and can effectively prevent the deterioration of visual field in glaucoma patients.
At present, Anhui GSH Bio-Technology Co.,LTD. has completed the production and research of Citicoline Sodium, and the product pipeline can reach an annual production capacity of 200 tons, realizing the commercial scale production of Citicoline Sodium.
Packing and transportation
Packing
25KG/Cardboard Durm,Inner by double plastic bag or Customized
Storage
Keep in cool and dry place, keep away from from strong light
Shelf Life
2 Years
Shipping

Abt 3 days By Express (DHL or FedEx)

Abt 7-10 days By Air From China Airport

Abt 10-15 days By Sea From China Seapot

Payment term
100% T/T ADVANCE