Glutathione is a nutrient compound consisting of 3 amino acids, namely glutamic acid, cysteine and glycine.
There are two forms of glutathione: reduced form (antioxidant form) and oxidized form. The reduced form becomes the oxidized form after donating electrons and neutralizing free radicals, while the oxidized form returns to the reduced form after gaining electrons. The prototype, the real anti-free radical is L-Glutathione Reduced.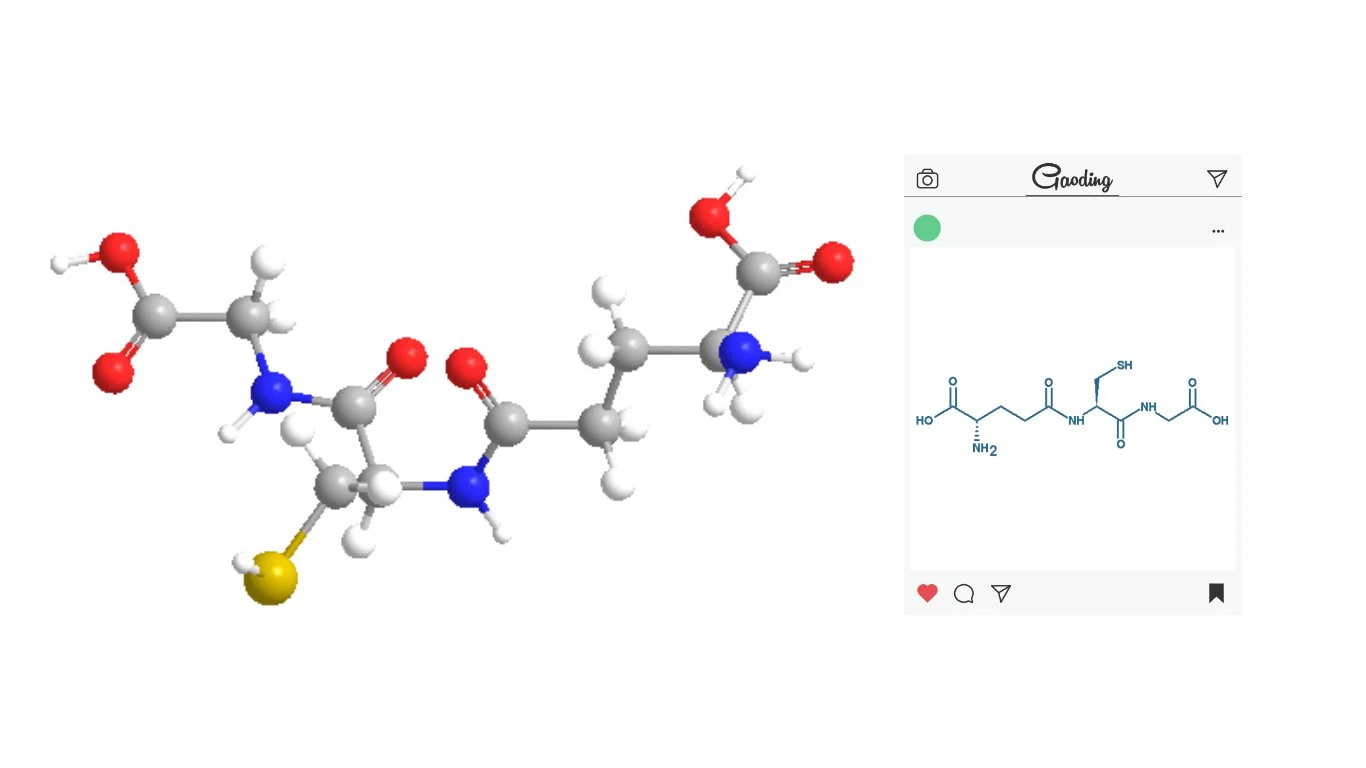 Product description of pure L-Glutathione Reduced powder:
L-Glutathione Reduced(C10H17N3O6S)

CAS NO.

70-18-8

Appearance

White or almost white powder

Assay

99% min

Chlorides

Not more than 200 ppm

Sulfates

Not more than 300 ppm

Ammonium

Not more than 200 ppm

Iron

Not more than 10 ppm

Arsenic

Not more than 2 ppm

Heavy metals

Not more than 10 ppm

Cadmium (Cd)

Not more than 1 ppm

Lead (Pb)

Not more than 3 ppm

Mercury (Hg)

Not more than 1 ppm

Sulfated ash

Not more than 0.1%

Loss on drying

Not more than 0.5%

Shelf Life

Two years when properly stored.
Important vital functions of l-glutathione reduced:
1. Directly neutralize various types of free radicals, including singlet oxygen, hydroxyl radicals, superoxide radicals, nitrogen free radicals, and carbon free radicals
2. Remove cancer-causing chemicals from the body
3. Liver detoxification
4. Clears Mercury from Cells and Brain
5. Supports the immune system
6. Regulating the balance of cell proliferation and self-apoptosis
7. Mitochondrial health depends on glutathione
The protective function of reduced glutathione persists in all vital organs of the body, including the liver, kidneys, brain, heart, skeletal muscle, skin and immune system.
In addition to the above functions and characteristics, reduced glutathione also has the following effects:
1. Maintain the balance of redox reactions in cells. All life functions are inseparable from redox reactions. Once the balance between the two is lost, the protein will lose its function and the cell will die. Glutathione protects cellular health by maintaining redox balance inside and on the cell surface.
2. Reduced glutathione enhances immune cells to kill bacteria in the lungs and prevents influenza virus from multiplying in the respiratory tract.
3. When nutrients are lacking, reduced glutathione can provide cysteine for the body to synthesize proteins.
About us
GSH BIO-TECH provide L-Glutathione Reduced, L-Glutathione Oxidized, and S-Acetyl-L-Glutathione, Should you have interests in us, please don't hesitate to get in touch with us,we will be pleased to supply any further information you require.
Product Line

Our Service
1.More Professional service in active pharmaceutical ingredients exporting field
2.Better manufacture ability
3.Various payment term to choose:T/T,Western Union,L/C,Paypal
4.High quality/Safe material/Competitive price
5.Small order available
6.Quickly response
7.More safe and fast transport
8.OEM design for all customers
FAQ
Q: Are you trading company or manufacturer?
A: We are professional manufacturer specialized in active pharmaceutical ingredients products. And we trade our products with our clients directly.
Q: Can you do OEM and ODM?
A: Yes, OEM and ODM are both acceptable. The purity, mesh, packing can be customized, the basic quantity we will advise after we discuss.
Q: Can we use our own logo?
A: Yes, we can print your private logo according to your request.
Q: How many packaging do you have?
A: We have four packages including PE bag, Aluminum Foil Bag, drum, carton box currently depend on your order quantity.
Q: Can you do our own packaging?
A: Yes, you just provide the package design and we will produce what you want. We also have the professional designer can help you do the packaging design.
Q: When can I get the price?
A: Usually we quote within 8 hours after we get your inquiry.