Jul 18, 2023 / Author: China Glutathione suppliers & NMN manufacturers
Studies have shown that the UVA and UVB bands of ultraviolet rays are the main culprits of skin aging, and the decrease in NAD+ levels caused by ultraviolet radiation may be the root cause of skin aging and skin damage.
In March 2021, the results of a study published in "Front Pharmacol" showed that NMN combined with Lactobacillus fermentum TKSN04 can improve the oxidative skin damage in mice caused by ultraviolet UVB irradiation, which is expected to provide new treatment ideas for the prevention and treatment of skin photoaging .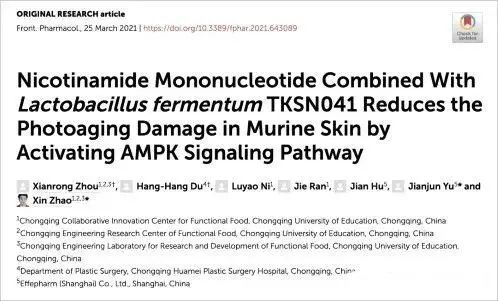 In June of the same year, the Japanese DHC company laboratory published an article in "J Photochem Photobiol B" showing that in mammals, nicotinamide phosphoribosyltransferase NAMPT is the rate-limiting enzyme in the NAD+ salvage pathway, which can prevent epidermal keratinocytes from NAD+ depletion is critical to NAD+ homeostasis.
The researchers found that NMN supplementation prevented the loss of the nicotinamide phosphoribosyltransferase NAMPT, protecting keratinocytes from UV damage.
In October of the same year, another study published by Chinese scholars in the Journal of Inflammation Research showed that after intraperitoneal injection of NMN, NAD+ in mice increased, which improved the photodamage caused by ultraviolet UVB irradiation.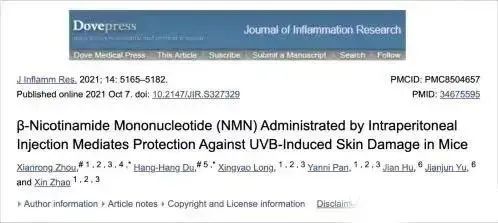 In addition, the researchers compared the improvement effect of NMN with vitamin C, the "king of antioxidants", and the results showed that the antioxidant effect of NMN was much higher than that of vitamin C.
NMN is one of the most famous antioxidant and anti-inflammatory compounds in recent years. It can increase the level of NAD+ in organisms, and NAD+ is essential for cells to generate energy and maintain DNA integrity.
Supplier Introduction: China glutathione supplier and NMN manufacturer GSHworld, the company mainly develops biotechnology and industrialization. As a global pioneer in enzymatic catalytic ATP regeneration technology, our company advocates green production and is committed to providing customers with better and more environmentally friendly products and services. Glutathione Manufacturer,NMN Factory,Citicoline Sodium supplier,China NMN manufacturers