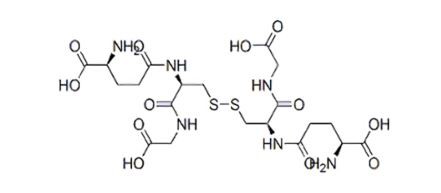 Oxidized glutathione gssg is obtained by oxidizing the gssg reduced rich in yesat by microbial fermentation, and then separated and purified by modern technology. It is widely present in organisms and mainly plays a role of redox electron transfer. It can protect red blood cells from oxidative damage and keep the hemoglobin in cysteine in a reduced state.gssg antioxidant
Function
1. Anti-aging
2. Skin whitening
3. Medicine
Application
1. Cosmetics
Ultraviolet rays can penetrate collagen, destroy the dermis, and cause premature skin aging. Glutathione powder is a powerful antioxidant that protects collagen fibers from free radical damage, thereby protecting the elasticity of the skin.
Exposure to ultraviolet light will increase the number of melanocytes, resulting in hyperpigmentation and darkening of the skin. Oxidized glutathione powder can reduce the production of melanin by limiting the activity of tyrosinase and changing the synthesized Eumelanin.
2. Medicine
Protect the -SH group in the enzyme molecule, exert the activity of the enzyme, restore the activity function of the -SH group in the lyase molecule, restore the activity of the enzyme, and inhibit the invasion of ethanol, protect the liver, and reduce fatty liver. It can also be combined with toxic compounds, heavy metal ions or carcinogens entering the human body to promote its excretion and neutralize detoxification
Product Properties
CAS No.: 27025-41-8
Formula: C20H32N6O12S2
Appearance: White powder
Heavy metals: Not more than 10ppm
Purity ( HPLC ): 98.0% ~ 100.0%
Loss on drying: Not more than 0.5%
Patents and Certification
In the past six years, our R&D was dedicating to the study of our pruducts and won Six China Invention Patents.
Meanwhile, we have also applied for various product certificates, such as KOSHER, HALAL, ISO9001, FDA, etc.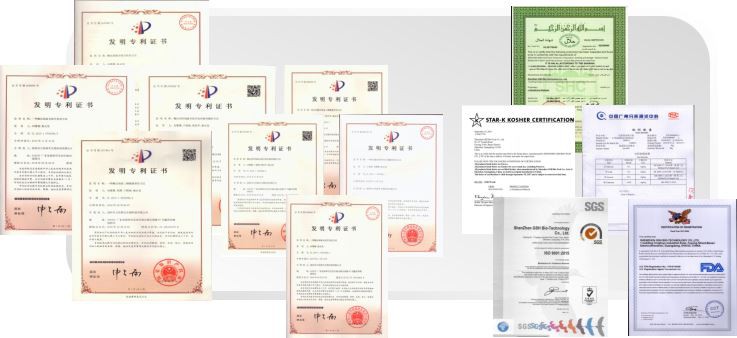 R & D Team
The company's R&D headquarters is located in Beijing Fengtai Science and Technology Park, with complete molecular biology, synthetic biology and fermentation laboratories. The R&D team is composed of well-known domestic universities and personnel studying in the United States and Germany, with a bachelor degree of 100%. The company's research and development of GSH, NMN and other production technologies are internationally leading, all of which are self-developed enzymatic technology and have obtained a number of national patents.
Mr. Jacob Qin, R&D director was graduated from Molecular Genetics, Northeast Normal University ;
Ms. Shanshan Liu, Technical director was graduated from Bioengineering, Technische Universität Dortmund;
Ms. Haijing Sun, R&D Engineer was gradated from Biology, Northeast Normal University.