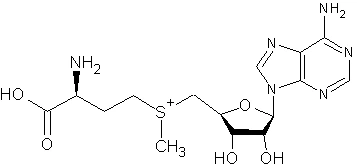 SAMe is synthesized catalyzed by Adenosine Triphosphate and methionine. Due to its methyl transfer, sulfhydryl transfer and aminopropylation, it participates in a variety of metabolic reactions in the organism, such as the synthesis of nucleic acids, proteins, lipids and secondary metabolites. In addition, it is also a biologically active precursor of coenzyme A and glutathione.
Function
1).SAMe is a good nutrition for the liver, can prevent alcohol, drugs and the liver-cell injury;
2).SAMe has remarkable preventive effects on chronic active hepatitis, and other factors caused liver injury, heart disease, cancer and so on.
3).SAMe has been found to be as effective as pharmaceutical treatments for arthritis and major depression as well.
Product Properties
CAS No.: 97540-22-2
Formula: C22H34N6O16S4
Appearance: White or almost white powder
s-adenosyl-l-methionine disulfate tosylate solubility: Colorless to light yellow
Heavy metals: Not more than 10ppm
Purity ( HPLC ): 98.0% ~ 105.0%
Loss on drying: Not more than 1%
Packing and transportation
According to conventional packaging or Customized.