Adenosine Triphosphate disodium is a coenzyme and a nucleotide derivative, involved in the metabolism of fat, protein, sugar and nucleotide. When energy is needed for absorption, secretion, muscle contraction, biochemical synthesis reactions, and physiological functions of the body, adenosine triphosphate is decomposed into adenosine diphosphate and phosphate groups, and energy is released at the same time.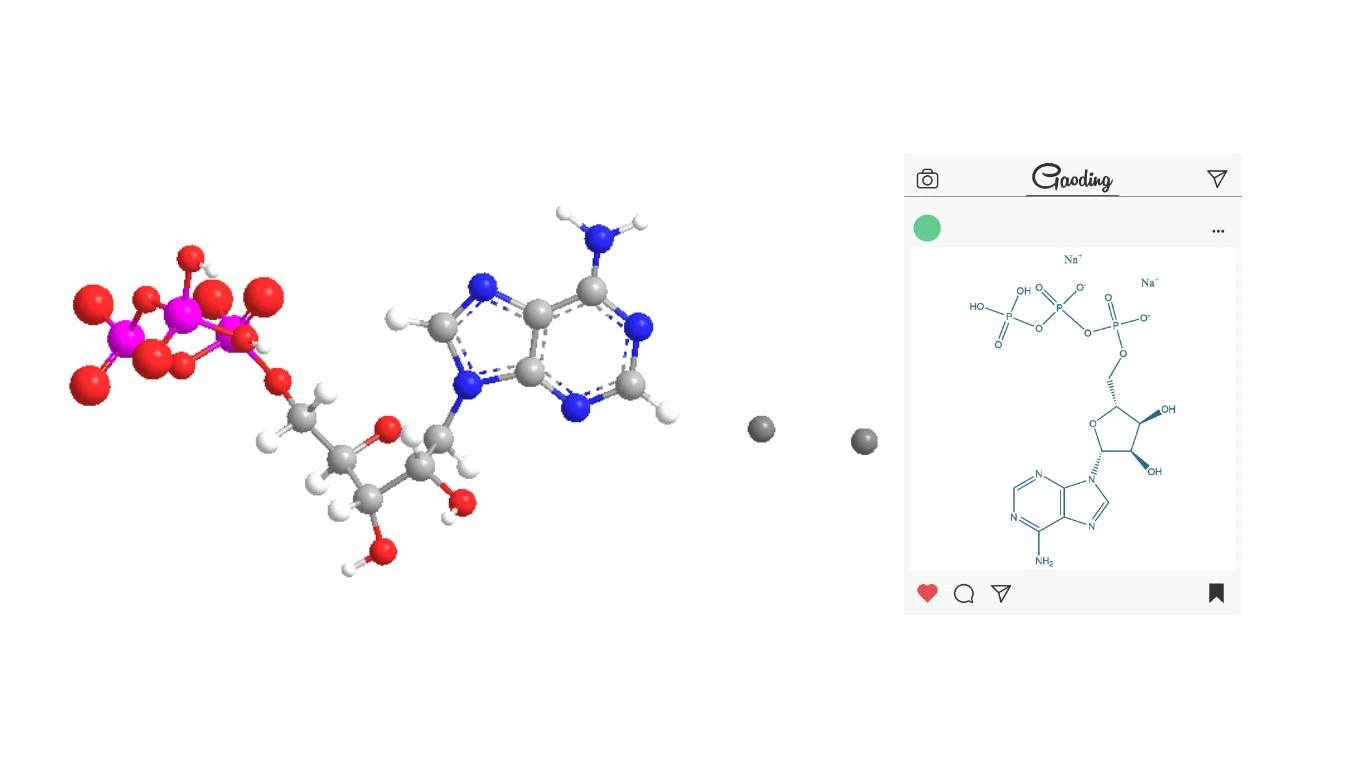 Product description of Adenosine 5'-triphosphate (sodium salt):
Adenosine Triphosphate Disodium(C10H14N5Na2O13P3)

CAS NO.

987-65-5

Appearance

White or almost white powder

Assay

C10H14N5Na2O13P3≥95%(on the dried basis)

Heavy metals

Not more than 10 ppm

Loss on drying

Not more than 8%

Application

Raw material、medicine

Shelf Life

18 months when properly stored.
Adenosine triphosphate disodium can penetrate the blood-cerebrospinal fluid barrier, improve the stability and reconstruction ability of nerve cell membrane structure, promote the regeneration of neurites, and promote the repair and regeneration of body cells to a certain extent. In patients with vertigo, it can improve microcirculation and restore organ function. Adenosine triphosphate disodium is mainly metabolized by the liver in the body, and a small amount is excreted by the kidney.
Improve the stability and reconstruction ability of nerve cell biofilm structure, support the survival of nerve cells, delay the aging and death of nerve cells, improve the ability of nerve cells to resist damage, enhance the activity of nerve cells, promote the growth of neurites, and prevent nerve cells from being damaged after ischemia. It has nutritional regeneration and repair effects on myocardial and brain tissue damage caused by vascular sclerosis.
About us
GSH BIO-TECH is an innovative high-tech enterprise with enzyme catalysis technology in the field of synthetic biology as the core and cross-application of multidisciplinary technologies.We provide high quality Adenosine 5'-triphosphate (sodium salt) and Adenosine, both of which are produced in GMP certified workshops, with a purity of more than 99%, and the density can be customized, Should you have interests in us, please don't hesitate to get in touch with us,we will be pleased to supply any further information you require.
Product Line

Our Services
1. Good knowledge on different market can meet special requirements.
2. Real manufacturer with our own factory located in Anhui, China
3. Strong professional technical team ensure to produce the top quality products.
4. Special cost control system ensure to provide the most favorable price.
5. Rich experience in active pharmaceutical ingredients field.
FAQ
Q: Do you have the test and audit service?
A: Yes, we can assist to get the designated test report for product and the designated factory audit report.
Q: What's is your shipping service?
A: We can provide services for vessel booking, goods consolidation, customs declaration, shipping documents preparation and delivery bulk at the shipping port.
Q: What's your term of the delivery?
A: Our ordinary delivery term is FOB Shanghai. We also accept EXW, CFR, CIF, DDP, DDU etc. We'll offer you the shipping charges and you can choose the one which is the most convenient and effective for you.
Q: Which shipping way can you provide?
A: We can provide shipping by sea, by air and by express.
Q: What's your after-sale service?
A: Our quality warranty period is two year. Any quality problem will be solved to customer satisfactions.