Glutathione is a tripeptide compound contained in all living cells, which is a combination of glutamic acid, cystine and glycine. Glutathione has two forms, reduced and oxidized, and the oxidized form is the link of the disulfide bond of its reduced form. Its chemical structure is as follows: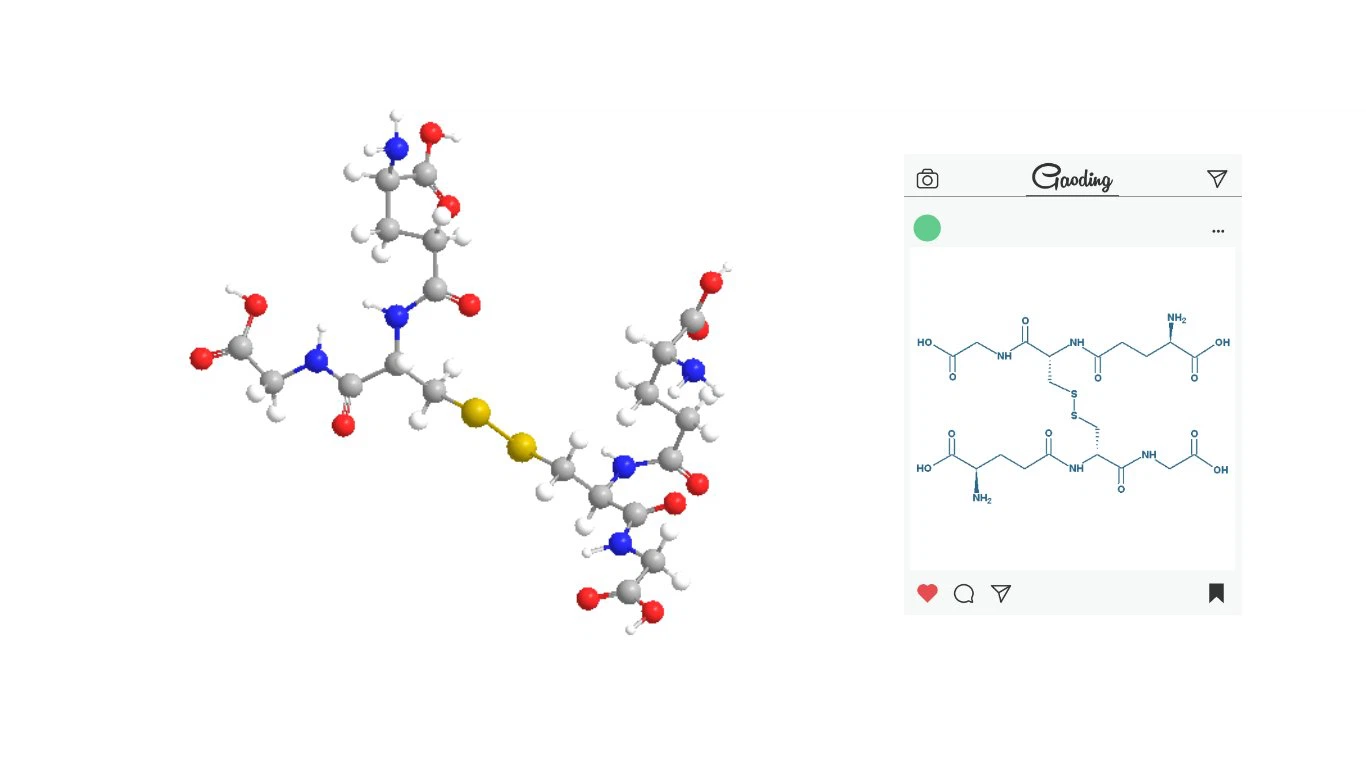 Product description of Oxidized Glutathione:
L-Glutathione Oxidized(C20H32N6O12S2)

CAS NO.

27025-41-8

Appearance

White powder

Assay

≥98%

Heavy metals

Not more than 10 ppm

Loss on drying

Not more than 0.5%

Application

Raw material、medicine

Shelf Life

24 months when properly stored
After glutathione is oxidized into oxidized glutathione (GSSG) in the body, GSSG can be converted back to the "reduced" state of GSH through the action of glutathione reductase and coenzymes.
Physiological function:
1. Protect the sulfhydryl groups of proteins or enzymes from oxidative damage, prevent H2O2 from oxidizing hemoglobin, and prevent other peroxides from damaging biofilms;
2. Eliminate free radicals in the body, inhibit lipid peroxidation, protect cell membranes, restore cell functions, and prevent body aging;
3. Anti-radiation;
4. Combining or reacting with exogenous or endogenous active compounds, thereby releasing the toxicity of these substances to the organism;
5. Participate in transmethylation and transpropylamino reactions, maintain and promote the normal function of stem cells.
Clinical application:
1. Prevent red blood cell hemolysis, promote the reduction of methemoglobin, inhibit the development of cataract and corneal and retinal diseases, and prevent turbidity after corneal transplantation;
2. Prevent skin aging and pigmentation, promote skin luster, improve skin antioxidant capacity, prevent tumors or arteriosclerosis, and reduce damage and mutations caused by free membranes attacking DNA;
3. It can protect or relieve symptoms of leukopenia caused by radiation exposure, radiopharmaceuticals and antineoplastic drugs, bone marrow histitis and oral mucositis caused by radiation;
4. Relieve the poisoning symptoms caused by acrylonitrile, fluoride, carbon monoxide, mustard gas, heavy metals, pesticides, drugs and organic solvents;
5. Inhibit alcohol from invading the liver to produce fatty liver, relieve symptoms of viral hepatitis and drug-induced liver injury, and reduce hypoalbuminemia.
About us
GSH BIO-TECH is an innovative high-tech enterprise with enzyme catalysis technology in the field of synthetic biology as the core and cross-application of multidisciplinary technologies.We provide L-Glutathione Reduced, L-Glutathione Oxidized, and S-Acetyl-L-Glutathione, both of which are produced in GMP certified workshops, with a purity of more than 99%, and the density can be customized, Should you have interests in us, please don't hesitate to get in touch with us,we will be pleased to supply any further information you require.
Product Line

Our Services
1. Good knowledge on different market can meet special requirements.
2. Real manufacturer with our own factory located in Anhui,China
3. Strong professional technical team ensure to produce the top quality products.
4. Special cost control system ensure to provide the most favorable price.
5. Rich experience in active pharmaceutical ingredients field.
FAQ
Q:When can I get the quotation?
A:We usually quote within 24 hours after we get your inquiry. If you are very urgent to get the price, please tell us so that we will regard your inquiry priority.

Q:How can I get a sample to check your quality?
A:After price confirmation, you can require for samples to check our quality. If you need the samples, we would like to send sample from our factory.

Q:How long can I expect to get the sample?
A:3-5 working days for samples.

Q:What about the lead time for mass production?
A:7-15 working days for mass production.It depends on your quantity,and we will try our best to meet your needs. But now we usually have it in stock for the standard products.

Q:What is your terms of delivery?
A:EXW, FOB, CIF, etc.