Adenosine Triphosphate (ATP) is an important energy source in all living things, especially in cells where ATP plays a key role in cellular metabolism. The main function of ATP is to provide energy for various metabolic processes, such as muscle contraction, nerve impulse transmission and protein synthesis. ATP is present in all cells and is essential for the survival and functioning of organisms.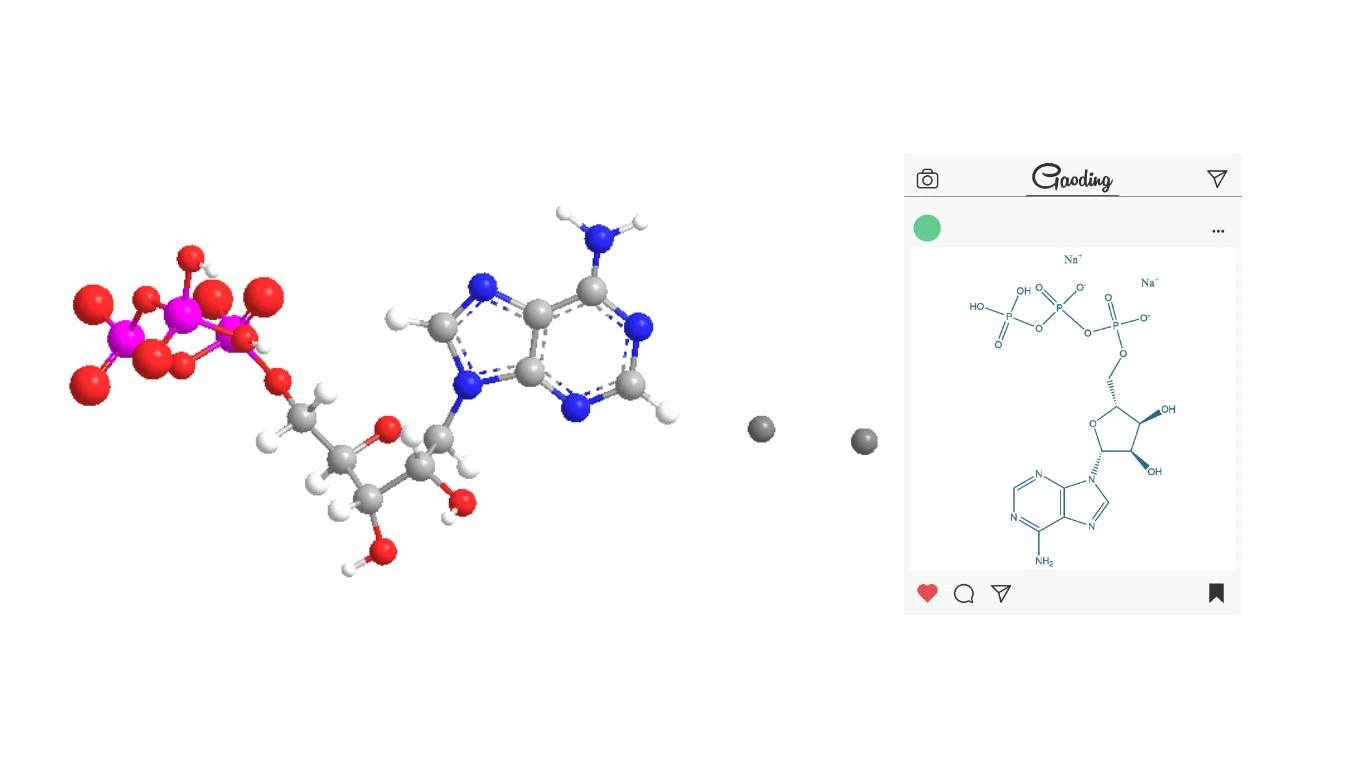 Adenosine Triphosphate Disodium(C10H14N5Na2O13P3)

CAS

987-65-5

Appearance

White or almost white powder

Assay

C10H14N5Na2O13P3≥95%(on the dried basis)

Heavy metals

Not more than 10 ppm

Loss on drying

Not more than 8%

Application

Raw material、medicine

Shelf Life

18 months when properly stored.
Adenosine triphosphate (ATP) consists of three components, a sugar molecule adenosine, three phosphates and two sodium ions. It is formed when two molecules of adenosine monophosphate (AMP) combine in the presence of inorganic pyrophosphate (PPi). ATP is formed through a metabolic process known as oxidative phosphorylation and is the main form of energy transfer in the majority of living systems. The negatively-charged phosphate molecules held together by the positively-charged sodium ions give ATP the ability to transfer energy.
ATP is a major source of metabolic energy in the body and can be found in the cytoplasm and mitochondria of cells. It is used mainly for activities requiring short bursts of energy, such as muscle contraction, neural transmission and synthesis of proteins. ATP also plays a role in the regulation of biological processes such as enzyme activity, gene expression and cell growth and differentiation.
ATP can be used in the clinical setting to provide energy for tissue regeneration and to restore the balance of energy in the body, as well as to support general metabolism and organ function. It has also been clinically tested for its ability to reduce muscle damage, improve bone and joint health, and to help alleviate fatigue. ATP can also be used as a natural supplement for athletes and bodybuilders, who require high energy levels for physical performance.
ATP is a vital molecule in the functioning of living systems and its importance is unmistakable. Its ability to store and transfer energy and its ability to regulate the various metabolic activities of cells make it one of the most important molecules in cell metabolism. In addition, its ability to provide energy to help with tissue regeneration, support general metabolism, and aid in physical performance makes it an invaluable source of energy in the clinical and sports environment.
We has always adhered to green environmental protection, technological innovation and global layout. The company is equipped with advanced scientific research equipment and an experienced scientific research team. The enzymatic technology developed by the company has obtained a number of national patents.
Why Choose us
1.OEM service professional design team
2.Professionally supplying natural food and cosmetics ingredients products
3.100% inspection before delivery
4.Inventory 24 hour delivery
5.Complete documentary system
FAQ
1: What's your MOQ?
A: It depends on different products. We accept sample order. Also, for some products, we can provide you with a free sample.
2: Do you provide after-sales service?
A: We provide 24-hour customer service. If you encounter any product quality problems or transportation problems, please feel free to contact us.
3: How about delivery time and method?
A: We usually ship within 3-7. We can ship by sea, air, and express. It also can make door to door shipping.
4: How to solve the after-sale disputes?
A: We accept changing or refunding service if any quality problem.