Citicoline Sodium (CDP-choline) is an essential vitamin-like compound that plays an important role in the body's metabolism, functions as a neurotransmitter and helps maintain the integrity of cell membranes. It is an important component of healthy brain metabolism, providing energy to the body's cells.It is also a precursor for the biosynthesis of phospholipids, which play an important role in the formation of cell membranes, particularly those of neurons.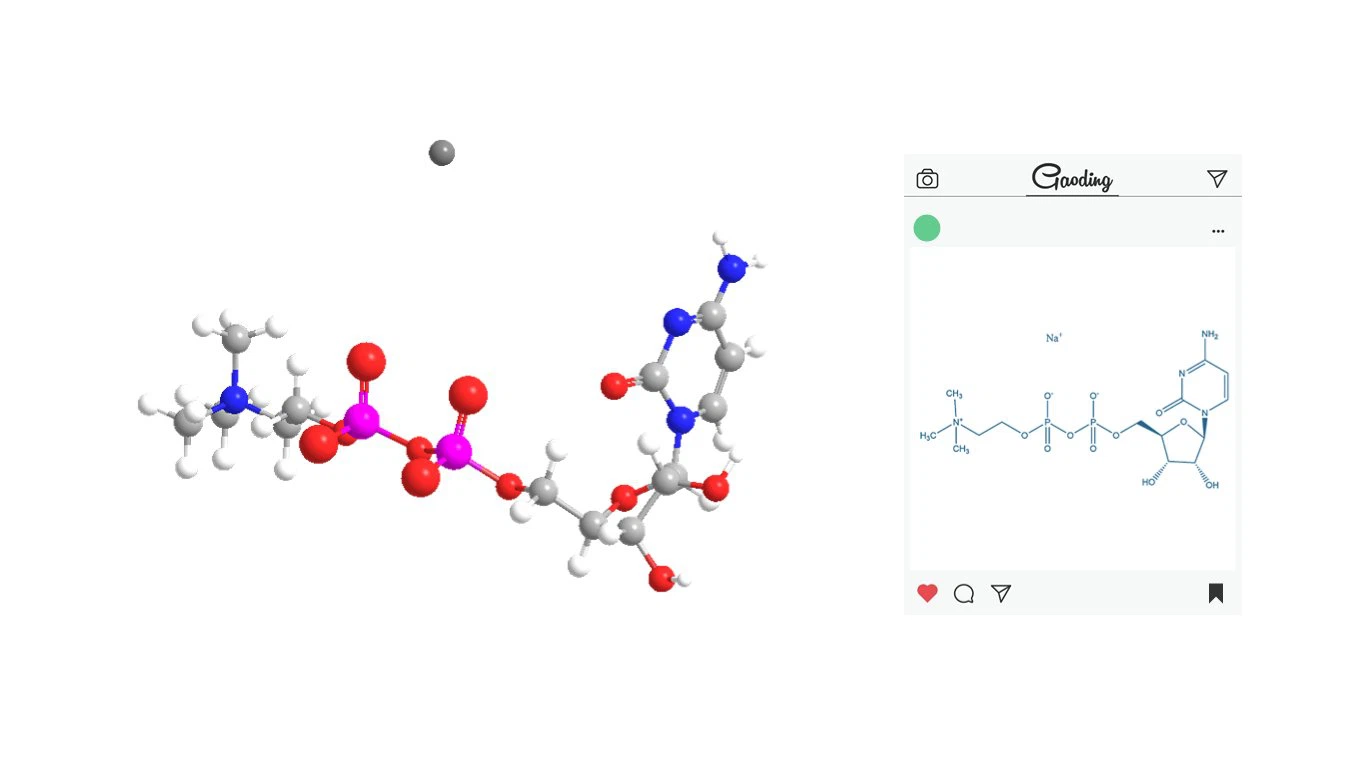 Citicoline Sodium(C14H25N4NaO11P2)

CAS

33818-15-4

Appearance

White powder

Assay

≥98.0%

Loss on drying

Not more than 1%

Heavy Metal

Not more than 10ppm

Application

Raw material、medicine

Shelf Life

24 months when properly stored.
In the field of medicine and health care products, Citicoline Sodium has a variety of uses. It is used to treat various brain disorders, including Alzheimer's disease, Parkinson's disease, multiple sclerosis, stroke, and traumatic brain injury. It has also been used in the treatment of attention deficit hyperactivity disorder (ADHD).
Citicoline Sodium has been found to improve memory, concentration and alertness in healthy people. It is also used to alleviate fatigue and improve cognitive function in those suffering from conditions that can cause mental fatigue such as cancer, multiple sclerosis, and chronic fatigue syndrome. Studies also suggest that Citicoline Sodium could be beneficial in improving visual acuity, enhancing auditory perception, and improving reaction times in athletes.
Citicoline Sodium also has antioxidant properties and may play a role in combatting free radicals that damage the brain, reducing inflammation and cell death. Furthermore, Citicoline Sodium helps to increase dopamine levels, which are important for good mood, motivation, and focus. It also helps to reduce symptoms of depression, anxiety and stress.
In summary, Citicoline Sodium is an important vitamin-like compound that is essential for healthy brain metabolism, and it has a wide range of medical and health benefits. It can be used to treat a variety of brain disorders and to improve cognitive function and mental health.
We has always adhered to green environmental protection, technological innovation and global layout. The company is equipped with advanced scientific research equipment and an experienced scientific research team. The enzymatic technology developed by the company has obtained a number of national patents.
Why Choose us
1.OEM service professional design team
2.Professionally supplying natural food and cosmetics ingredients products
3.100% inspection before delivery
4.Inventory 24 hour delivery
5.Complete documentary system
FAQ
1: What's your MOQ?
A: It depends on different products. We accept sample order. Also, for some products, we can provide you with a free sample.
2: Do you provide after-sales service?
A: We provide 24-hour customer service. If you encounter any product quality problems or transportation problems, please feel free to contact us.
3: How about delivery time and method?
A: We usually ship within 3-7. We can ship by sea, air, and express. It also can make door to door shipping.
4: How to solve the after-sale disputes?
A: We accept changing or refunding service if any quality problem.