After the central nervous system is injured, Citicoline sodium(CDPC) can participate in repair and regeneration, and play a neuroprotective role; it also plays an important role in the transfer of nerve media and the conduction of bioelectricity. The drug can not only treat the sequelae of the nervous system caused by craniocerebral injury and cerebrovascular accident, but also be used as an adjuvant treatment for Parkinson's syndrome and senile dementia. It has obvious clinical therapeutic effect on acute stroke, neurological injury, disturbance of consciousness and glaucoma caused by surgery.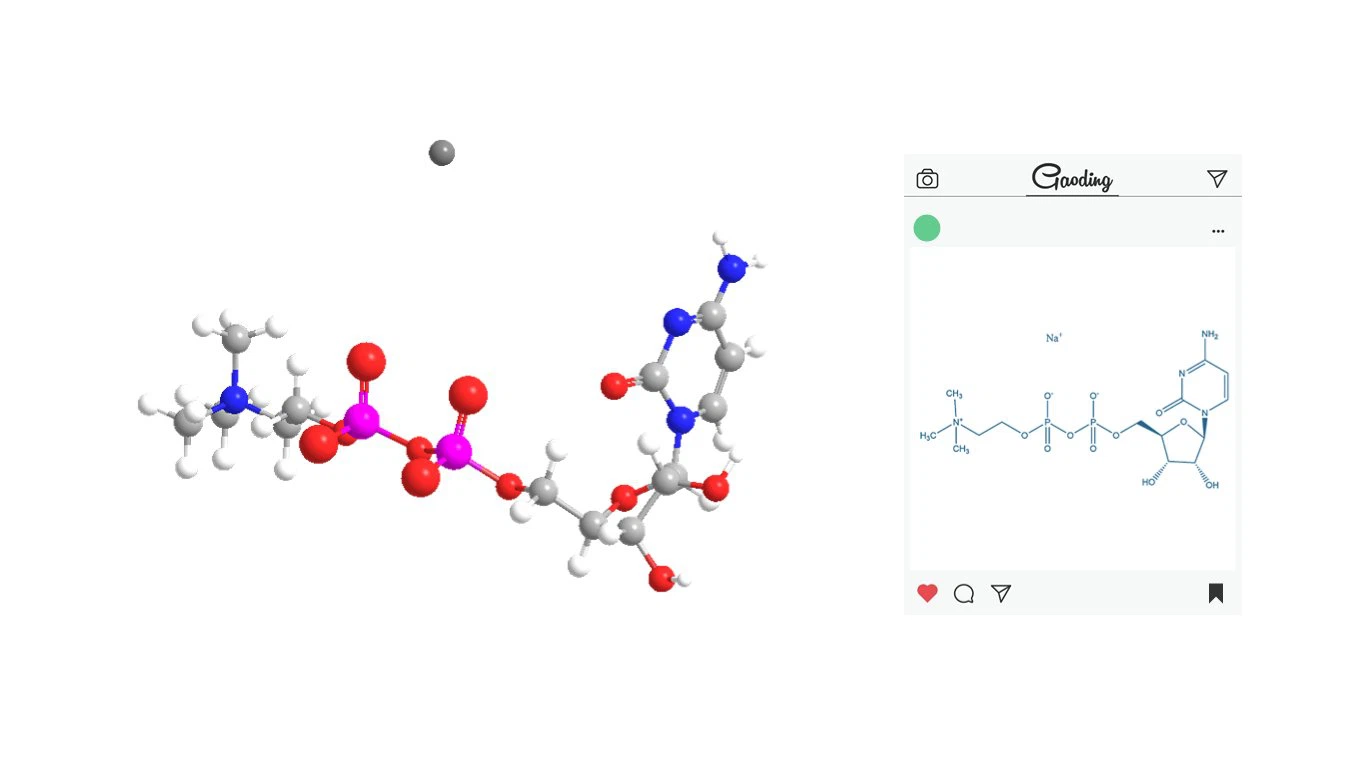 Citicoline Sodium(C14H25N4NaO11P2)

CAS

33818-15-4

Appearance

White powder

Assay

≥98.0%

Loss on drying

Not more than 1%

Heavy Metal

Not more than 10ppm

Application

Raw material、medicine

Shelf Life

24 months when properly stored.
The role of Citicoline Sodium in ophthalmology
1. Protect the optic nerve
The results showed that citicoline sodium did not cause any damage to retinal glial cell populations below 1000 μm. At a concentration of 100 μM, it was able to counteract neuronal cell damage in glutamate-treated and HG-treated retinal cultures by reducing pro-apoptotic effects and contrasting synapse loss. These data confirm that citicoline sodium can effectively exert neuroprotective activity.
2. Promote the repair of optic nerve damage in glaucoma
Citicoline is an endogenous compound capable of increasing the level of neurotransmitters in the central nervous system by interacting with the synthesis of cell membrane phospholipids, especially phosphatidylcholine. Exogenous citicoline sodium, administered through ingestion or injection, is hydrolyzed and dephosphorylated to form cytidine and choline, and CDP-choline is re-synthesized in brain cells. It has been shown to be neuroprotective in Alzheimer's disease, stroke and Parkinson's disease, as well as in glaucoma and amblyopia. Citicoline has neuroprotective effects in patients with progressive glaucoma despite good IOP control.
Several clinical studies have shown that this drug has beneficial effects on the function of the visual pathway in patients with glaucoma or amblyopia. Studies have shown that citicoline can affect retinal catecholamine levels in adult male albino rabbits.
F&A
1.What certificates do you have?
ISO,Kosher,Halal,FDA,Business License and Food Management License.
2.How to control and quality assurance?
a.High grade clean workshop.
b.Inspection center equipped with instruments of HPLC,GF etc,R&D and QC for testing of each batch.
c.Cooperated with third-party test agency for testing heavy metals,pesticide residues,allergen etc.
3.What's your shipping methods and delivery time?
a.Shipping Methods:DHL,UPS,TNT,FEDEX,EMS
b.Shipping time:5-8 days by air or 20-40 days by sea.
4.How about delivery leadtime?
Within 7 working days after payment confirmed.