Citicoline is a single nucleotide composed of nucleic acid, cytosine, pyrophosphate and choline, which is mainly used clinically to treat a variety of neurodegenerative diseases, such as Alzheimer's disease, multiple sclerosis, Amyotrophic lateral sclerosis, etc. Studies have also shown that citicoline can increase the brain's uptake of dopamine and glutamate, thereby improving cognitive performance.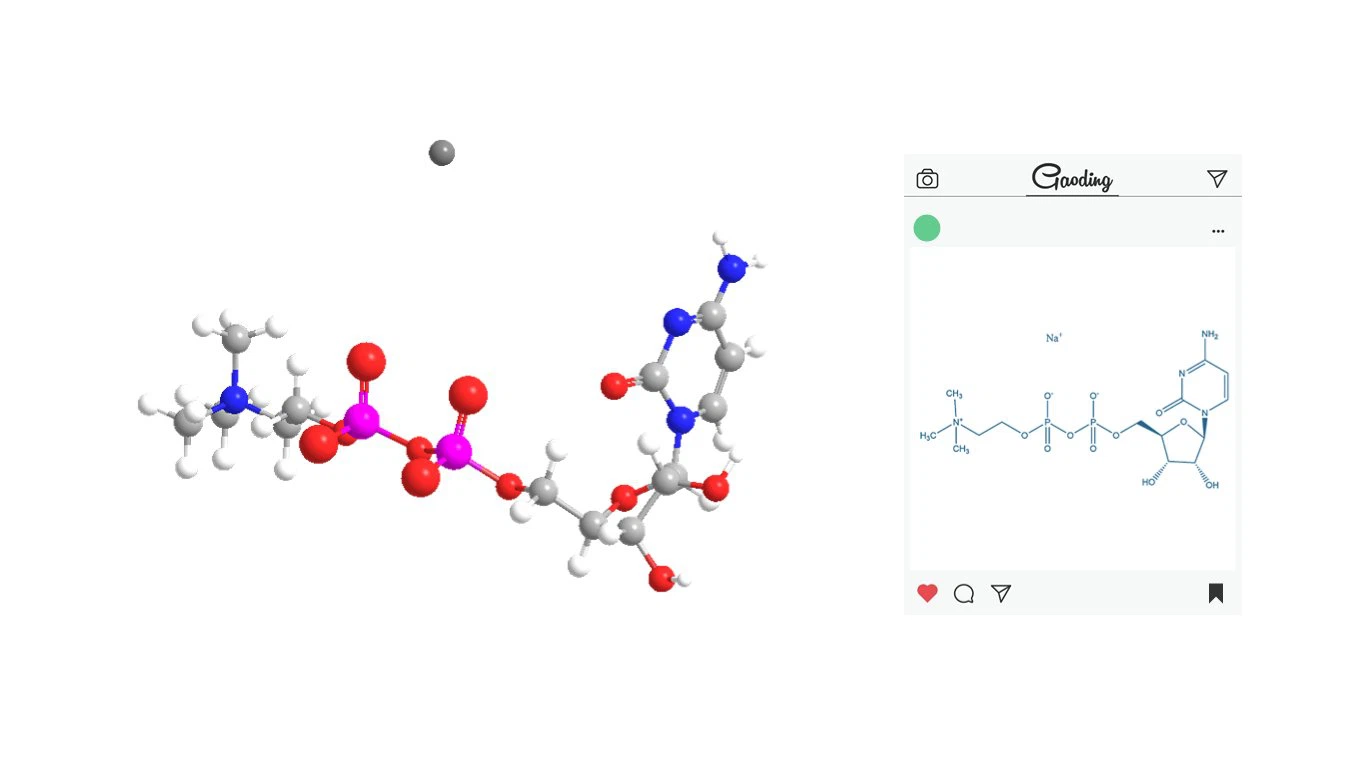 Citicoline Sodium(C14H25N4NaO11P2)

CAS

33818-15-4

Appearance

White powder

Assay

≥98.0%

Loss on drying

Not more than 1%

Heavy Metal

Not more than 10ppm

Application

Raw material、medicine

Shelf Life

24 months when properly stored.
Citicoline can also reduce the release of free fatty acids and restore the activity of mitochondrial ATPase and cell membrane Na+/K+ATPase, thereby alleviating brain damage. However, the pathophysiological mechanism of neurodegenerative diseases is very complex, involving the lack of cholinergic, excitotoxicity of glutamate, neuroinflammation, immune disorders, decreased glucose metabolism and the destruction of the blood-brain barrier.
Citicoline can stabilize the cell membrane by stimulating S-adenosyl-L-methionine, increase the dendritic complexity and spine density of the motor neuron structure, improve the plasticity of the nerve in the non-damaged area, and promote function recover.
Citicoline can reduce the level of water-soluble phospholipids by up-regulating phosphorylcholine cytidyltransferase (CCT), and inhibiting the activity of secretory phospholipase A2 (PLA2) or by inhibiting TNF-a/IL-1b , Inhibit the activation of PLA2, reduce the loss of phospholipids, thereby increasing the synthesis of phosphatidylcholine and repairing the nerve cell membrane.
Citicoline can also increase the expression of anti-apoptotic factors such as Bcl-2 and inhibit the release of glutamate to reduce cytotoxicity.
Citicoline can promote the rapid repair of damaged cell surfaces and mitochondrial membranes, maintain cell compactness and biological functions, and reduce the release of free fatty acids, thereby reducing the production of toxic oxygenated metabolites and free radicals.
Citicoline increases vasopressin and plasma epinephrine levels and stimulates the release of growth hormone, thyrotropin, and luteinizing hormone.
Packing and transportation
Packing
25KG/Cardboard Durm,Inner by double plastic bag or Customized
Storage
Keep in cool and dry place, keep away from from strong light
Shelf Life
2 Years
Shipping

Abt 3 days By Express (DHL or FedEx)

Abt 7-10 days By Air From China Airport

Abt 10-15 days By Sea From China Seapot

Payment term
100% T/T ADVANCE