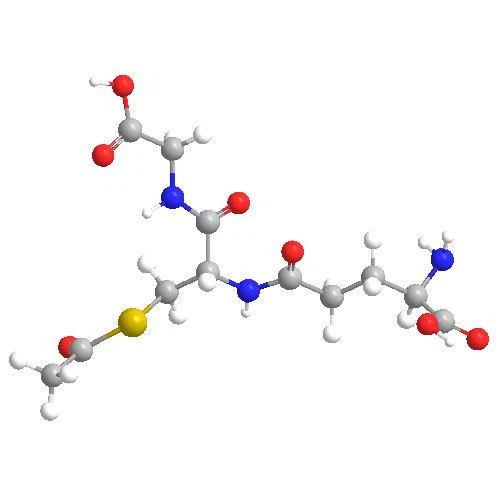 S-Acetyl-L-Glutathione(C12H19N3O7S)

CAS

3054-47-5

Appearance

White or almost white powder

Assay

99% min

Loss on drying

Not more than 0.5%

Heavy Metal

Not more than 10ppm

Shelf Life

Two years when properly stored.
Product Category
Anti-aging, anti-wrinkle, antioxidant, free radical scavenger, brightener, brightener, moisturizer
Product Description
It is the acetyl group of reduced glutathione, which is more stable, easier to absorb, has no odor, has stronger permeability, and has multiple functions such as whitening, moisturizing, and anti-oxidation, and is widely used in cosmetics.
Application
Acetyl glutathione is the main endogenous antioxidant produced by cells, directly involved in the neutralization of free radicals and reactive oxygen compounds, and maintains the reduced (active) form of exogenous antioxidants such as VC and VE.
SHENZHEN GSH BIO-TECHNOLOGY CO.,LTD. is a production enterprise specializing in the production of glutathione and Nicotinamide Mononucleotide. More and better products and services.
Packing&Transport