Glutathione (GSH) is the body's strongest antioxidant. It has tremendous ability to fight oxidative stress and neutralize harmful free radicals, scavenge toxic drugs and heavy metals. This mechanism protects the entire body from dysfunction and disease.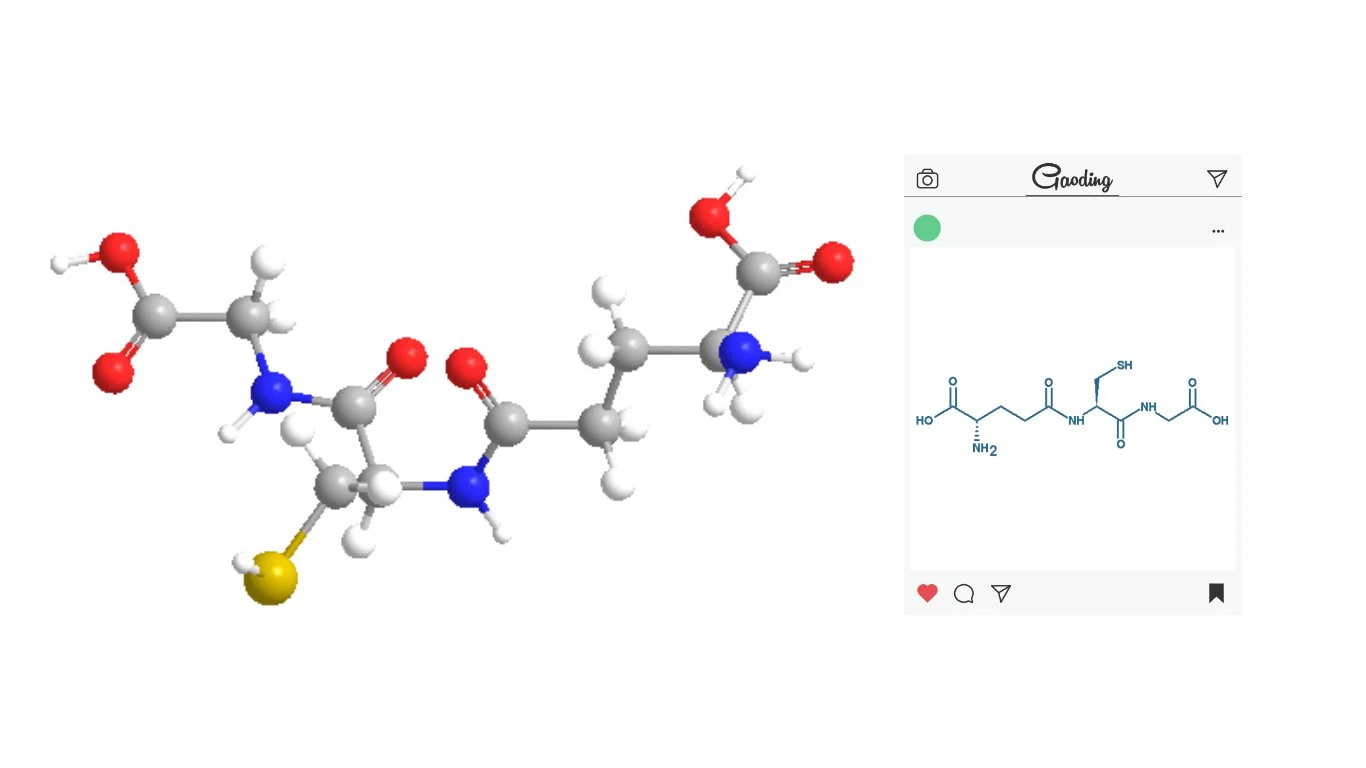 L-Glutathione Reduced(C10H17N3O6S)

CAS

70-18-8

Appearance

White or almost white powder

Assay

99% min

Chlorides

Not more than 200 ppm

Sulfates

Not more than 300 ppm

Ammonium

Not more than 200 ppm

Iron

Not more than 10 ppm

Arsenic

Not more than 2 ppm

Heavy metals

Not more than 10 ppm

Cadmium (Cd)

Not more than 1 ppm

Lead (Pb)

Not more than 3 ppm

Mercury (Hg)

Not more than 1 ppm

Sulfated ash

Not more than 0.1%

Loss on drying

Not more than 0.5%

Shelf Life

Two years when properly stored.
Glutathione is similar to other antioxidants such as vitamin C and vitamin E. It's worth noting that, unlike most antioxidants (such as resveratrol and quercetin), the body can make its own glutathione with just the right building blocks.
Glutathione does most of its work primarily in the liver, but it can also be found in other tissues of the body. In addition to fighting free radicals, it also helps maintain the function of several important biomolecules in a chemical reaction called "reduction" (instead of monitoring "oxidation"). In addition, glutathione can convert toxins such as pesticides, lead, and dry cleaning solvents that enter the body so that they can be eliminated from the body more easily.
Glutathione deficiency increases sensitivity to oxidative stress, which may be the underlying cause of many diseases, including cancer, heart disease, Parkinson's and Alzheimer's.
Glutathione has high nutritional value, has liver protection and anti-oxidation effects, and is rich in amino acids, peptides, vitamins, and trace elements. Can effectively improve human immunity.
According to relevant virologists, viruses can replicate themselves by using the DNA gene replication system in the patient's body. If the human immune system is strong, even if it is infected with a virus, it will minimize the damage of the virus. Supplementing 50 mg of glutathione every day is beneficial to quickly enhance human immunity.
Anhui GSH Bio-Technology Co.,LTD. has always adhered to green environmental protection, technological innovation and global layout. The company is equipped with advanced scientific research equipment and an experienced scientific research team. A number of national patents have been obtained, commercial production has been realized, and stable and continuous service to global customers.
Why Choose us
1.OEM service professional design team
2.Professionally supplying natural food and cosmetics ingredients products
3.100% inspection before delivery
4.Inventory 24 hour delivery
5.Complete documentary system
FAQ
1: What's your MOQ?
A: It depends on different products. We accept sample order. Also, for some products, we can provide you with a free sample.
2: Do you provide after-sales service?
A: We provide 24-hour customer service. If you encounter any product quality problems or transportation problems, please feel free to contact us.
3: How about delivery time and method?
A: We usually ship within 3-7. We can ship by sea, air, and express. It also can make door to door shipping.
4: How to solve the after-sale disputes?
A: We accept changing or refunding service if any quality problem.
Packing and transportation
Packing
25KG/Cardboard Durm,Inner by double plastic bag or Customized
Storage
Keep in cool and dry place, keep away from from strong light
Shelf Life
2 Years
Shipping

Abt 3 days By Express (DHL or FedEx)

Abt 7-10 days By Air From China Airport

Abt 10-15 days By Sea From China Seapot

Payment term
100% T/T ADVANCE