Glutathione is an active tripeptide formed by the condensation of glutamic acid, cysteine, and glycine. It is an endogenous substance in the human body and a natural active peptide with important physiological functions.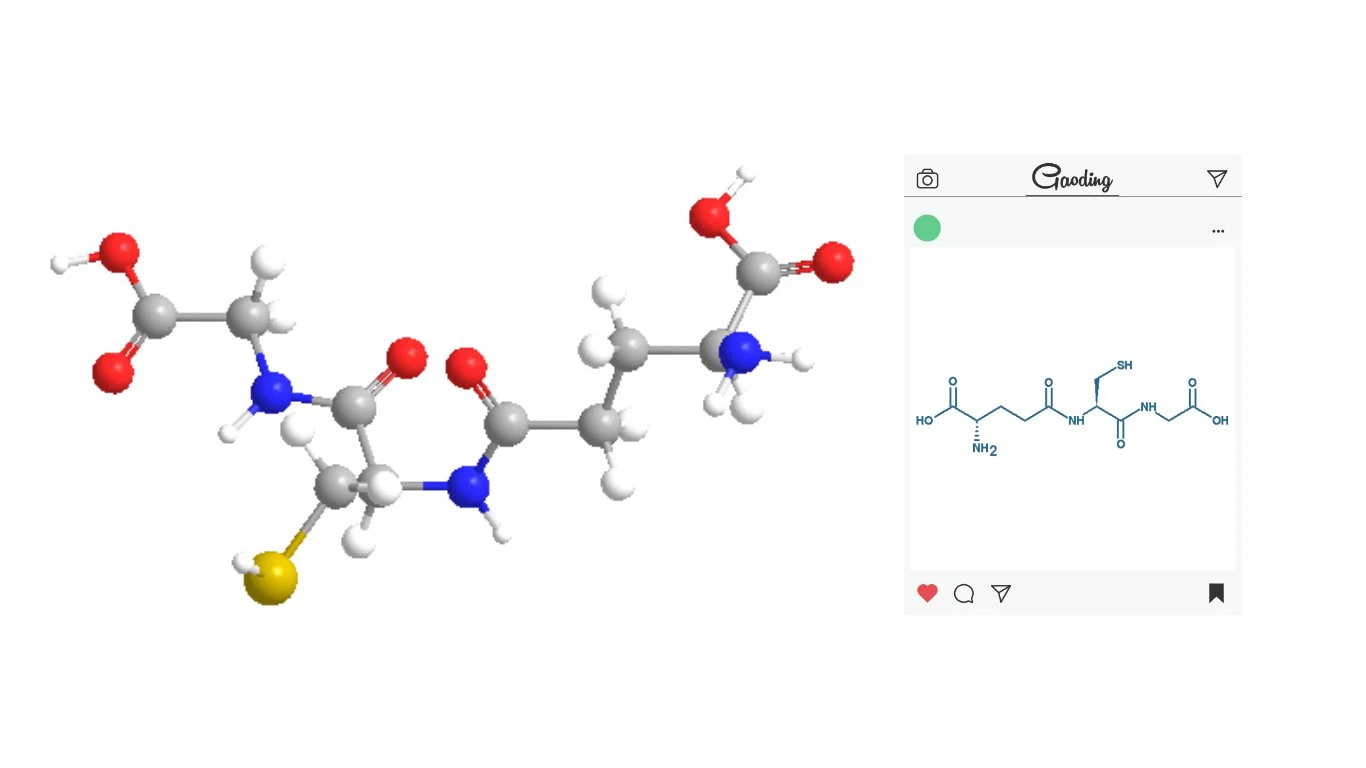 L-Glutathione Reduced(C10H17N3O6S)

CAS NO.

70-18-8

Appearance

White or almost white powder

Assay

99% min

Chlorides

Not more than 200 ppm

Sulfates

Not more than 300 ppm

Ammonium

Not more than 200 ppm

Iron

Not more than 10 ppm

Arsenic

Not more than 2 ppm

Heavy metals

Not more than 10 ppm

Cadmium (Cd)

Not more than 1 ppm

Lead (Pb)

Not more than 3 ppm

Mercury (Hg)

Not more than 1 ppm

Sulfated ash

Not more than 0.1%

Loss on drying

Not more than 0.5%

Shelf Life

Two years when properly stored.
What does glutathione do for the body?
Glutathione exists in cells in two forms, reduced (GSH) and oxidized (GSSG), and it has a variety of important physiological functions in organisms: 1) participate in redox reactions in cells; 2) participate in cellular Cell metabolic cycle; 3) Maintain cell reduction state; 4) Participate in DNA synthesis, repair and protein synthesis. Maintaining an appropriate GSH/GSSG ratio is critical for cell survival, and the synthesis of reduced glutathione is considered a key defense mechanism for cells against damaging oxidative production.
In the field of medicine, glutathione is mainly used to scavenge free radicals, improve immunity, protect the liver, and detoxify, and its whitening effect is widely used in the field of medical beauty. It is a whitening injection, some whitening skin care products and oral whitening health care products. main ingredient. It also has effects on radiation sickness and radiation protection, anti-allergy, increasing vision and eye diseases, anti-aging, and improving the course and symptoms of certain diseases.
Glutathione is essential for healthy immune system function. Glutathione optimizes cellular health by defending against oxidative free radicals and keeping vitamins C and E active.
A growing body of research suggests that glutathione (GSH) plays a key role in the immune system and in the pathology of infection, inflammation, and immune-mediated diseases. The role of reactive oxygen species (ROS) generated during lymphocyte-mediated inflammatory responses and resulting oxidative stress has been revealed in more detail. The antioxidant defense system has been shown to be weakened in the elderly and in patients with chronic degenerative diseases, especially inflammatory or autoimmune diseases. Cellular glutathione (GSH) is critical to keep the immune system functioning optimally.
What are the signs of low glutathione?
Levels of endogenous glutathione gradually decrease with aging due to reduced biosynthesis of reduced glutathione, low protein content, and reduced intake of fruits and vegetables. The reduction of glutathione will inevitably weaken its antioxidant function and further affect the metabolism of lipids and sugars. Endogenous glutathione deficiency is most common in diseases such as type 2 diabetes and obesity, cardiovascular disease, Respiratory diseases, cancer and liver disease.
Who shouldn't take glutathione?
Glutathione is a relatively safe supplement for most people, and those who are prone to allergies should choose glutathione supplements carefully. Glutathione needs to be taken for a long time to be effective, and allergic symptoms may appear during this process. Of course, always consult your healthcare provider for a diagnosis, accurate medical information, and clearance before taking any supplements.
About us
GSH BIO-TECH is an innovative high-tech enterprise with enzyme catalysis technology as the core, dedicated to the research, development, production and sales of biomedicine. The company adopts advanced production technology and quality inspection technology, and the product quality is excellent. Stable performance, won the trust of customers. We have been constantly developing and innovating to meet the needs of various customers. The products are exported to the United States, Europe, Japan, Australia and other places, and are widely used in medicine, health food, cosmetics, food supplements and beverages and other industries. The company's main products are glutathione (GSH), β-Nicotinamide Mononucleotide and Citicoline sodium (CDPC), Should you have interests in us, please don't hesitate to get in touch with us, we will be pleased to supply any further information you require.
Product Line

FAQ
Q: What's your MOQ?
A: MOQ usually 5kg quantity. We can discuss the MOQ according to customer's exact situation.
Q: How long is your delivery time?
A: The general delivery time is 7 days after receiving your order confirmation. If we have the goods in stock, it will only take 1-2 days.
Q: Do you provide sample ? Is it free?
A: If the sample is low value, we will provide the free sample with freight collect. But for some high value samples, we need to collect the sample charge.
Q: What is your term of payment?
A: 100% T/T in advance.
Q: Which payment form you can accept?
A: T/T, Western Union, PayPal etc. We accept any convenient and swift payment term.
Q: Which certificate do you have?
A: BRC, ISO9001, HALAL, Kosher, FSSC, HACCP, FDA.