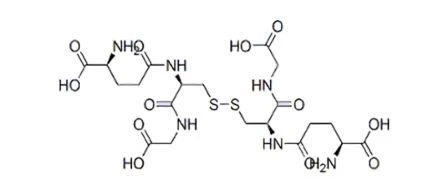 GSSG bulk powder is obtained by oxidizing the GSH rich in yesat by microbial fermentation, and then separated and purified by modern technology. It is widely present in organisms and mainly plays a role of redox electron transfer. It can protect red blood cells from oxidative damage and keep the hemoglobin in cysteine in a reduced state.、
Function
1. Anti-aging
2. Skin whitening
3. Medicine
Application
Glutathione is widely used in Pharmaceuticals, Nutraceuticals,Health functional foods, Dietary supplements, Skin-Whitening products, Cosmetic etc.
Oxidized glutathione are reducing agents, existing at a concentration of approximately 5 mM in animal cells.Glutathione reduces disulfide bondsformed within cytoplasmic proteins to cysteines by serving as an electron donor.In the process, glutathione is converted to its oxidized form oxidized glutathione bulk powder (GSSG), also called L(-)-Glutathione.
Product Properties
Product Name Oxidized glutathione
Molecular Formula: C20H32N6O12S2
Molecular Weight 612.6311
CAS Registry Number 27025-41-8
EINECS 248-170-7
FAQ
Q: Are you trading company or manufacturer?
A: We are professional manufacturer specialized in orthopedic and sport products. And we trade our products with our clients directly.
Q: Can you do OEM and ODM?
A: Yes, OEM and ODM are both acceptable. The material, color, style can customize, the basic quantity we will advise after we discuss.
Q: Can we use our own logo?
A: Yes, we can print your private logo according to your request.