Glutathione is a very important and effective antioxidant that exists in plants and animals. Often referred to as the "master antioxidant," glutathione's benefits include the ability to recycle other antioxidants, such as vitamins C and E, alpha lipoic acid, and coenzyme Q10. As the most abundant free radical scavenger synthesized in the human body, abundant evidence indicates that glutathione plays an important role in several acute and chronic diseases.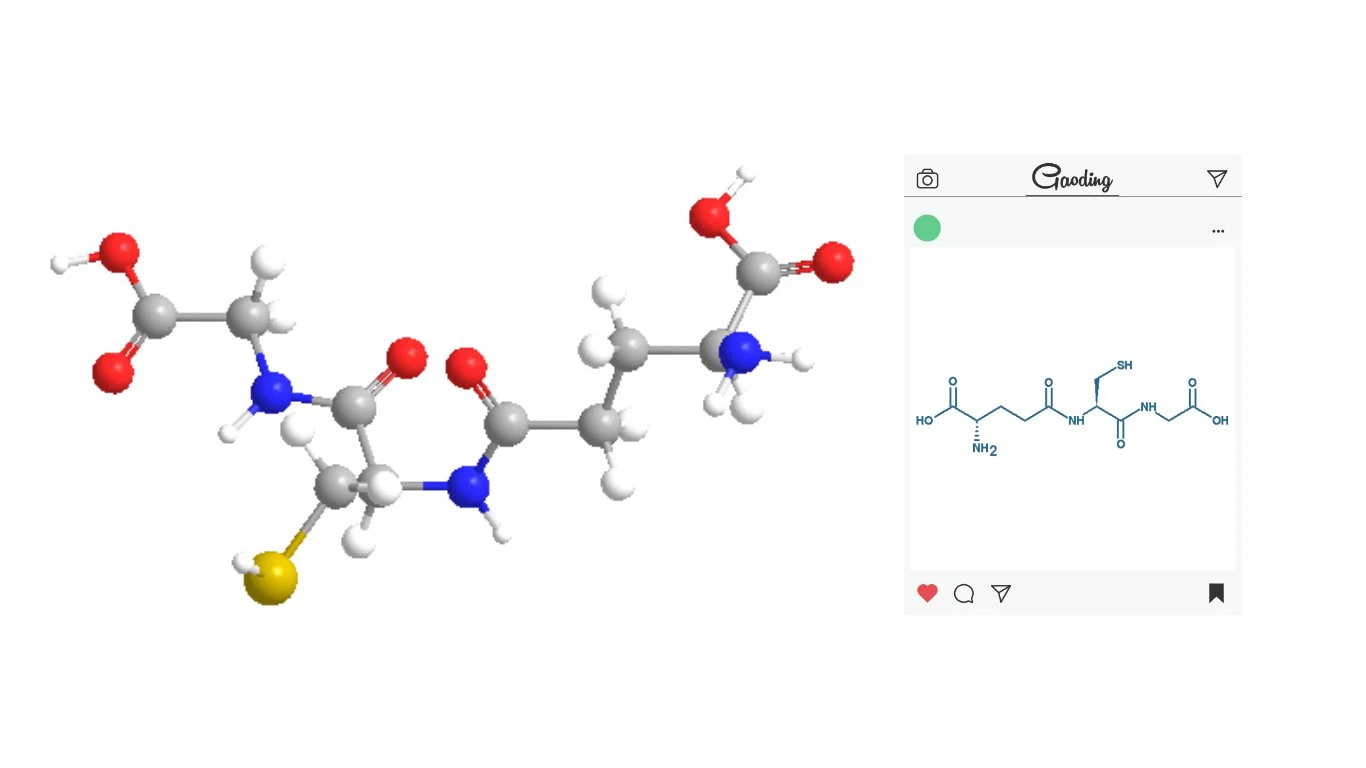 L-Glutathione Reduced(C10H17N3O6S)

CAS

70-18-8

Appearance

White or almost white powder

Assay

99% min

Chlorides

Not more than 200 ppm

Sulfates

Not more than 300 ppm

Ammonium

Not more than 200 ppm

Iron

Not more than 10 ppm

Arsenic

Not more than 2 ppm

Heavy metals

Not more than 10 ppm

Cadmium (Cd)

Not more than 1 ppm

Lead (Pb)

Not more than 3 ppm

Mercury (Hg)

Not more than 1 ppm

Sulfated ash

Not more than 0.1%

Loss on drying

Not more than 0.5%

Shelf Life

Two years when properly stored.
1. Benefits of Glutathione for Eye Health
Glutathione is present in high concentrations in the lens, particularly in the epithelial layer, where it has many important functions, including helping to maintain lens clarity by preventing the formation of high molecular weight crystal aggregates, clearing xenobiotics and protecting against oxidative damage. A study of human lenses from birth to 92 years showed that over the years glutathione levels decreased to 73% and oxidized glutathione levels (i.e. "consuming" glutathione) increased from 2% to 18% .
The neurodegenerative eye disease glaucoma, a leading cause of irreversible blindness worldwide, is characterized by progressive damage or degeneration of the optic nerve due to oxidative stress, and patients have lower levels of glutathione compared with controls.
The eye is constantly exposed to radiation and thus is in great need of antioxidant protection, and the retinal pigment epithelium is particularly susceptible to oxidative damage. Glutathione is the most prominent antioxidant in the retina and its depletion has been shown to be associated with the death of many different types of retinal cells as well as stress-induced premature aging; a phenomenon characterized by the irreversible cessation of normal cell division . Degeneration of the retinal pigment epithelium contributes to many diseases associated with vision loss, including age-related macular degeneration.
2. The benefits of glutathione on oral health
Glutathione is an important redox regulator in saliva, and its maintenance is essential for periodontal health. Periodontal disease is a chronic inflammatory disease associated with increased inflammation caused by plaque biofilm (produced by bacteria), overproduction of ROS and decreased antioxidant activity in saliva, leading to loss of periodontal and skeletal support.
Reduced glutathione plays an important role in the regulation of pro-inflammatory cytokines, and the redox disturbances observed in periodontal disease patients are associated with disturbances in anti-inflammatory pathways, leading to hyperactivity of neutrophils. The lower levels of glutathione observed in periodontal disease suggest a protective role for important cellular and tissue structures from host-derived free radicals.
Certain bacterial species, such as Fusobacteria and others, as well as smoking and smokeless tobacco, degrade glutathione to form toxic hydrogen sulfide in periodontal cells (6.7). In contrast, nonsurgical periodontal treatments such as scaling and root planing showed increased glutathione levels, suggesting improved antioxidant status and reduced oxidative stress, possibly due in part to reduced bacterial proteolytic activity and reduced inflammation. Studies have shown that these improvements are seen within 3 months of treatment, but in the long term, individuals should supplement with micronutrients to increase glutathione levels.
3. Glutathione Benefits for Fertility
Oxidative stress has a well-defined role in the pathogenesis of both male and female infertility, where free radicals such as ROS can affect oocytes, sperm and embryos and their environment. For example, in male infertility, the membrane and cytoplasm of sperm cells contain high amounts of fatty acids and are therefore highly susceptible to ROS, resulting in decreased sperm motility, motility, and ability to fertilize oocytes. Glutathione peroxidase is one of the antioxidant defense systems of sperm cells, which is involved in the protection of mature sperm in the epididymis and exists in high concentrations in the testis. Glutathione is also present in the female reproductive tract, and it has been suggested that sperm cells may use this fluid as a source of glutathione to defend against oxidative stress - especially when we consider that sperm cells have a very small cytoplasm, whereas The cytoplasm is the main storehouse of defense enzymes. The ability of sperm cells to utilize exogenous glutathione gives them a survival advantage.
Likewise, in women, excess ROS can directly cause damage to oocytes and has been linked to a number of fertility-related disorders, such as polycystic ovary syndrome and endometriosis. ROS affect multiple physiological functions of the ovary, including oocyte maturation, ovulation, and corpus luteum maintenance during pregnancy.
Glutathione protects eggs from oxidative damage during follicle formation, therefore, egg quality depends on it. Research has also shown that oocytes with higher levels of intracellular glutathione produce healthier, stronger embryos. At younger reproductive ages, women's ovaries exhibit higher levels of intracellular glutathione, and a lack of glutathione is associated with premature ovarian aging. As an anti-aging antioxidant, it may positively affect the health of the egg, one of the cells most affected by the aging process.
Anhui GSH Bio-Technology Co.,LTD. has always adhered to green environmental protection, technological innovation and global layout. The company is equipped with advanced scientific research equipment and an experienced scientific research team. A number of national patents have been obtained, commercial production has been realized, and stable and continuous service to global customers.
Packing and transportation
Packing
25KG/Cardboard Durm,Inner by double plastic bag or Customized
Storage
Keep in cool and dry place, keep away from from strong light
Shelf Life
2 Years
Shipping

Abt 3 days By Express (DHL or FedEx)

Abt 7-10 days By Air From China Airport

Abt 10-15 days By Sea From China Seapot

Payment term
100% T/T ADVANCE