L-Glutathione (GSH) is a small molecular peptide substance that is produced by the human body. It is widely present in human cells and consists of three amino acids: glutamic acid, cysteine, and glycine. As a coenzyme of specific enzymes, GSH has the functions of scavenging free radicals, modifying proteins, protecting proteins and enzymes containing sulfhydryl groups in cell membranes from oxidation, catalyzing disulfide bond exchange reactions, and signal transduction.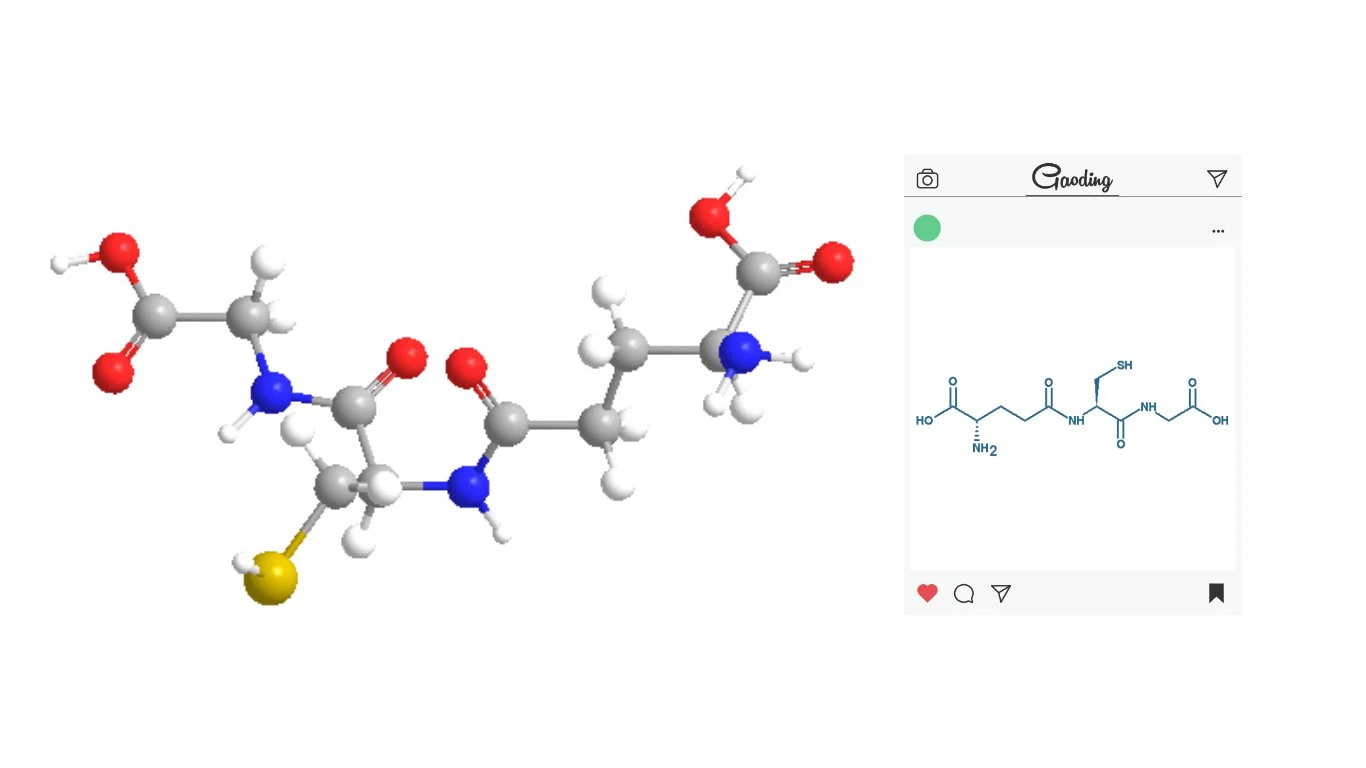 Product description of L-Glutathione Raw Powder:
L-Glutathione Reduced(C10H17N3O6S)

CAS NO.

70-18-8

Appearance

White or almost white powder

Assay

99% min

Chlorides

Not more than 200 ppm

Sulfates

Not more than 300 ppm

Ammonium

Not more than 200 ppm

Iron

Not more than 10 ppm

Arsenic

Not more than 2 ppm

Heavy metals

Not more than 10 ppm

Cadmium (Cd)

Not more than 1 ppm

Lead (Pb)

Not more than 3 ppm

Mercury (Hg)

Not more than 1 ppm

Sulfated ash

Not more than 0.1%

Loss on drying

Not more than 0.5%

Shelf Life

Two years when properly stored.
The effect of L-glutathione on human cells:
1. Inhibition: Inhibit cell changes and enhance human immunity;
2. Activation: activate cell activity, enhance human immunity, activate lymphocytes, differentiate and proliferate T cells and B cells, so as to eliminate viruses or cancer cells;
3. Repair: Repair human degenerated cells and stabilize the internal environment;
4. Promote: maintain, improve and promote the normal metabolism of cells.
The detoxification and detoxification effect of L-glutathione:
1. L-glutathione is the unique substrate of glutathione peroxidase and glutathione S-transferase GST, and is the core of a complex multi-faceted detoxification enzyme system. Its detoxification function is mainly by these two enzymes.
2. L-glutathione can also help metabolize exogenous toxic substances. In the detoxification process of a variety of exogenous substances (including drugs) that interact with tripeptides, the exogenous toxic substances are first oxidized by the hepatic cytochrome P-450 metabolic enzyme system, and then GST catalyzes the GSH sulfhydryl group to covalently interact with the electrophilic compound. Binding, inactivating and increasing its solubility, and finally excreted in urine and feces in the form of thioether acid.
About us
GSH BIO-TECH is an innovative high-tech enterprise with enzyme catalysis technology in the field of synthetic biology as the core and cross-application of multidisciplinary technologies.We are a professional manufacturer of raw L-glutathione powder. We have our own laboratory and three production bases. We produce high quality L-glutathione by enzymatic method, which is green and excellent, with high purity and high bioavailability. All production is under GMP regulations and Under the traceable quality control system, Should you have interests in us, please don't hesitate to get in touch with us,we will be pleased to supply any further information you require.
Product Line

Our Services
1. Good knowledge on different market can meet special requirements.
2. Real manufacturer with our own factory located in Anhui,China
3. Strong professional technical team ensure to produce the top quality products.
4. Special cost control system ensure to provide the most favorable price.
5. Rich experience in active pharmaceutical ingredients field.
FAQ
Q: Can you do our own packaging?
A: Yes, you just provide the package design and we will produce what you want. We also have the professional designer can help you do the packaging design.
Q: When can I get the price?
A: Usually we quote within 8 hours after we get your inquiry.
Q: What's your MOQ?
A: MOQ usually 5kg quantity. We can discuss the MOQ according to customer's exact situation.
Q: How long is your delivery time?A: The general delivery time is 7 days after receiving your order confirmation. If we have the goods in stock, it will only take 1-2 days.