In the field of medicine, α-LA is widely used in the prevention and adjuvant treatment of diabetes and its related complications.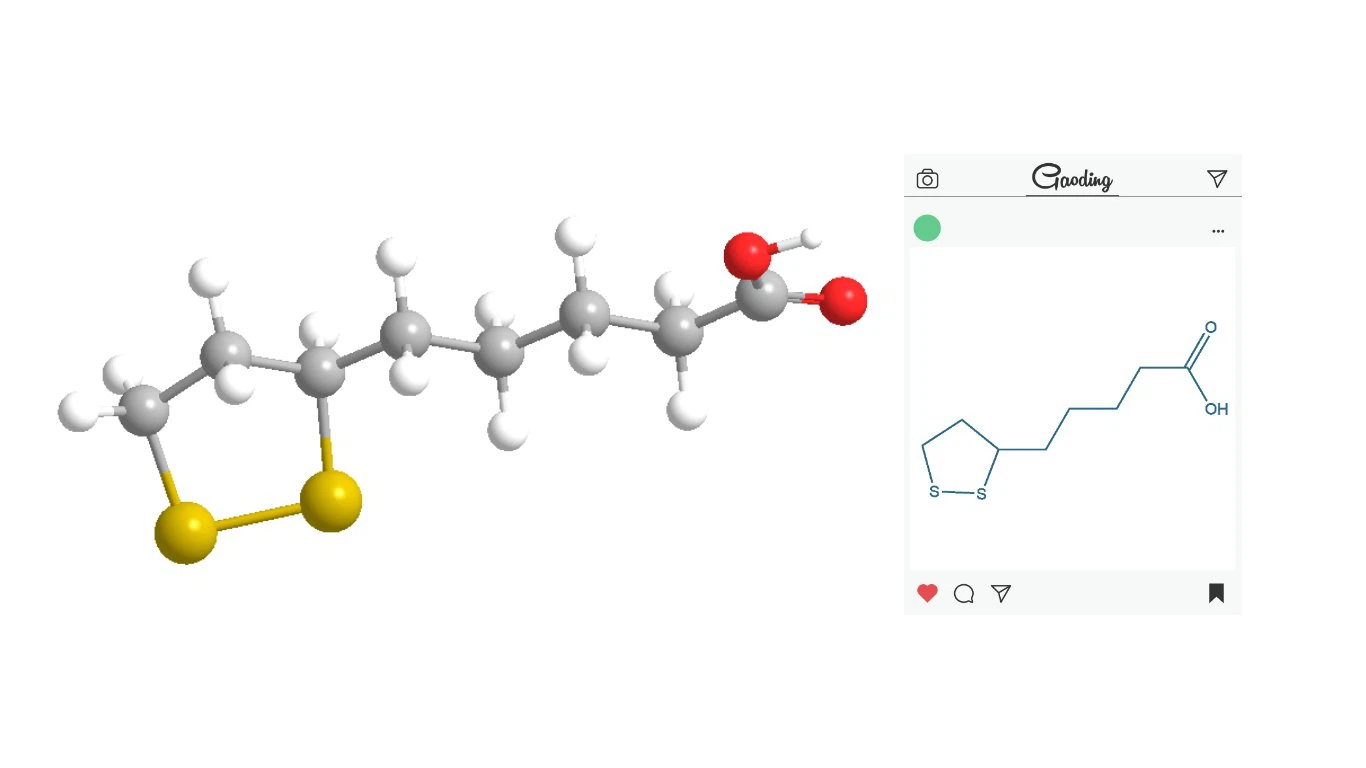 α-Lipoic Acid(C8H14O2S2)

CAS

1077-28-7

Appearance

Light yellow crystalline powder

Assay

≥98.0%

Loss on drying

Not more than 0.2%

Heavy Metal

Not more than 10ppm

Application

Raw material、medicine

Shelf Life

24 months when properly stored.
1.Enhance glucose metabolism
In 1970, Haugaard et al. found that α-LA can enhance the metabolism of glucose. Studies in recent years have once again confirmed that α-LA can enhance the absorption of glucose by skeletal muscle and red blood cells in non-insulin-dependent diabetic animals, and reduce blood sugar.
2. Attenuates Oxidative Stress
In diabetic patients, the body's antioxidant capacity is reduced, resulting in an increase in lipid peroxidation products (such as thiobarbituric acid actives, lipid peroxides, oxidatively damaged DNA bases, etc.), while the protective antioxidant vitamins Levels of E, vitamin C and reduced GSH were reduced. Oxidative stress is an important factor causing diabetes complications. Hyperglycemia stimulates the polyol pathway, leading to the formation of advanced glycation end products (AGEs), inducing reactive oxygen species free radicals, and thus enhancing oxidative stress. α-LA scavenges reactive oxygen species, thereby attenuating oxidative stress.
3. Relieve symptoms of diabetic neuropathy
α-LA can scavenge free radicals, regenerate antioxidant substances, reduce oxidative stress, accelerate nerve conduction rate, correct neuropeptide defects, and restore neuropeptide Y, nerve growth factor and substance P to normal, thereby effectively relieving or eliminating diabetes. Symptoms of neuropathy.
4. Prevent Diabetic Cataracts
α-LA can inhibit the polyol pathway, reduce the accumulation of sorbitol, maintain the level of intracellular NADPH, inhibit the formation of AGE, and increase the content of GSH in the lens, thereby protecting the lens. In vitro experiments show that α-LA has specific protection against glucose-induced lens opacity.
5. Prevents cardiovascular damage in diabetes
Studies have shown that α-LA and DHLA have a strong inhibitory effect on the activation of NF-κB caused by NF-α, H2O2, TNF-α and AGE. α-LA can down-regulate the expression of cell adhesion molecules ICAM-1 and VCAM-1, reduce the expression of endothelial cytokines and endothelin, and relieve endothelial dysfunction. α-LA can correct the abnormality of endothelial-derived hyperpolarizing factor and nitric oxide caused by hyperglycemia, reduce the effect of diabetes on the expression and activity of cardiac nitric oxide synthase (NOS), and regulate NO-mediated endothelial dysfunction in diabetic patients. Cell-dependent vasodilation to maintain normal vasodilation.
α-LA is a highly effective antioxidant and plays an important role in the prevention and treatment of many diseases.