L-carnosine (or carnosine) is a protein molecule composed of two amino acids (beta alanine and histidine). It is a dipeptide amino acid commonly found in human and animal brain and muscle tissue. Unlike other amino acids, as an antioxidant, L-carnosine has the ability to keep working even when cells are attacked by free radicals, preventing further or complete damage. Food sources of L-carnosine are animals, especially beef, pork and chicken.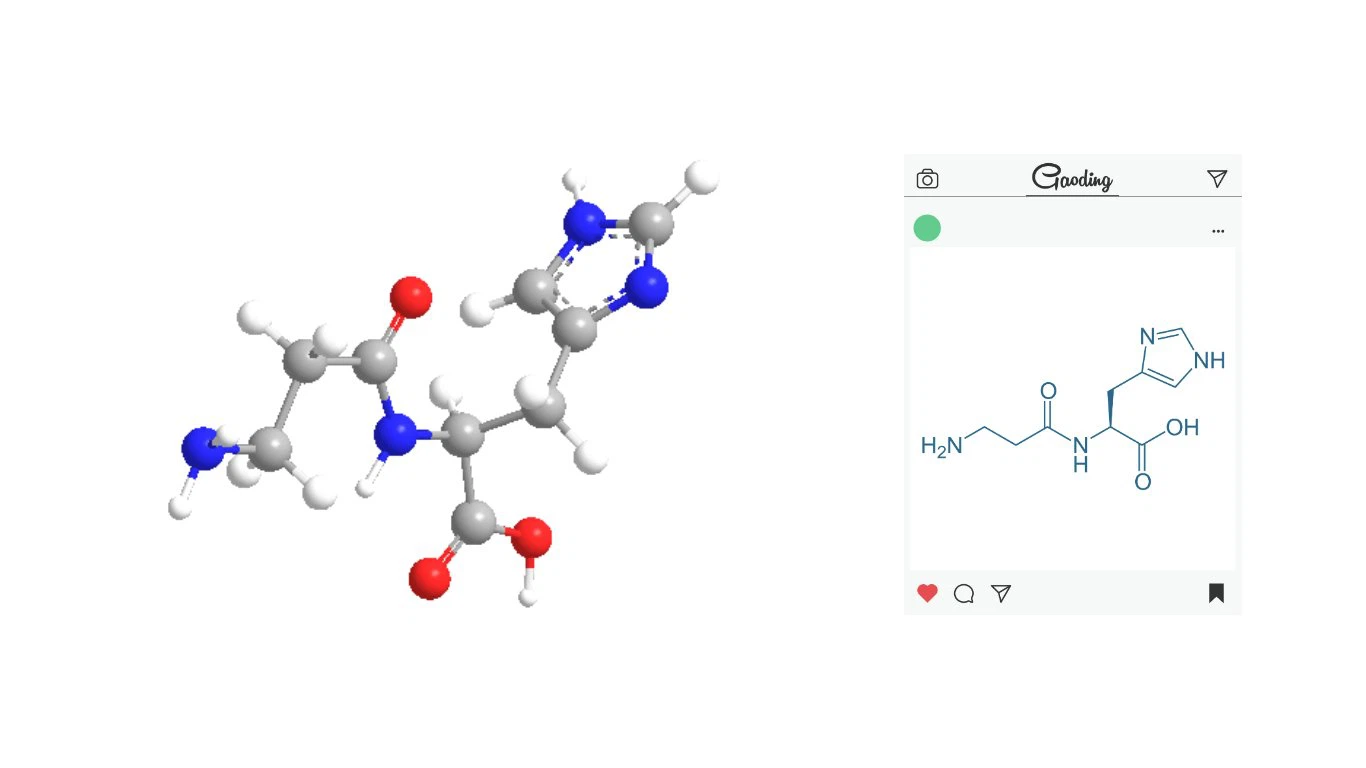 L-carnosine(C9H14N4O3)

CAS

305-84-0

Appearance

White powder

Assay

≥98.0%

Loss on drying

Not more than 1%

Heavy Metal

Not more than 10ppm

Application

Raw material、medicine

Shelf Life

24 months when properly stored.
1. Protects the brain from aging. L-carnosine protects against the increase in oxidants, nitrogen and blood sugar caused by the release of free radicals, putting brain cells at risk of premature degeneration. Carnosine supplements play an important role in reducing toxicity to the brain and preventing Alzheimer's disease, Parkinson's disease and other neurological disorders.
2. Protect the cardiovascular system. The antioxidant power of L-carnosine protects the heart and blood vessels from stress by scavenging free radicals and blocking toxins. It helps lower "bad" (LDL) cholesterol that blocks arterial walls and reduces the risk of stroke, heart attack, and other cardiovascular diseases.
3. Reduce the risk of diabetes. L-carnosine controls the rise in blood sugar that causes diabetes by preventing the glycation process and increasing the number of insulin-secreting cells in the pancreas.
4. Defense against cancer. As an antioxidant and anti-inflammatory, L-carnosine supports DNA synthesis and prevents its destruction, which may be responsible for cancer. It hinders the metabolism of cancer cells and helps prevent metastatic growth. It also helps eliminate Helicobacter pylori, which is associated with stomach and peptic ulcers.
5. Prevent cataract formation and improve vision. L-carnosine has anti-glycation properties that protect the lens of the eye from cataract formation and prevent visual impairment. Since diabetes is a risk factor for cataract formation, its protection against diabetes attacks also benefits the eyes.
6. Promote wound healing. When carnosine levels in the body are adequate, postoperative wound healing is faster. In studies in rats and subsequently in humans, the tensile strength of the skin at the surgical site was higher when carnosine was included in the diet. The combined action of the dipeptides in L-carnosine is the result of stimulating early fluid accumulation and enhancing collagen synthesis.