Citicoline sodium is composed of ribose, cytosine, phosphoric acid and choline. As an endogenous compound, Citicoline Sodium is an important medium for cell membrane phospholipid synthesis and an external source for the synthesis of acetylcholine. Acetylcholine is an important neurotransmitter, which plays a very important role in nucleotide metabolism.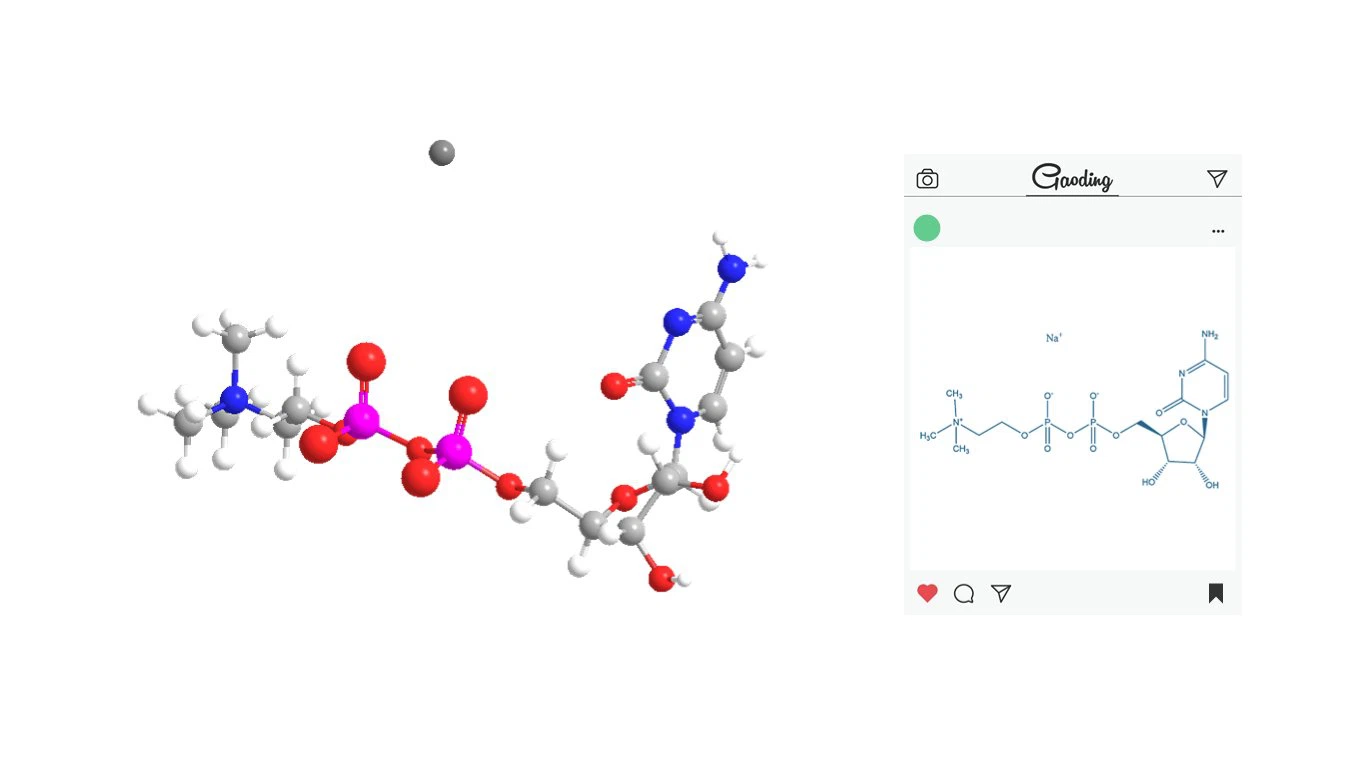 Citicoline Sodium(C14H25N4NaO11P2)

CAS

33818-15-4

Appearance

White powder

Assay

≥98.0%

Loss on drying

Not more than 1%

Heavy Metal

Not more than 10ppm

Application

Raw material、medicine

Shelf Life

24 months when properly stored.
Pharmacological action of citicoline sodium:
1. Protect the lipid structure of the cell membrane: Citicoline promotes the synthesis of phospholipids in the brain and repairs the structure of the cell membrane. Inhibit the activity of phospholipase, reduce the decomposition of phospholipids, and block apoptosis.
2. Stimulate the neurotransmitter system: Citicoline promotes the synthesis of dopamine in the striatum and effectively protects dopaminergic neurons.
3. Promote the energy metabolism of brain tissue: Citicoline restores the activity of Na-k-ATPase, which can restore the abnormal ATP level of neurons.
4. Anti-oxidation, reduce the toxicity of free fatty acids.
5. Increase cerebral blood flow and improve cerebral circulation.
Effect:
By reducing cerebrovascular resistance and increasing cerebral blood flow, it can promote brain substance metabolism and improve cerebral circulation. In addition, Citicoline Sodium Capsules can enhance the function of the ascending activation system of the brainstem reticular structure, enhance the function of the pyramidal system, and improve motor paralysis, so it has a certain effect on promoting the recovery of brain function and awakening.
Application:
Citicoline Sodium is mainly used for the treatment of cerebrovascular diseases, sequelae of brain trauma, toxic encephalopathy, senile nervous system degenerative diseases, and can also be used for optic atrophy, glaucoma, open-angle glaucoma, angle-closure glaucoma surgery, amblyopia , diabetic retinopathy, external ophthalmoplegia, juvenile hyperkinetic syndrome, ADHD, tic disorder, Addison's syndrome, facial neuritis, hemifacial spasm, Meige's syndrome, and optic nerve damage caused by various reasons, facial nerve and eyeball contusion , Retinal contusion. In addition, it is also helpful for myasthenia gravis, Addison's syndrome, facial neuritis, hemifacial spasm, and Meige's syndrome.
At present, Anhui GSH Bio-Technology Co.,LTD. has completed the production and research of Citicoline Sodium, and the product pipeline can reach an annual production capacity of 200 tons, realizing the commercial scale production of Citicoline Sodium.
We has always adhered to green environmental protection, technological innovation and global layout. The company is equipped with advanced scientific research equipment and an experienced scientific research team. The enzymatic technology developed by the company has obtained a number of national patents.
Anhui GSH Bio-Technology Co.,LTD. is committed to innovative research and development of high value-added APIs, important pharmaceutical intermediates and cosmetic raw materials, realizing commercial production, and stably and continuously serving global customers.