Glutathione is a tripeptide synthesized from glutamic acid, glycine, and cysteine, and is an important antioxidant that is constantly produced by the body itself.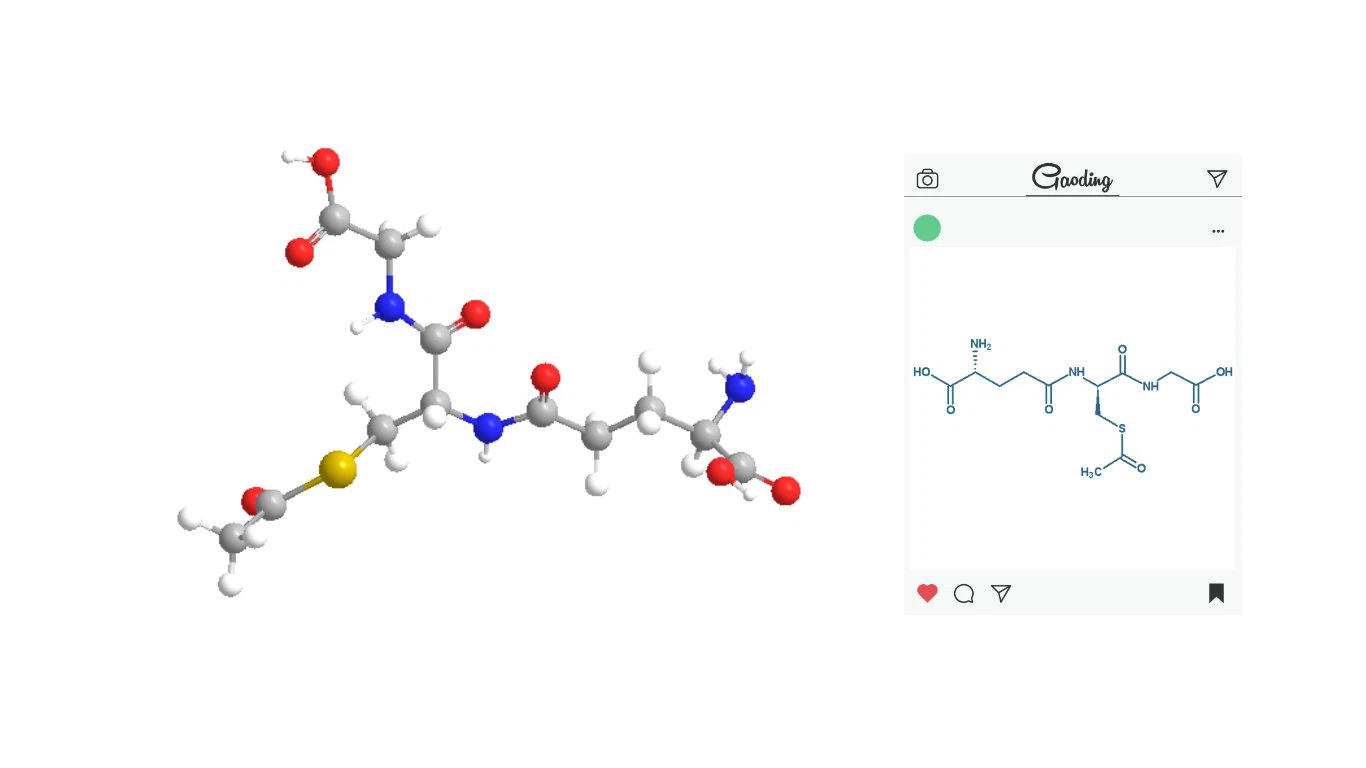 S-Acetyl-L-Glutathione(C12H19N3O7S)

CAS

3054-47-5

Appearance

White or almost white, crystalline powder

Assay

≥98.0%

Heavy metals

Not more than 10 ppm

Sulfated ash

Not more than 0.2%

Loss on drying

Not more than 0.5%

Application

Raw material、medicine

Shelf Life

24 months when properly stored.
As an antioxidant, glutathione can eliminate free radicals, reduce oxidative stress, and restore oxidized vitamin C and vitamin E, thereby maintaining cell function and increasing cell energy—muscle contraction also requires the support of glutathione.
Glutathione is not only an antioxidant, but also widely involved in other physiological mechanisms, especially in immune function.
In innate immunity, glutathione can promote the proliferation of T lymphocytes, enhance the phagocytic activity of granulocytes, and support the function of dendritic cells.
Glutathione also regulates the inflammatory response of innate immunity—neutralizing reactive oxygen species, inhibiting the production of most inflammatory factors (thus reducing inflammation), and participating in the production of interferon gamma in dendritic cells.
Glutathione can participate in biotransformation, excrete harmful substances in the body, help maintain normal immune function and other functions; protect the liver, heart, etc. It is very effective for people.
In addition, glutathione can also inhibit the fatty liver caused by alcohol damage to the liver; it can be used as a treatment or auxiliary drug for hepatitis, hemolytic diseases, and ophthalmic diseases such as keratitis, cataract and retina.
According to the latest research, glutathione can correct the imbalance between acetylcholine and cholinesterase and play an anti-allergic effect.
S-Acetyl-L-Glutathione is a unique form of glutathione in which the acetyl group (COCH3) belongs to the sulfur atom of cysteine in the glutathione molecule. Compared with other forms on the market, acetyl glutathione is more stable in the intestinal tract and more easily absorbed by the body, with high bioavailability.
We has always adhered to green environmental protection, technological innovation and global layout. The company is equipped with advanced scientific research equipment and an experienced scientific research team. The enzymatic technology developed by the company has obtained a number of national patents.
Anhui GSH Bio-Technology Co.,LTD. is committed to innovative research and development of high value-added APIs, important pharmaceutical intermediates and cosmetic raw materials, realizing commercial production, and stably and continuously serving global customers.
F&A
1.what's your delivery time?
Usually we will arrange the shipment in 7-15 days.
2.How about the packing?
Usually we provide the packing as 25kg/bag or carton.Of course,if you have special requirements on them,we will according to you.
3.How about the validity of the products?
According to the products you ordered.