Glutathione, a powerful antioxidant with additional anti-melanogenic properties, acts as a low molecular weight thiol tripeptide and is essential for maintaining intracellular redox balance. In addition to being one of the most abundant antioxidants, with the discovery of its anti-melanogenic properties, glutathione was widely used in skin lightening agents and became popular all over the world in a short time.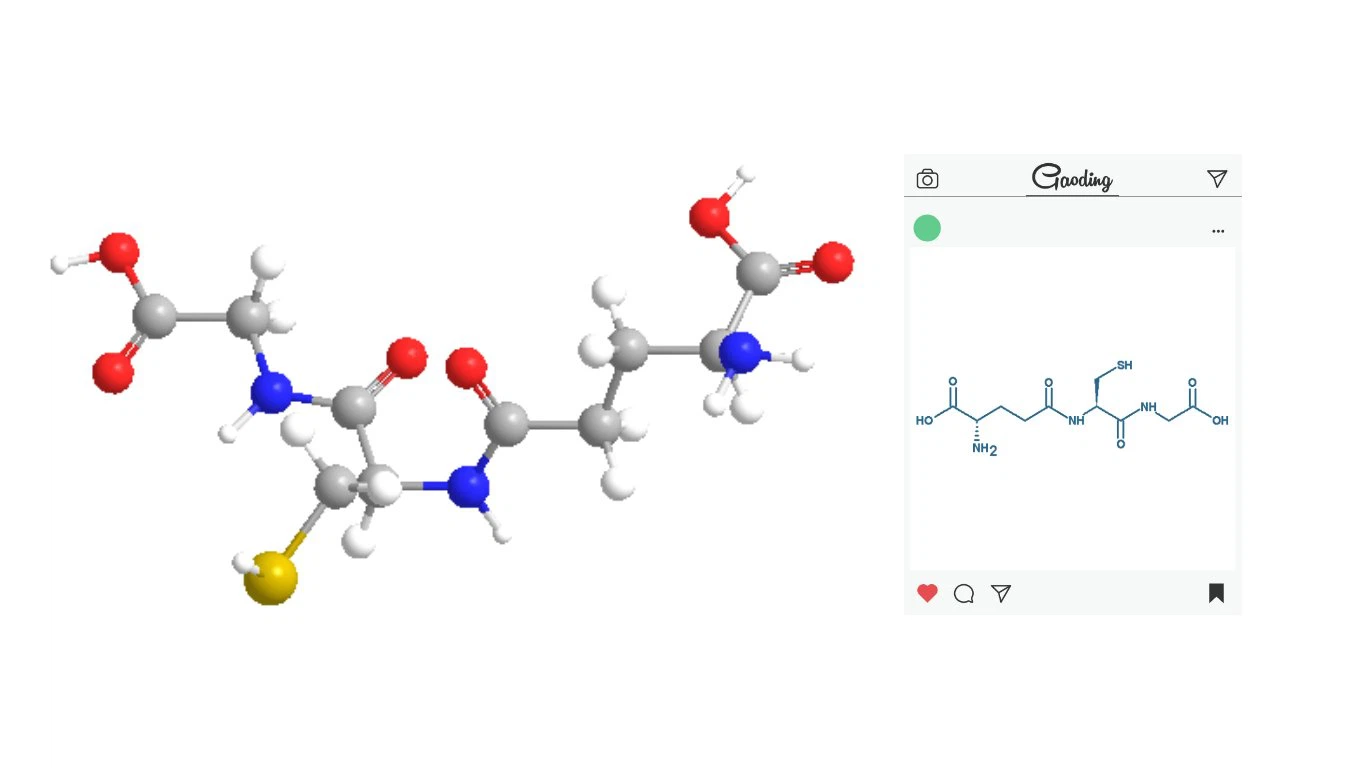 L-Glutathione Reduced(C10H17N3O6S)

CAS

70-18-8

Appearance

White or almost white powder

Assay

99% min

Chlorides

Not more than 200 ppm

Sulfates

Not more than 300 ppm

Ammonium

Not more than 200 ppm

Iron

Not more than 10 ppm

Arsenic

Not more than 2 ppm

Heavy metals

Not more than 10 ppm

Cadmium (Cd)

Not more than 1 ppm

Lead (Pb)

Not more than 3 ppm

Mercury (Hg)

Not more than 1 ppm

Sulfated ash

Not more than 0.1%

Loss on drying

Not more than 0.5%

Shelf Life

Two years when properly stored.
In the fight against melanin, glutathione has its own unique mechanism of action, which can block the activity of tyrosinase and achieve whitening effect from the root. In addition, it has a repairing effect on damaged cells, improving the delicateness and smoothness of the skin.
Glutathione can achieve anti-oxidation and anti-aging effects by removing or neutralizing various harmful peroxides and free radicals produced in the human body. Thiol group is the most important functional group of GSH, which can participate in many important biochemical reactions in the body, protect the important enzyme protein in the body from oxidation and inactivation, and ensure energy metabolism and cell utilization.
Glutathione can inhibit melanin production through multiple pathways, the main mechanism of action is through its powerful antioxidant effect. The usage of glutathione for whitening includes oral, topical and intravenous injection.
Glutathione can be used to treat melasma, including oral, topical and mesotherapy. The maximum dosage of glutathione reported in clinical research for whitening and freckle removal is: 500mg/day for 8 weeks or 250mg/day for 12 weeks. However, glutathione as a nutritional supplement can be safely taken orally for more than a year at a daily dose of 500mg.
We has always adhered to green environmental protection, technological innovation and global layout. The company is equipped with advanced scientific research equipment and an experienced scientific research team. The enzymatic technology developed by the company has obtained a number of national patents.
Anhui GSH Bio-Technology Co.,LTD. is committed to innovative research and development of high value-added APIs, important pharmaceutical intermediates and cosmetic raw materials, realizing commercial production, and stably and continuously serving global customers.
FAQ
1: What's your MOQ?
A: It depends on different products. We accept sample order. Also, for some products, we can provide you with a free sample.
2: Do you provide after-sales service?
A: We provide 24-hour customer service. If you encounter any product quality problems or transportation problems, please feel free to contact us.
3: How about delivery time and method?
A: We usually ship within 3-7. We can ship by sea, air, and express. It also can make door to door shipping.
4: How to solve the after-sale disputes?
A: We accept changing or refunding service if any quality problem.