NMN, namely Nicotinamide Mononucleotide, is a naturally occurring biologically active nucleotide that exists in various organisms. NMN is the precursor of the important coenzyme NAD+ in the human body, and NAD+ is involved in almost all important metabolic reactions in the human body. It is to maintain cell vitality important support.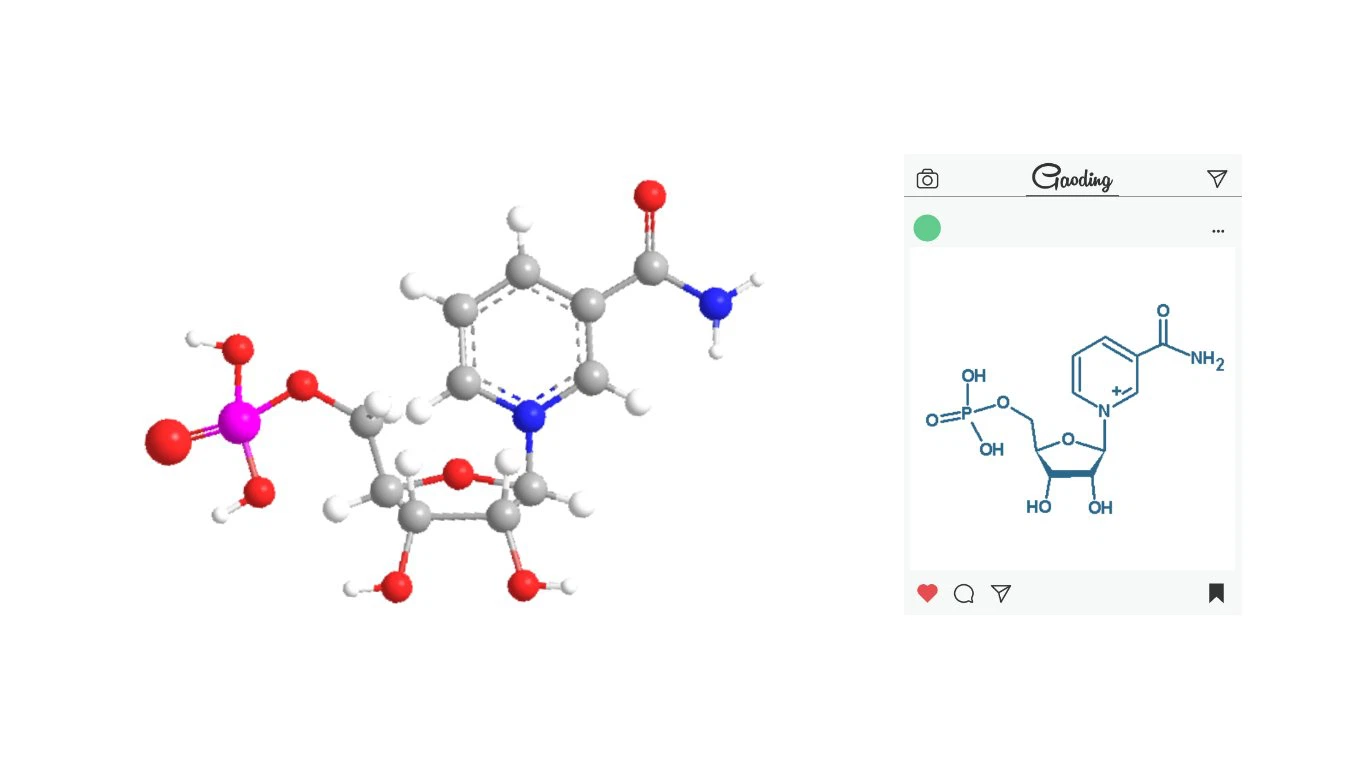 Product description of NMN powder:
Bulk Powder Nicotinamide Mononucleotide(C11H15N2O8P)

CAS NO.

1094-61-7

Appearance

White or almost white powder

Assay

99% min

Loss on drying

Not more than 0.5%

Heavy Metal

Not more than 10ppm

Chlorides

Not more than 200 ppm

Sulfates

Not more than 300 ppm

Iron

Not more than 20 ppm

Arsenic

Not more than 1 ppm

Bulk density

Not less than 0.15g/ml

Shelf Life

Two years when properly stored.
NMN has been found to have 5 major functions by scientific research:
Rejuvenate - provide energy to cells
Aging-Activating Longevity Proteins
Promoting - restores mitochondria to youthful levels
Repair – cellular DNA damage
Antiaging – turning off genes that speed up the aging process
The role of NMN in cosmetics:
NMN can be used as a raw material for cosmetics, mainly used in anti-wrinkle agents, skin protectants, moisturizers and antioxidants.

Improves pigmentation:
Studies have found that sufficient NAD+ levels can inhibit pigmentation caused by ultraviolet rays or other skin stimuli, and effectively prevent or improve skin pigmentation spots related to pigmentation.
Collagen Supplement:
It can effectively reduce the contraction of muscle cells, supplement collagen, promote the synthesis of skin protein and hyaluronic acid to achieve the effect of firming skin and reducing wrinkles.
Anti-aging:
Supplementing NAD+ content through NMN can improve the function of mitochondria in cells. The decline of mitochondrial function is closely related to human aging. NMN can activate longevity proteins, improve mitochondrial activity, and prevent cell damage caused by free radicals, thereby delaying cell aging. The function of epidermal cells, as well as other cells in the human body, can maintain skin health and delay skin aging.
Repair and replenish water:
NAD+ can also help skin lock water deeply, reduce pigmentation, repair damaged stratum corneum lipid barrier, enhance cell vitality and regeneration ability, and effectively slow down skin aging.
About us
GSH BIO-TECH is an innovative high-tech enterprise with enzyme catalysis technology in the field of synthetic biology as the core and cross-application of multidisciplinary technologies.We are a professional manufacturer of raw NMN powder. We have our own laboratory and three production bases. We produce NMN by enzymatic method, which is green and excellent, with high purity and high bioavailability. All production is under GMP regulations and Under the traceable quality control system. Should you have interests in us, please don't hesitate to get in touch with us,we will be pleased to supply any further information you require.
Product Line

Our Service
1.More Professional service in active pharmaceutical ingredients exporting field
2.Better manufacture ability
3.Various payment term to choose:T/T,Western Union,L/C,Paypal
4.High quality/Safe material/Competitive price
5.Small order available
6.Quickly response
7.More safe and fast transport
8.OEM design for all customers
FAQ
Q: Are you trading company or manufacturer?
A: We are professional manufacturer specialized in active pharmaceutical ingredients products. And we trade our products with our clients directly.
Q: What's is your shipping service?
A: We can provide services for vessel booking, goods consolidation, customs declaration, shipping documents preparation and delivery bulk at the shipping port.
Q: Can you do our own packaging?
A: Yes, you just provide the package design and we will produce what you want. We also have the professional designer can help you do the packaging design.
Q: How long is your delivery time?
A: The general delivery time is 7 days after receiving your order confirmation. If we have the goods in stock, it will only take 1-2 days.