Glutathione (GSH) is a tripeptide that is combined with glutamic acid, cysteine, and glycine and contains a sulfhydryl group. GSH is mainly divided into two types in form: reduced form (GSH) and oxidized form (GSSG).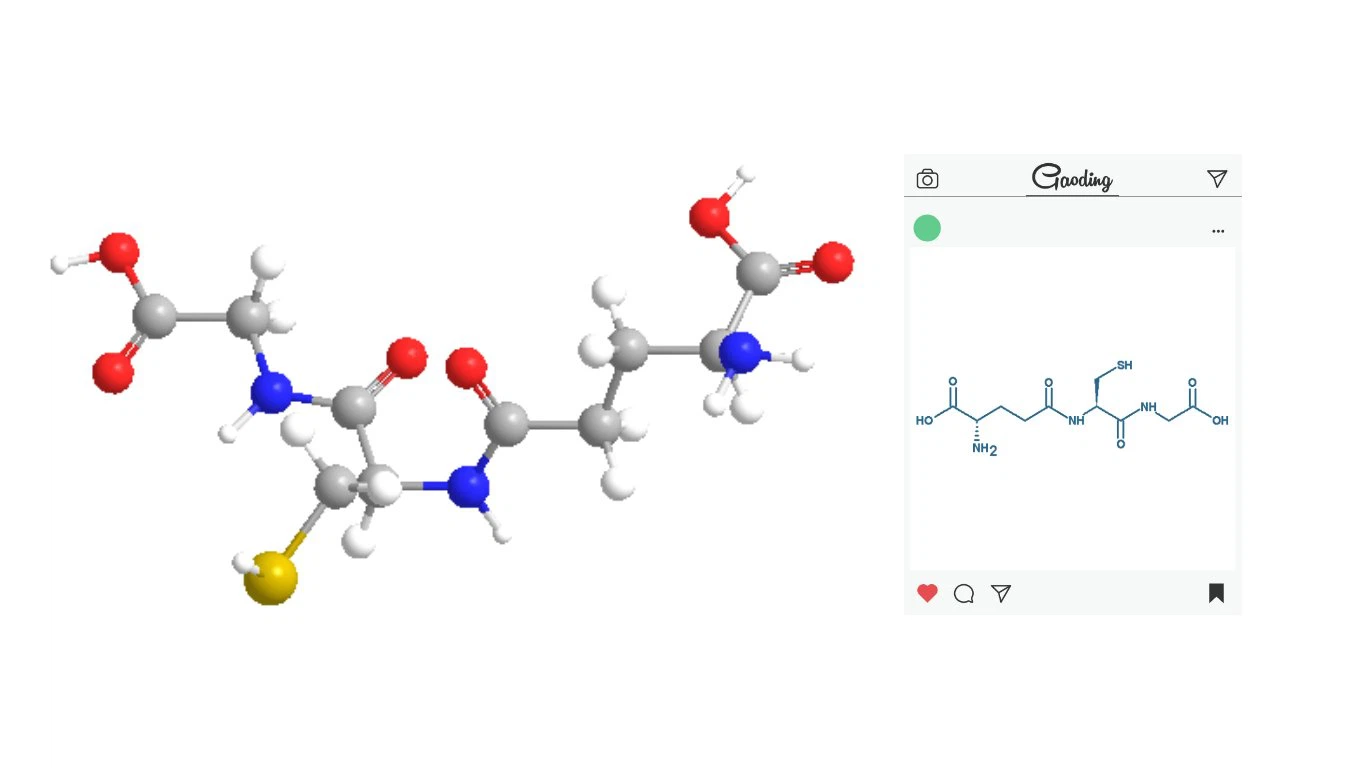 Product description of Glutathione Powder:
L-Glutathione Reduced(C10H17N3O6S)

CAS NO.

70-18-8

Appearance

White or almost white powder

Assay

99% min

Chlorides

Not more than 200 ppm

Sulfates

Not more than 300 ppm

Ammonium

Not more than 200 ppm

Iron

Not more than 10 ppm

Arsenic

Not more than 2 ppm

Heavy metals

Not more than 10 ppm

Cadmium (Cd)

Not more than 1 ppm

Lead (Pb)

Not more than 3 ppm

Mercury (Hg)

Not more than 1 ppm

Sulfated ash

Not more than 0.1%

Loss on drying

Not more than 0.5%

Shelf Life

Two years when properly stored.
GSH is not only the prosthetic group of glyceraldehyde phosphate dehydrogenase, but also the coenzyme of glyoxalase and triose dehydrogenase. Various enzymes, such as sulfhydryl (SH) enzyme-coenzyme, etc., thereby promoting carbohydrate, fat and protein metabolism.
What does glutathione do for the skin?
1. The scavenging effect of GSH on free radicals prevents free radicals in the body from attacking cell membranes, thereby preventing the oxidation of fatty acids in cell membranes, protecting the integrity of cells, increasing the elasticity and luster of the skin, and finally achieving the effect of anti-oxidation.
2. Glutathione is used to inhibit melanin, double-inhibiting melanin mother cells from the inside out, making it unable to activate tyrosinase, blocking the formation of melanin from the source, making the skin bright and white, and diluting stubborn spots .
Glutathione is widely used in the field of beauty and skin care to delay the aging of the skin, improve the gloss and smoothness of the skin, remove yellowing, repair damaged cells at the bottom of the muscle, and make the skin elastic and soft.
Is Glutathione Safe in Skincare?
Glutathione is very non-toxic and generally well tolerated. Glutathione for injection needs to be guided and injected by a professional doctor, preferably in a regular hospital. If you are taking glutathione supplements, please Always consult your healthcare provider for a diagnosis, accurate information, and clearance.
About us
GSH BIO-TECH is an innovative high-tech enterprise with enzyme catalysis technology in the field of synthetic biology as the core and cross-application of multidisciplinary technologies.We provide L-Glutathione Reduced, L-Glutathione Oxidized, and S-Acetyl-L-Glutathione, both of which are produced in GMP certified workshops, with a purity of more than 99%, and the density can be customized, Should you have interests in us, please don't hesitate to get in touch with us,we will be pleased to supply any further information you require.
Product Line

Our Service
1.More Professional service in active pharmaceutical ingredients exporting field
2.Better manufacture ability
3.Various payment term to choose:T/T,Western Union,L/C,Paypal
4.High quality/Safe material/Competitive price
5.Small order available
6.Quickly response
7.More safe and fast transport
8.OEM design for all customers
FAQ
Q: Are you trading company or manufacturer?
A: We are professional manufacturer specialized in active pharmaceutical ingredients products. And we trade our products with our clients directly.
Q: What's is your shipping service?
A: We can provide services for vessel booking, goods consolidation, customs declaration, shipping documents preparation and delivery bulk at the shipping port.
Q: Can you do our own packaging?
A: Yes, you just provide the package design and we will produce what you want. We also have the professional designer can help you do the packaging design.
Q: How long is your delivery time?
A: The general delivery time is 7 days after receiving your order confirmation. If we have the goods in stock, it will only take 1-2 days.