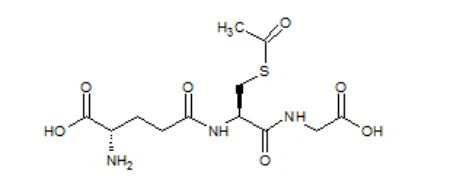 1.Product Name : Best price S-Acetyl-L-Glutathione powder s-acetyl glutathione
2.Appearance : White powder
3.Specification : 99%-101%
4.Test Method : HPLC
Introduction:
S-Acetyl Glutathione is a acetylated form of glutathione. This form is well-absorbed and more stable throughout the digestive tract than other forms on the market.
Glutathione is known as the master antioxidant and highly active in human lungs and many other organ systems and tissues. It has many reported uses. It has a critical role in protecting cells fromoxidative stress and maintaining the immune system. Higher blood levels of glutathione have been associated with better health.s-acetyl l-glutathione double wood
Function
Cosmetics grade
1) Anti-aging, antioxidant, maintain skin vigor and luster.
2) Whitening skin: restraining the melanin
3) Improve immunity: enhance immune cells function effectively prevent viruses.
Pharmaceutical grade
1) Protect liver: prevention & treatment of liver diseases.
2) Detoxification: drugs and other kinds of poisoning auxiliary treatments,helpful for excreting toxins.
3) Prevention and treatment of eye diseases.
4) Auxiliary treatment of diabetes.
Application
1. Glutathione role of clinical treatment and prevention
Under pathological conditions when endogenous GSH reduction, timely exogenous GSH has become to be. Exogenous GSH supplement can prevent and treat related diseases, maintain a healthy body.
(1) Radiation sickness and radiation safety: radiation, radioactive substances or because of leukopenia caused by anticancer drugs and other symptoms can play a protective effect.
(2) To protect the liver, detoxification, inactivation of hormones, and to promote bile acid metabolism and help absorb fat and fat-soluble vitamins digestive tract.
(3) Anti-allergy, or inflammation caused by hypoxemia in patients with systemic or local, can reduce cell damage and promote repair.
(4) To improve the course of certain diseases and symptoms as adjuvant drugs. Such as: hepatitis, hemolytic disease, and keratitis, cataract and retinal diseases, such as eye disease and improve vision.
(5) Easy to speed up the metabolism of acids in the excretion of free radicals, which play a beauty skin care, anti-aging effect.
2. Food additives
(1) added to pasta, to make manufacturers reduce the time of bread to the original one-half or one third, and serve to strengthen the role of food nutrition and other features.
(2) to add to the yogurt and baby food, the equivalent of vitamin C, can play a stabilizing agent.
(3) in its mix to the surimi to prevent color deepened.
(4) to the meat and cheese and other foods, have enhanced the effect of flavor.
3. Beauty products
Prevent the infiltration of Los tyrosinase in order to achieve the purpose of inhibiting melanin formation. On eliminate wrinkles, increase skin elasticity, shrink pores, lighten pigment, the body has an excellent whitening effect. Glutathione as the main ingredient in cosmetic products in Europe and the United States was welcomed by the decades. santeva intense s-acetyl l-glutathione
Packaging Description
Sealed export grade drum & double of sealed plastic bag
Storage
In a cool dry place and keep away from strong light and heat
Shelf life
2 years when properly stored