Citicoline is a key substance in the biosynthesis of cell membrane structural phospholipids. Many years ago, it was discovered that citicoline has an excellent repairing effect on cell membranes. As phospholipid molecules are key components of all mammalian cell membranes, therapeutics targeting phospholipid conservation and regeneration represent a promising strategy in the field of clinical neurology.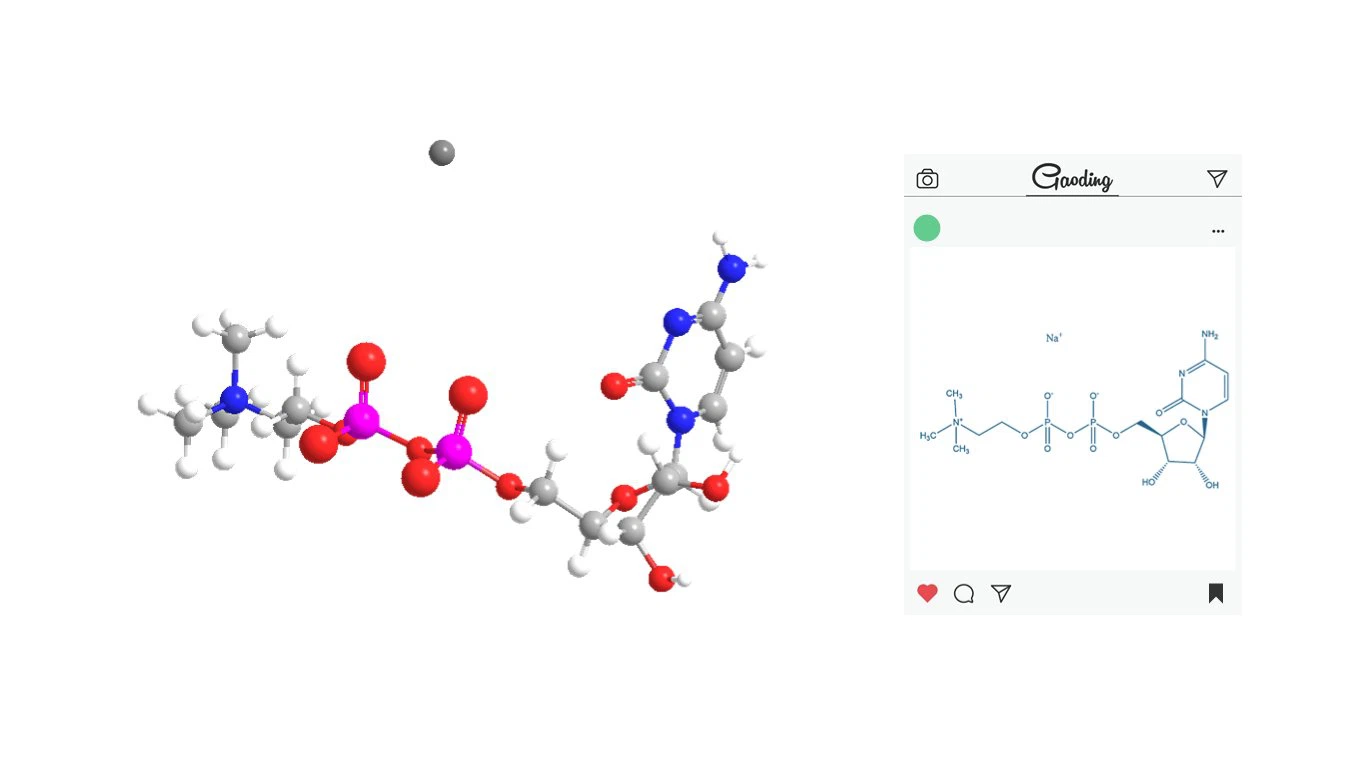 Citicoline Sodium(C14H25N4NaO11P2)

CAS

33818-15-4

Appearance

White powder

Assay

≥98.0%

Loss on drying

Not more than 1%

Heavy Metal

Not more than 10ppm

Application

Raw material、medicine

Shelf Life

24 months when properly stored.
A large number of animal experiments and clinical studies have shown that exogenous citicoline can promote the synthesis of cell membrane phospholipids, acetylcholine, catecholamine and other neurotransmitters, thereby effectively protecting and repairing damaged nerve cell membrane structure, restoring cell membrane function, and stabilizing neurotransmitter levels wait.
The role of citicoline:
1. Construct and regenerate cell membrane
The scientists cite the process by which intravenous administration of citicoline triggers the development and regeneration of cell membranes. It begins with the separation and release of cytidine and choline into the blood. They are then absorbed into the nervous system and nerve membranes, where they activate the synthesis of phospholipids, which are necessary for building and repairing cell and mitochondrial membranes.

2. Stroke and cerebrovascular protector
Some research suggests that citicoline is an excellent brain protectant that protects the brain from damage that occurs after a stroke or a brain attack that affects blood flow to the brain. It provides more oxygen and increases glucose metabolism. It may also help restore muscle strength in patients with non-traumatic cerebral hemorrhage.
3. Boosts Cognitive Function
Citicoline may help improve cognitive functions, such as memory, concentration and learning, in patients with brain injury or trauma, the elderly and those with attention deficit hyperactivity disorder (ADHD), researchers say.
4. Mood enhancers
Scientists believe that citicoline may increase levels of neurotransmitters: serotonin, dopamine, norepinephrine, and norepinephrine, all of which affect our mood, anxiety, cognition, sleep, and even digestion. This Supplement May Help People With Bipolar Disorder
5. Improve eyesight
Studies also indicate that citicoline may help glaucoma patients by improving vision. It can also help those with optic nerve disease, or optic neuropathy.
6. Boosts Growth Hormone Levels
Clinical trials have shown that citicoline has the potential to increase growth hormone levels, which may help strengthen and increase muscle mass and promote faster recovery after weightlifting.
At present, Anhui GSH Bio-Technology Co.,LTD. has completed the production and research of Citicoline Sodium, and the product pipeline can reach an annual production capacity of 200 tons, realizing the commercial scale production of Citicoline Sodium.
We has always adhered to green environmental protection, technological innovation and global layout. The company is equipped with advanced scientific research equipment and an experienced scientific research team. The enzymatic technology developed by the company has obtained a number of national patents.
Anhui GSH Bio-Technology Co.,LTD. is committed to innovative research and development of high value-added APIs, important pharmaceutical intermediates and cosmetic raw materials, realizing commercial production, and stably and continuously serving global customers.