Glutathione is a low molecular weight thiol tripeptide that plays an important role in maintaining intracellular redox balance. In addition to its remarkable antioxidant properties, the discovery of its anti-melanogenic properties has led to its use as a skin lightening agent.
The efficacy and role of glutathione
Lighten dark spots
Glutathione comprehensively inhibits the production of melanin, decomposes existing melanin, prevents the precipitation of melanin that is forming, and comprehensively fights against melanin, thereby preventing the occurrence of pigmentation and gradually removing the original pigmentation.
Enhance skin elasticity
Glutathione provides a good growth environment for new muscle cells, so the proportion of new muscle cells in skin epidermal cells increases, and it has a good comprehensive moisturizing effect. When the skin is full of water, it will become smoother, tenderer and more elastic.
Anti-Aging
Glutathione can increase or promote the secretion (interkines) of human growth hormone, which can regulate and slow down the shortening of telomeres, prolong the lifespan of cells, and effectively anti-aging.
Glutathione is very important to the health of every cell in the human body. When the intracellular glutathione content drops too low, the cells will die. Among them, acetyl glutathione has a lighter smell and stronger stability.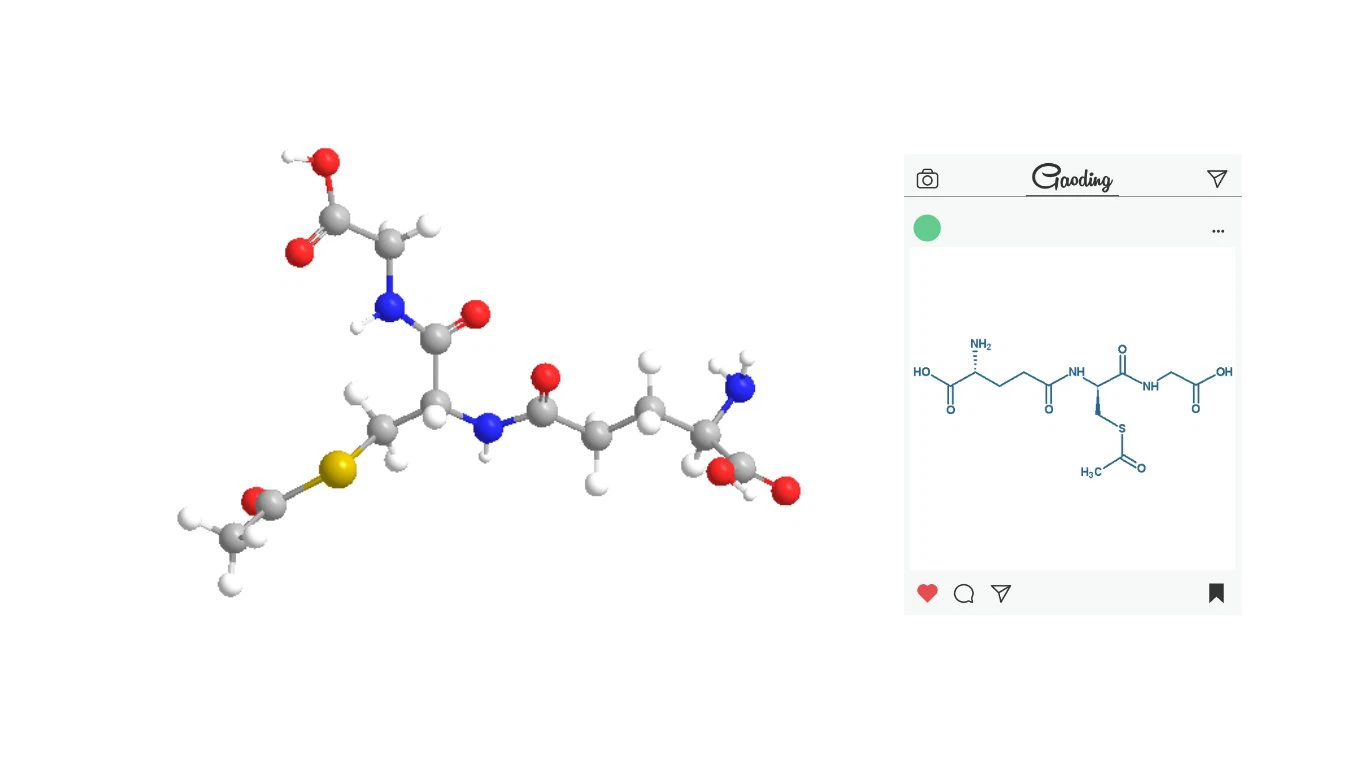 S-Acetyl-L-Glutathione(C12H19N3O7S)

CAS

3054-47-5

Appearance

White or almost white, crystalline powder

Assay

≥98.0%

Heavy metals

Not more than 10 ppm

Sulfated ash

Not more than 0.2%

Loss on drying

Not more than 0.5%

Application

Raw material、medicine

Shelf Life

24 months when properly stored.
Effects of Acetyl Glutathione
1. Acetyl glutathione can penetrate into the mitochondrial membrane to help maintain its integrity and function, and can also cross the blood-brain barrier to directly detoxify and protect the brain.
2. Acetyl glutathione can improve its ability to maintain integrity in the intestinal tract, and allow higher concentrations to be absorbed into the blood, better for anti-aging effects.
3.3. Acetyl-type glutathione is directly involved in neutralizing free radicals and active oxygen compounds, as well as maintaining the reduced (active) forms of exogenous antioxidants such as vitamin C and E, and has anti-oxidative effects.
Acetyl glutathione is added to cosmetic raw materials such as face cream, facial cleanser, soap, etc., and can also be added to the raw materials of whitening injections to have whitening and anti-oxidation effects.
Anhui GSH Bio-Technology Co.,LTD. is committed to innovative research and development of high value-added APIs, important pharmaceutical intermediates and cosmetic raw materials, realizing commercial production, and stably and continuously serving global customers.
F&A
1.what's your delivery time?
Usually we will arrange the shipment in 7-15 days.
2.How about the packing?
Usually we provide the packing as 25kg/bag or carton.Of course,if you have special requirements on them,we will according to you.
3.How about the validity of the products?
According to the products you ordered.