Jun 12, 2023 / Author: China Glutathione suppliers & NMN manufacturers
Nicotinamide Mononucleotide (NMN) is a key intermediate in the synthesis of coenzyme I-nicotinamide adenine dinucleotide (NAD+), and there are two isomers of α and β, among which the β isomer is NMN Active form, present in many organisms. Studies have found that NMN has a good effect on intestinal health, cardiovascular and cerebrovascular diseases, neurodegenerative diseases, and anti-aging.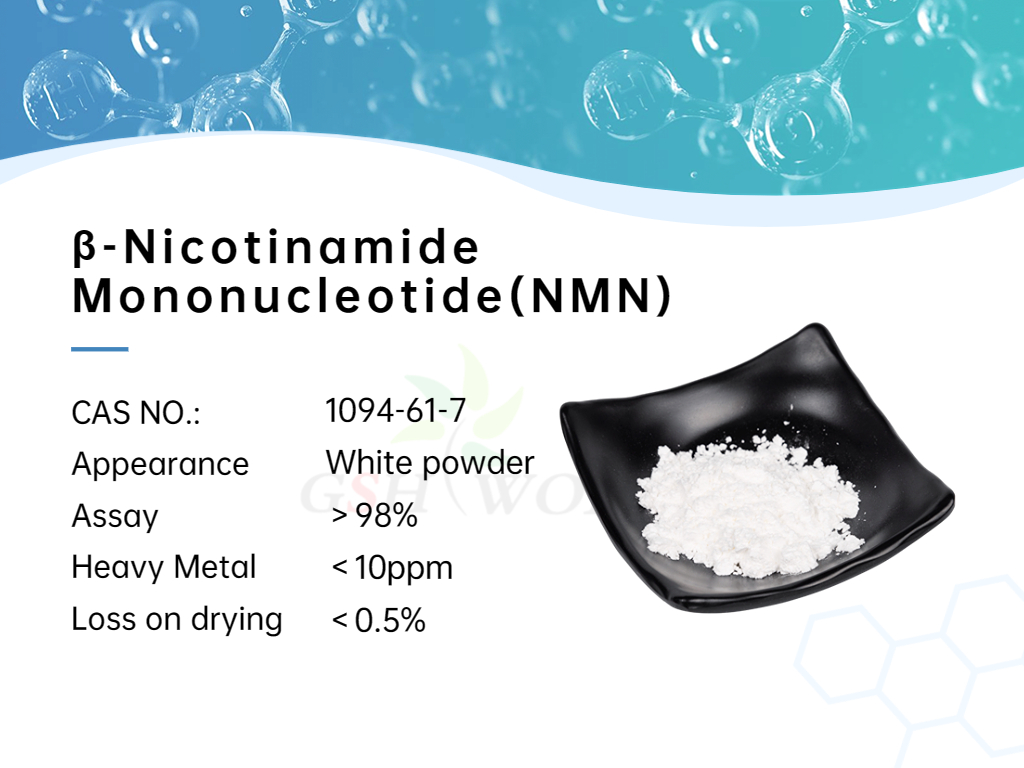 In addition, NMN can also participate in the regulation of the body's endocrine and increase the secretion of insulin, thereby preventing the occurrence of obesity and diabetes.
In March 2020, the Japanese Ministry of Health, Labor and Welfare included NMN in the "non-medical list", allowing its use in food production.
People's demand for health care products containing NMN ingredients is also increasing. Therefore, NMN has become a research hotspot in the fields of health care products and food raw materials, and its market share is also increasing rapidly.
In recent years, the anti-aging skin care market has continued to rise, and NMN, which has inherent advantages, has become a new battlefield for functional skin care. In 2022, the first new NMN cosmetic raw material has passed the filing in China
, NMN as a new anti-aging ingredient has attracted the attention of the Chinese beauty industry, and the United States and Japan have already launched NMN-related skin care products.
Although NMN is currently restricted in the health care product market in the United States due to its medicinal value, it has not affected the application of this ingredient in the field of cosmetics. In countries such as Japan and China, NMN has received a lot of good news in R&D and policy in the fields of cosmetics and food in recent years.
The purpose of using NMN as a cosmetic raw material is mainly as a skin protectant, moisturizer, and antioxidant. The Chinese cosmetics market has a more positive and open attitude towards the scope of application of NMN new raw materials, which makes NMN develop in different research and development directions and subdivided fields in the future. Have more possibilities.
According to the cosmetics supervision of the State Food and Drug Administration of China, hundreds of cosmetics containing NMN ingredients have been registered, and the products range from facial masks, essences, face creams to body lotions, neck masks... all categories are involved.
The glutathione (GSH) and NMN production technology developed by our company is internationally leading, and the products are exported to Europe, America, South Korea, India and other parts of the world. From June 19th to 21st, we will bring our star products to the Shanghai exhibition, and participate in the CPHI exhibition and Healthplex Expo 2023 at the same time to provide customers with better products and services. In 2023, we are waiting for you in Shanghai.
Supplier Introduction: China glutathione supplier and NMN manufacturer GSHworld, the company mainly develops biotechnology and industrialization. As a global pioneer in enzymatic catalytic ATP regeneration technology, our company advocates green production and is committed to providing customers with better and more environmentally friendly products and services. Glutathione Manufacturer,NMN Factory,Citicoline Sodium supplier,China NMN manufacturers