Jul 31, 2023 / Author: China Glutathione suppliers & NMN manufacturers
According to the report of the World Health Organization (WHO), in 2019, there were approximately 296 million hepatitis B virus (HBV) chronically infected people in the world, and 820,000 people died of liver failure, cirrhosis and other related diseases caused by HBV infection.
Recently, some researchers have proposed that NAD+ depletion underlies T cell exhaustion.
In March of this year, the University of Parma in Italy published research results in the Journal of Hepatology: In chronic hepatitis B infection, elevated levels of reactive oxygen species caused by mitochondrial dysfunction can lead to increased DNA damage in specific CD8 T cells. Supplementing NMN may increase the production of specific CD8 T cell antiviral protein-cytokines and restore specific CD8 T cell function.
Using NMN to treat lymphocyte cultures from patients with chronic hepatitis B, the DNA damage response was measured by pH2AX and found that DNA damage and dysfunction in specific CD8 T cells were repaired.
Subsequently, the researchers observed the expansion of PBMCs in patients with chronic hepatitis after being stimulated and expanded by HBV nuclear peptides with or without NMN treatment, and found that the cytokines (IFN-γ, TNF-α, IL-2) increased by an average of 3.4 times, 4 times and 2.7 times, respectively. Thus, NMN may improve the antiviral function of T cells.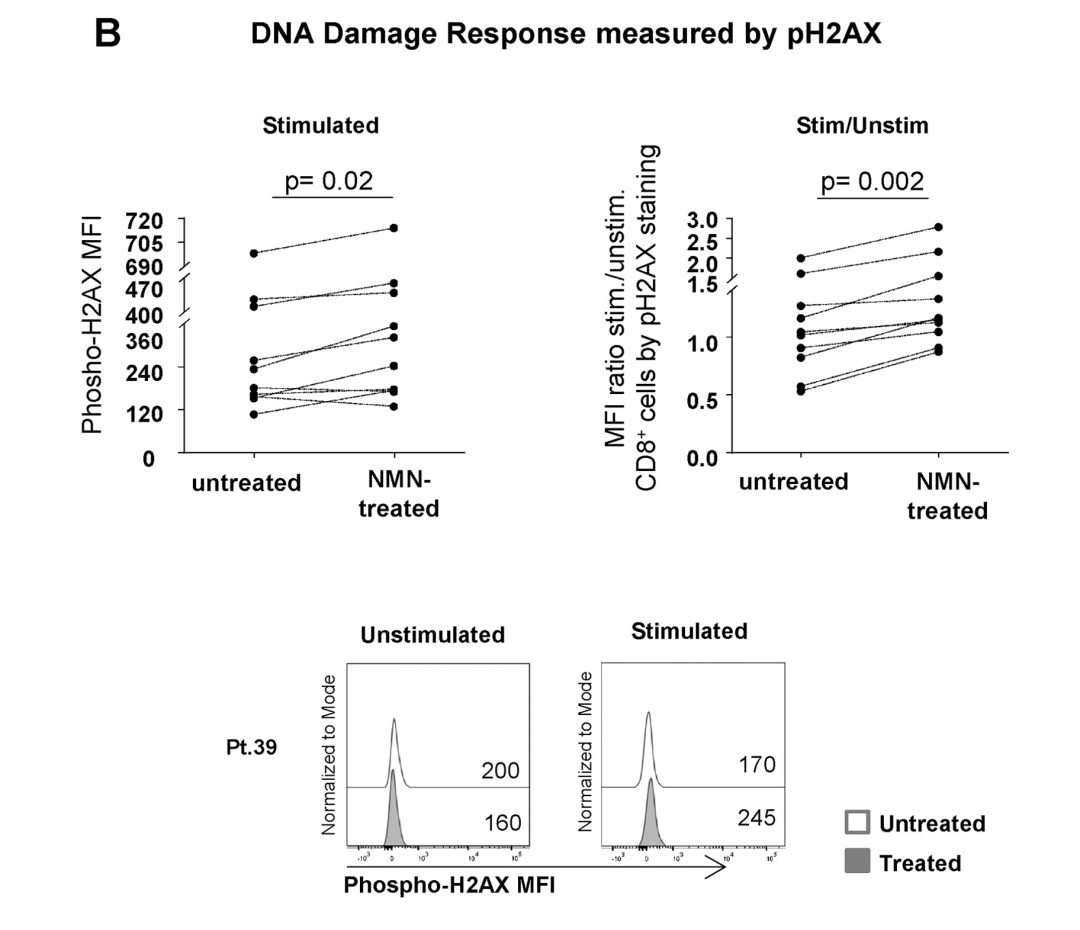 (Legend: DNA damage response measured by pH2AX)
This provides a new idea for further research on the ability of NMN to improve hepatitis B. Of course, more studies are needed to verify these findings and ensure safety and efficacy.
Supplier Introduction: China glutathione supplier and NMN manufacturer GSHworld, the company mainly develops biotechnology and industrialization. As a global pioneer in enzymatic catalytic ATP regeneration technology, our company advocates green production and is committed to providing customers with better and more environmentally friendly products and services. Glutathione Manufacturer,NMN Factory,Citicoline Sodium supplier,China NMN manufacturers