May 29, 2023 / Author: China Glutathione suppliers & NMN manufacturers
Recently, a new study from Nanjing Medical University in China showed that butyl benzyl phthalate (belonging to phthalates, hereinafter referred to as BBP) induced many common aging characteristics of mouse oocytes, including Including reduced fertilization rate, which reveals the impact of BBP-induced toxicity on female reproductive health; while NMN may provide an effective method to prevent BBP effects. That is, NMN can prevent many potential cellular features triggered by phthalate exposure, including DNA damage, mitochondrial damage, and apoptosis.
1. Chemicals in everyday life can damage oocytes
BBP, which makes plastic more flexible, is currently undergoing risk assessment by the Environmental Protection Agency (EPA). To determine the effect of BBP on female reproductive health, the researchers fed female mice 1.5 mg/kg of BBP for 8 consecutive days and compared them with female mice not exposed to BBP.
To test fertilization rates, the experiments mated female mice with male mice and removed their oocytes for examination. The results of the experiment showed that the majority of oocytes from mice not exposed to BBP developed into two-cell embryos, while many oocytes from mice exposed to BBP were not fertilized.
NOTE: Lack of fertilized eggs indicates a higher incidence of infertility, which increases further with age.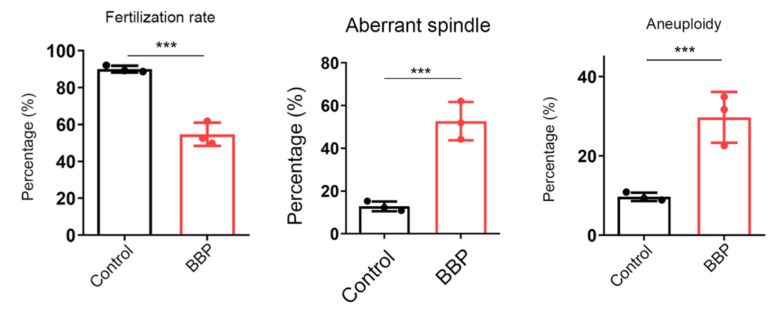 ▲Exposing mouse oocytes to BBP induced common features of aging, including reduced fertilization rates, abnormal spindle formation, and aneuploidy, compared with normal oocytes
Furthermore, the researchers found increased spindle disassembly and aneuploidy in oocytes from BBP-exposed mice. Among them, aneuploidy-abnormal number of chromosomes is the main cause of miscarriage and developmental disorders. Aneuploidy is considered a hallmark of oocyte aging and increases by 50% with age. Another hallmark of aging oocytes that lead to aneuploidy is poor organization of the spindle, a protein that helps divide chromosomes evenly.
2. NMN can prevent reproductive aging caused by daily chemical products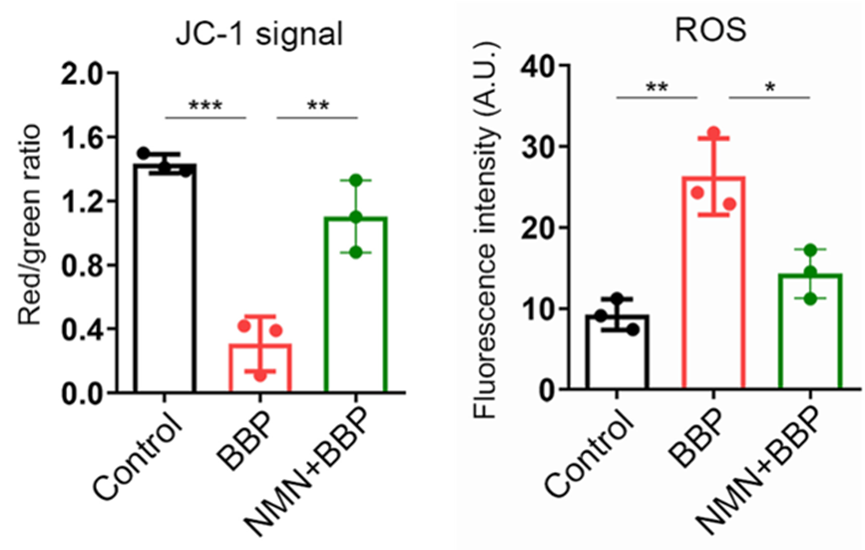 ▲Compared with normal mouse oocytes, oocytes exposed to BBP showed decreased mitochondrial health JC-1 signaling and increased reactive oxygen species ROS, while NMN prevented mitochondrial dysfunction and reactive oxygen species ROS overproduction
Cellular senescence is not just oocyte senescence, but a general aging feature of all cells in the body, including mitochondrial dysfunction. Mitochondria, like batteries, need to be kept at a specific voltage in order to generate cellular energy. When mitochondria become unhealthy, and with age, this voltage is lost.
The researchers found that exposure to BBP reduced mitochondrial voltage in mouse oocytes, resulting in poor mitochondrial health. However, by injecting mice with NMN at 200 mg/kg/day, this decrease in voltage could be reversed and mitochondrial health maintained.
In addition, unhealthy mitochondria produce excess reactive oxygen species ROS. The substance reacts with proteins, fats and DNA to cause damage to cells, a process known as oxidative stress. Like mitochondrial dysfunction, oxidative stress is a universal hallmark of cellular aging. The experiments found that ROS levels were elevated in mouse oocytes exposed to BBP, while NMN was able to reduce them to normal levels.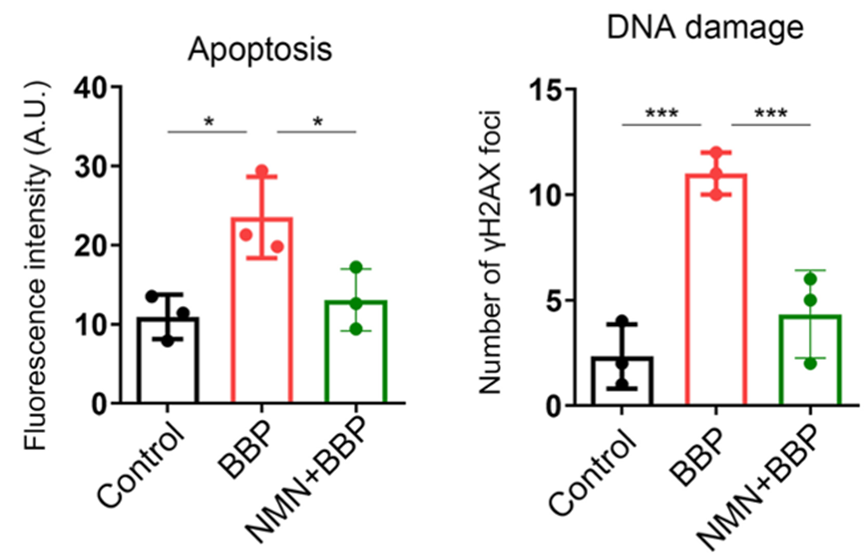 ▲Oocytes exposed to BBP showed more apoptosis and DNA damage compared with normal mouse oocytes, whereas NMN prevented this cellular catastrophe
Not only that, but with aging, oxidative stress leads to the accumulation of DNA damage, which exacerbates the aging process. When the voltage of damaged mitochondria reaches a certain threshold, the cell dies. The experiment also found that in the oocytes of BBP-exposed mice, both cell death and DNA damage were increased; while NMN could prevent the occurrence of these two aging characteristics.
Supplier Introduction: China glutathione supplier and NMN manufacturer GSHworld, the company mainly develops biotechnology and industrialization. As a global pioneer in enzymatic catalytic ATP regeneration technology, our company advocates green production and is committed to providing customers with better and more environmentally friendly products and services. Glutathione Manufacturer,NMN Factory,Citicoline Sodium supplier,China NMN manufacturers