Feb 15, 2023 / Author: China Glutathione suppliers & NMN manufacturers
Aging is often associated with an increased risk of lung injury and lung disease, and advanced age has been shown to lead to heightened inflammatory responses to lung attacks.
A recent study showed that treatment with Nicotinamide Mononucleotide (NMN) can reduce damage from inhaled silica and reduce the ability of inhaled particulate matter to cause lung damage. The study, published in the journal Nutrition, focused on preclinical animal models suffering from silica-induced lung injury, or silicosis. Silicosis promotes cellular damage by increasing reactive oxygen species (ROS) (highly reactive oxygen-containing molecules) that produce oxidative stress. Animal models treated with NMN reduced lung damage, resulting in positive changes in the tissue and reduced inflammation. In addition, oxidative stress is reduced, ROS is reduced, and glutathione is increased.

Saline (meaning no treatment), low-dose NMN (500 mg/kg/day), or high-dose NMN (1000 mg/kg/day) treatment silica was introduced directly into the trachea in animal models. After 28 days, both doses of NMN reduced collagen in the lungs -- suggesting less scarring in the lungs. NMN treatment also maintained the structure of the alveoli, the oxygen-exchanging air sacs in the lungs.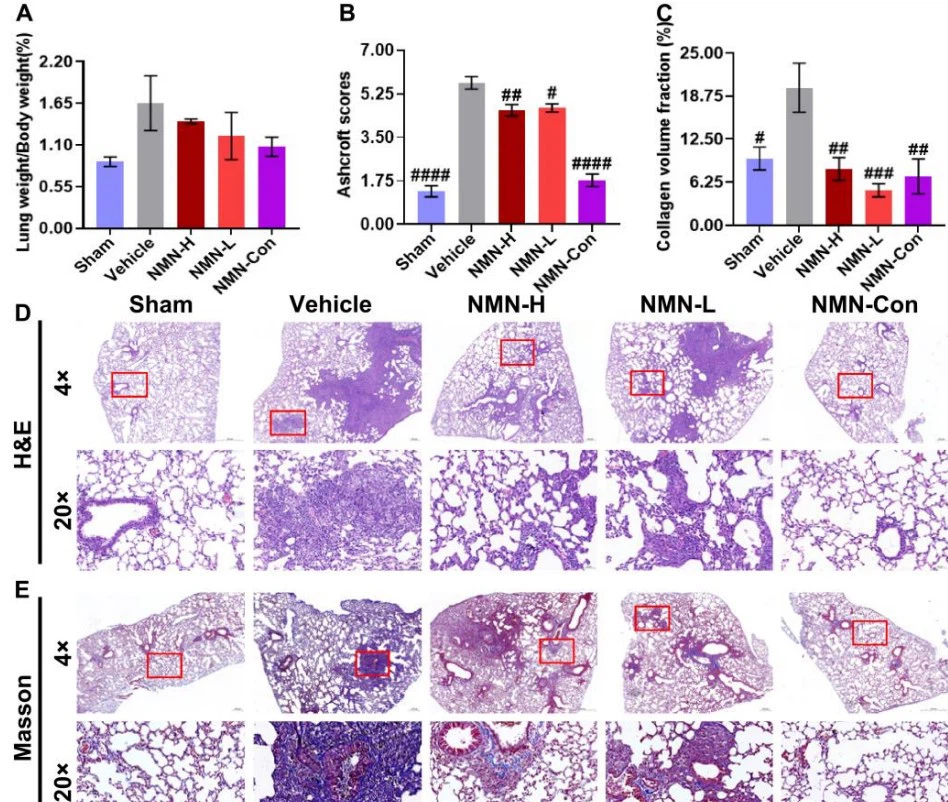 Silica particles are nearly impossible to degrade by the body, causing ongoing damage to the lungs through oxidative stress. This oxidative stress recruits inflammatory cells to the site of injury, triggering more inflammation. However, the researchers found that this cycle of constant attack was halted by NMN treatment, which restored inflammatory cell levels to near-normal levels after 28 days of treatment.

Furthermore, after 28 days, both high and low doses of NMN effectively reduced ROS. Glutathione—a key antioxidant that neutralizes ROS—was increased with NMN, suggesting that NMN can help reduce oxidative stress caused by silica.

NMN may be a treatment for silicosis. Other models of lung injury, including sepsis-induced lung injury and cigarette-induced lung fibrosis, have also been shown to be positively affected by NMN treatment. These studies hold promise for people affected by lung damage as well as those affected by aging lung tissue. Previous research has shown that NMN helps reduce signs of aging and functional decline in older lungs.
Supplier Introduction: China glutathione supplier and NMN manufacturer GSHworld, the company mainly develops biotechnology and industrialization. As a global pioneer in enzymatic catalytic ATP regeneration technology, our company advocates green production and is committed to providing customers with better and more environmentally friendly products and services. Glutathione Manufacturer,NMN Factory,Citicoline Sodium supplier,China NMN manufacturers