Nov 29, 2022 / Author: China Glutathione suppliers & NMN manufacturers
Recently, researchers from the Key Laboratory of Pathology of the Ministry of Education of Jilin University found that the content of NAD+ in mesenchymal stem cells of replicative aging and natural aging was significantly reduced, and supplementing NAD+ precursor Nicotinamide Mononucleotide (NMN) can alleviate NAD+ deficiency induces aging of mesenchymal stem cells (MSCs).

The latest research results published by the research team on November 25, 2022 showed that late-passage (LP) mesenchymal stem cells exhibited lower NAD+ content, reduced Sirt3 expression and poor mitochondrial function. Overexpression of Sirt3 attenuated mitochondrial dysfunction, whereas inhibition of Sirt3 activity by the selective Sirt3 inhibitor 3-TYP aggravated cell aging and mitochondrial dysfunction in early passage (EP) mesenchymal stem cells.
NMN supplementation ameliorated 3-TYP-induced mitochondrial dysfunction and cellular senescence in early passage (EP) mesenchymal stem cells. Significantly increased intracellular NAD+ levels, NAD+/NADH ratio, Sirt3 expression, improved mitochondrial function, and rescued aging MSCs.
In the lower panel, the research team found a significant increase in Sirt3 expression at the mRNA (panel c) and protein (panel d) levels in LP-MSCs treated with NMN, suggesting that NMN supplementation may activate NAD+ in aging MSCs /Sirt3 signaling pathway.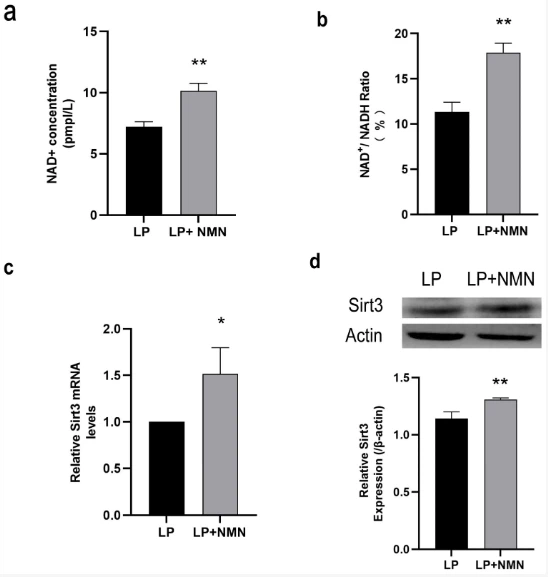 As an NAD+-dependent deacetylase, Sirt is the most well-studied mitochondrial enzyme responsible for the regulation of various metabolic processes. NAD+ depletion can reduce the expression of Sirt3 and increase the acetylation level of its target protein. Since NMN supplementation can increase NAD+ content and NAD+/NADH ratio, whether NMN might regulate Sirt3 expression by promoting NAD+ synthesis still needs to be explained.
For these reasons, the research team detected Sirt3 expression in replicatively aged mesenchymal stem cells. The results showed that Sirt3 mRNA and protein levels were significantly reduced in mesenchymal stem cells, and NMN supplementation reversed the reduction of sirt3 expression caused by replicative aging.
Collectively, NMN supplementation attenuated mitochondrial dysfunction and rescued MSC aging, which may provide a novel mechanism to explain MSC aging and provide a promising strategy for the development of antiaging drugs.
Supplier Introduction: China glutathione supplier and NMN manufacturer GSHworld, the company mainly develops biotechnology and industrialization. As a global pioneer in enzymatic catalytic ATP regeneration technology, our company advocates green production and is committed to providing customers with better and more environmentally friendly products and services. Glutathione Manufacturer,NMN Factory,Citicoline Sodium supplier,China NMN manufacturers