Alpha-lipoic acid (α-LA) is an organosulfide derived from capric acid (octanoic acid), a coenzyme present in mitochondria. As a coenzyme, it participates in the key energy metabolism in our body. It and vitamin C, E, coenzyme Q10, etc. are called antioxidants. It can also increase the ability of other antioxidants such as vitamins C and E to scavenge free radicals. Alpha-lipoic acid is both fat-soluble and water-soluble, so it has more uses than ordinary antioxidants.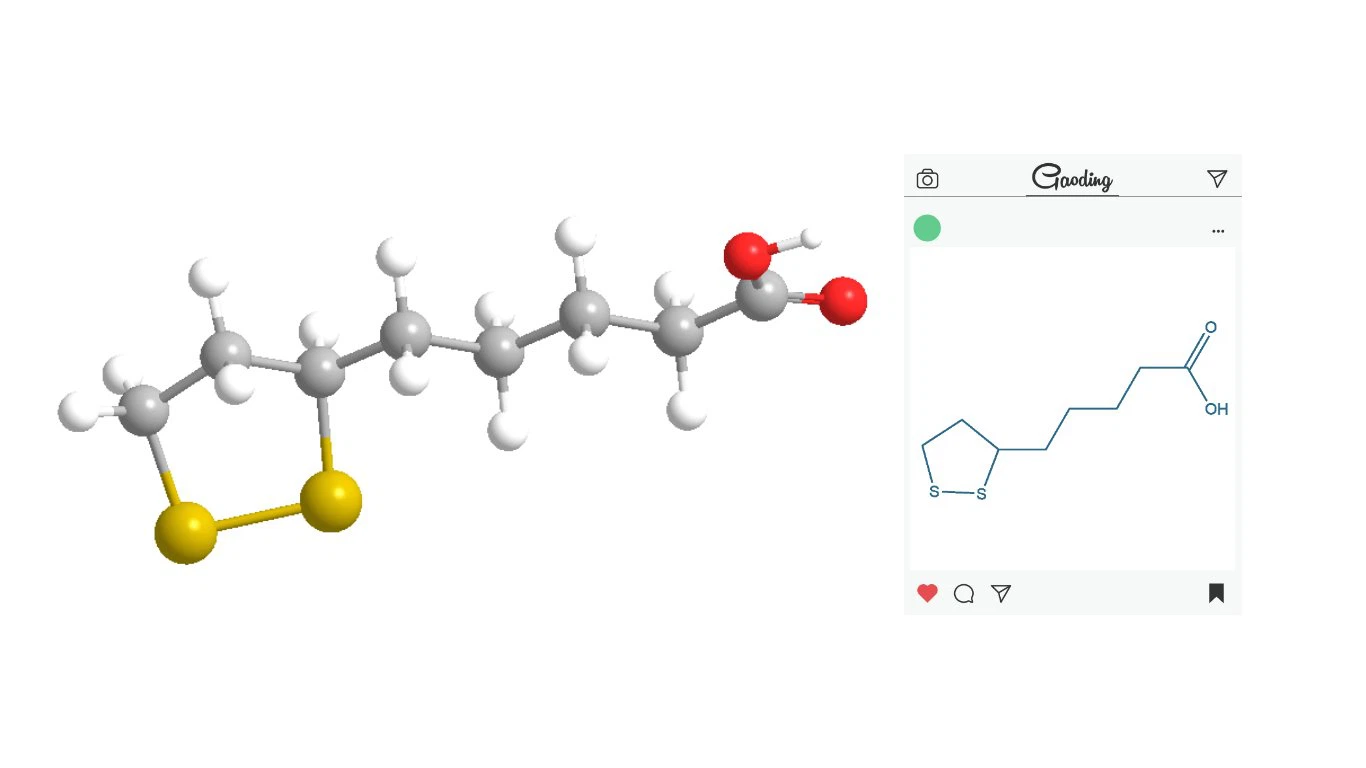 α-Lipoic Acid(C8H14O2S2)

CAS

1077-28-7

Appearance

Light yellow crystalline powder

Assay

≥98.0%

Loss on drying

Not more than 0.2%

Heavy Metal

Not more than 10ppm

Application

Raw material、medicine

Shelf Life

24 months when properly stored.
Based on available scientific research, alpha-lipoic acid can be used to help manage diabetic polyneuropathy in patients with symptomatic diabetic neuropathy, especially those on antidepressant medications (eg, amitriptyline, duloxetine, venla Faxine) or anticonvulsants (e.g., pregabalin) are ineffective or cannot be tolerated. It can not only improve diabetic neuropathy, but also other neurological diseases such as cognitive impairment, brain dysfunction, stroke, etc. Lipoic acid also helps to protect the brain and nerve tissue.
A systematic study of dietary antioxidants has shown an association between dietary antioxidant intake and cognition, improving dementia and cognitive performance to some extent.
Alpha-lipoic acid can also reduce the activity of AMPK, which is a fat burning switch. Turning it on makes it easier to mobilize the body's fat burning.
The antioxidant properties of α-lipoic acid are good for heart disease, because many heart problems are related to oxidized LDL and inflammation.
Because oxidative stress increases the risk of heart disease, alpha-lipoic acid neutralizes free radicals and reduces oxidative stress.
Alpha-lipoic acid is a commonly used dietary supplement, and there are many specifications of lipoic acid on the market.
Why Choose Us
1. Professional manufacturer
We are a production-oriented enterprise integrating biological research and production, specializing in the development of biological raw materials.
2. Own factory
We have our own factories and 3 production bases in Anhui Province and Jilin Province, China.
3. Strength
At the same time, we also have a R&D and quality inspection center in Beijing, with strong technical research and development capabilities.
4. Sales team
We have our own huge sales team, and professional sales staff provide the best service 24 hours a day.
Customer service
1. OEM Service/Door to door Service/Excellent After-Sale Service
2. International leading R&D Team
3. Perfect Quality Control System
4. Stable & Smoothly & Rapid Transportation System
5. Sample Order Acceptable