S-Acetyl-L-Glutathione is a unique form of glutathione in which the acetyl group (COCH3) belongs to the sulfur atom of cysteine in the glutathione molecule. It can help maintain normal immune system function, has antioxidant, integrative detoxification effects. Moreover, it can also be used in medicine, and can be used as a base material for functional foods, and is widely used in functional foods such as delaying aging, enhancing immunity, and anti-tumor.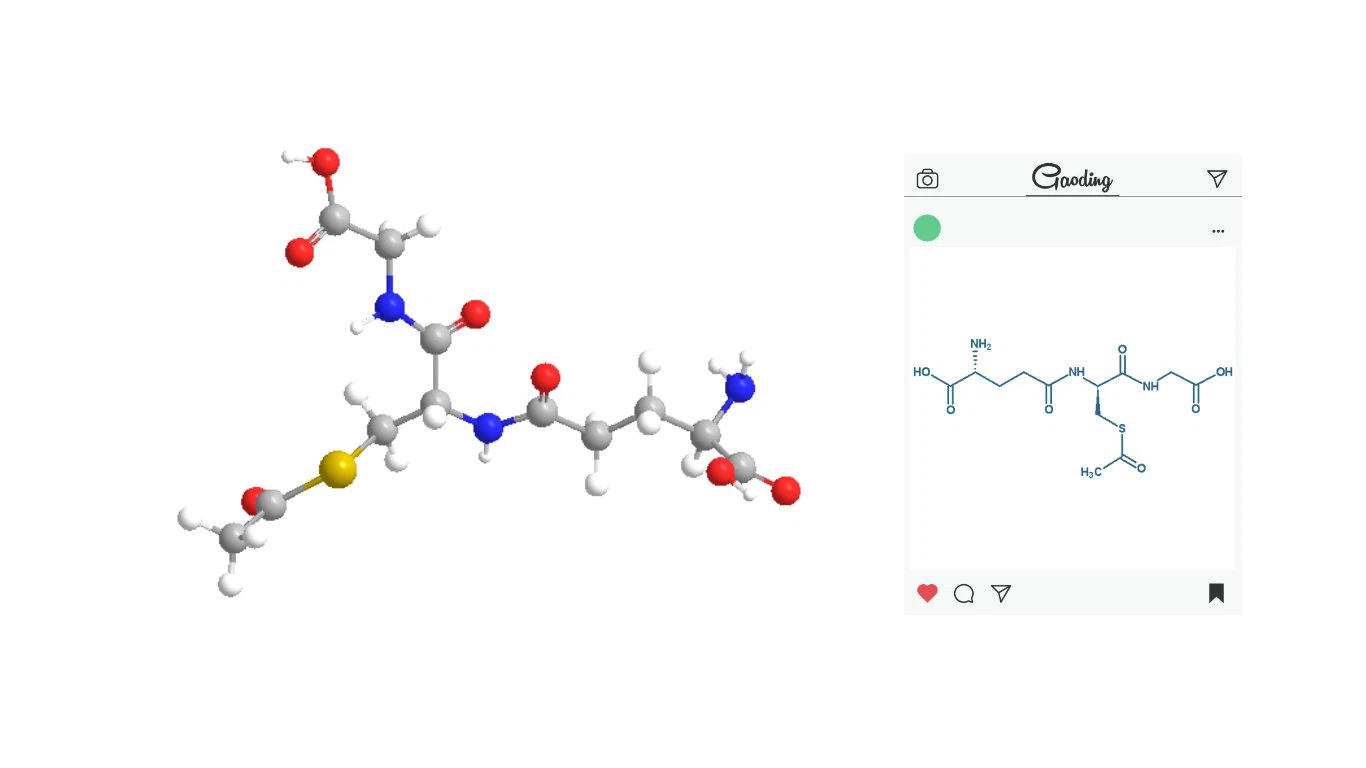 Product description of S-Acetyl-L-Glutathione powder:
S-Acetyl-L-Glutathione(C12H19N3O7S)

CAS NO.

3054-47-5

Appearance

White or almost white, crystalline powder

Assay

≥98.0%

Heavy metals

Not more than 10 ppm

Sulfated ash

Not more than 0.2%

Loss on drying

Not more than 0.5%

Application

Raw material、medicine

Shelf Life

24 months when properly stored.
What is S-acetyl-L-glutathione good for?
1. Protect cells against lipid peroxidation damage and scavenge free radicals
2. Improve cognitive decline caused by oxidative damage
3. Help protect the skin against external stimuli and delay aging
4. Maintain a stable immune system
5. Inhibition of inflammatory cytokines

Which is better S-acetyl-L-glutathione or L-glutathione?
1. Compared with L-glutathione, acetyl glutathione is more stable in the intestinal tract and easier to be absorbed by the body.
2. Compared with L-glutathione, the bioavailability of acetyl glutathione is very high.
3. There is no annoying mercapto taste, and the taste is more acceptable.
4. It can rapidly increase the level of intracellular reduced glutathione without increasing energy consumption.
5. It is more effective in replenishing cellular levels of glutathione that are deficient due to viral infection.
6. The acetyl group is linked to the sulfur atom of cysteine, which can protect the molecule from oxidation in the digestive tract.
About us
GSH BIO-TECH is an innovative high-tech enterprise with enzyme catalysis technology in the field of synthetic biology as the core and cross-application of multidisciplinary technologies.The company's main products are glutathione (GSH), β-Nicotinamide Mononucleotide and Citicoline sodium (CDPC), Should you have interests in us, please don't hesitate to get in touch with us,we will be pleased to supply any further information you require.
Product Line

Our Services
1. Good knowledge on different market can meet special requirements.
2. Real manufacturer with our own factory located in Anhui,China
3. Strong professional technical team ensure to produce the top quality products.
4. Special cost control system ensure to provide the most favorable price.
5. Rich experience in active pharmaceutical ingredients field.
FAQ
Q:Can we print our own logo?
A:Yes,we offer OEM service.
Q: Do you provide sample?
A:Yes,we provide free sample but we don't bear the shipping cost.
Q:What's your products?
A:active pharmaceutical ingredients.
Q:What's the MOQ for your products?
A:Usually 5KG.
Q:What's the payment terms?
A: 100% T/T in advance.