Adenosine Triphosphate (ATP) is a coenzyme. Adenosine triphosphate disodium is a derivative of nucleotides, which participates in the metabolism of fat, protein, sugar nucleic acid and nucleotides in the body.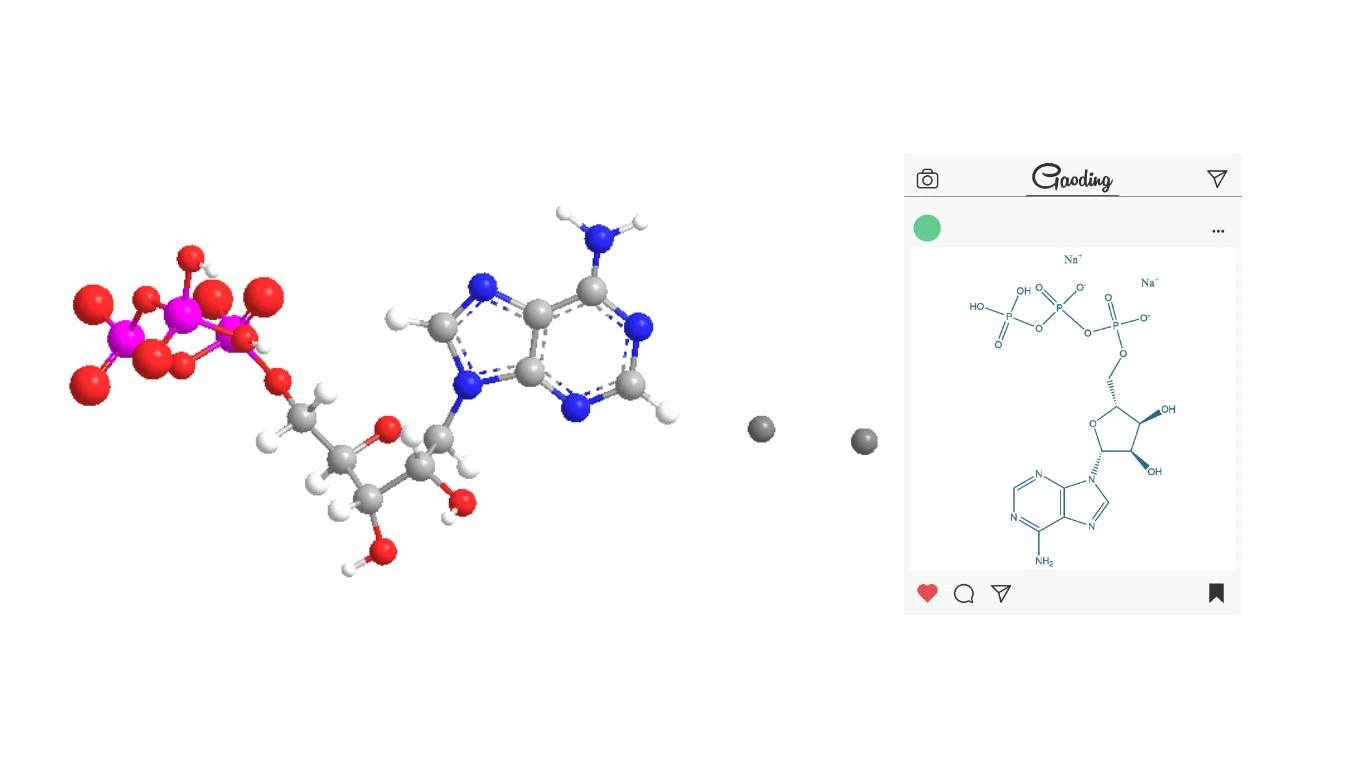 Product description of Adenosine Triphosphate Disodium powder:
Adenosine Triphosphate Disodium(C10H14N5Na2O13P3)

CAS NO.

987-65-5

Appearance

White or almost white powder

Assay

C10H14N5Na2O13P3≥95%(on the dried basis)

Heavy metals

Not more than 10 ppm

Loss on drying

Not more than 8%

Application

Raw material、medicine

Shelf Life

18 months when properly stored.
When the body absorbs and secretes muscle contraction and biooxidative synthesis reactions that require energy, adenosine triphosphate can be decomposed into adenosine triphosphate and muscle phosphate, and energy can be released at the same time. Disodium triphosphate can penetrate the blood-brain barrier and improve the structure of nerve cell membranes. Stability and rebuilding ability, and can promote neurite regrowth.
What does adenosine triphosphate disodium do?
Latest clinical applications:
1. Cardiovascular department: paroxysmal supraventricular tachycardia, heart failure, myocarditis infarction, coronary arteriosclerosis, acute poliomyelitis, progressive muscular atrophy disease
2. Department of Neurology: Cerebral arteriosclerosis, cerebral infarction, cerebral thrombosis, stroke and cerebral ischemia;
3. Neurosurgery: cerebral hemorrhage, brain injury, brain infection, concussion and other intracranial injuries;
ATP is currently widely used in clinical medical research, food and other fields. Pure ATP is in the form of white powder and can be dissolved in water. As a drug, it can directly provide energy and improve the patient's metabolism. ATP tablets can be taken orally, and injections can be injected intramuscularly or intravenously.
About us
GSH BIO-TECH is an innovative high-tech enterprise with enzyme catalysis technology in the field of synthetic biology as the core and cross-application of multidisciplinary technologies.We are adenosine and adenosine triphosphate Disodium suppliers, provides pure ATP powder, Should you have interests in us, please don't hesitate to get in touch with us,we will be pleased to supply any further information you require.
Product Line

Our Services
1. Good knowledge on different market can meet special requirements.
2. Real manufacturer with our own factory located in Anhui,China
3. Strong professional technical team ensure to produce the top quality products.
4. Special cost control system ensure to provide the most favorable price.
5. Rich experience in active pharmaceutical ingredients field.
FAQ
Q:Can we print our own logo?
A:Yes,we offer OEM service.
Q: Do you provide sample?
A:Yes,we provide free sample but we don't bear the shipping cost.
Q:What's your products?
A:active pharmaceutical ingredients.
Q:What's the MOQ for your products?
A:Usually 5KG.
Q:What's the payment terms?
A: 100% T/T in advance.