Citicoline sodium is an endogenous nucleotide, which is an intermediate substance necessary for biosynthesis in the cell membrane (especially the synthesis of lecithin) to promote the biosynthesis of nerve transmission.
Clinically, it is a neuroprotective agent, which can repair brain damage, resist hypoxia, improve memory, increase intelligence, and improve visual function.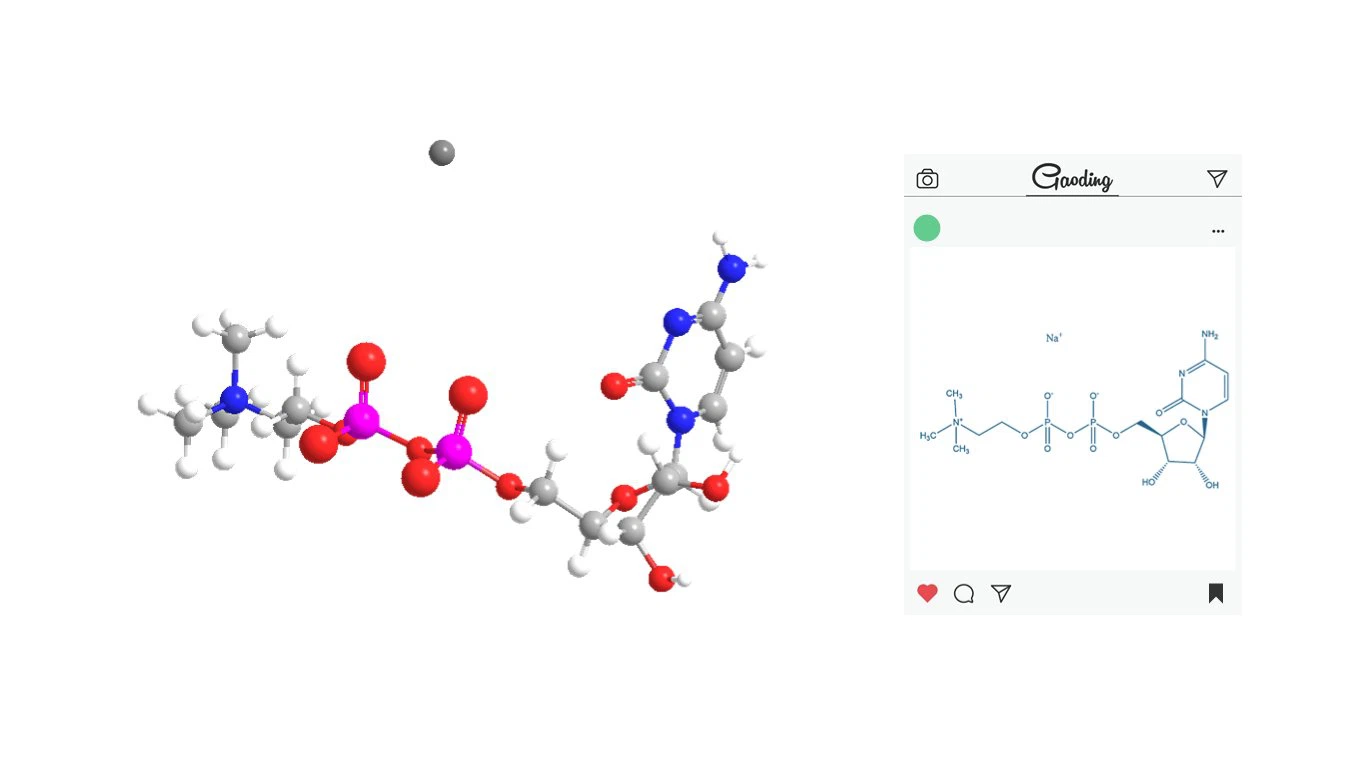 Citicoline Sodium(C14H25N4NaO11P2)

CAS

33818-15-4

Appearance

White powder

Assay

≥98.0%

Loss on drying

Not more than 1%

Heavy Metal

Not more than 10ppm

Application

Raw material、medicine

Shelf Life

24 months when properly stored.
Pharmacological effects:
1. Construction of neural membrane structure
Synthesis of phosphatidylcholine, construction of double lipid membrane
Repair nerve cell membrane and regenerate nerve
Membrane stabilizers, increase the stability of cell membranes
2. Cholinergic effects
Provides choline to increase acetylcholine synthesis
Stimulate cholinergic nerves and enhance central nervous system function
Inhibition of reuptake of neurotransmitters (dopamine, serotonin, norepinephrine)
3. Restore membrane Na/K ion-ATPase activity
Promotes the release of norepinephrine and activates its activity
Restoration of impaired consciousness and behavior in patients
Restores ATPase activity as well as Na-K-ATPase activity
4. Effects on brain tissue
Restoring electrolyte balance and promoting reabsorption of cerebral edema
Reduce cerebrovascular resistance, promote brain substance metabolism, improve cerebral circulation
Promote the recovery of brain function, enhance brain intelligence, and improve brain memory
Anhui GSH Bio-Technology Co.,LTD. is committed to innovative research and development of high value-added APIs, important pharmaceutical intermediates and cosmetic raw materials, realizing commercial production, and stably and continuously serving global customers.
F&A
1.what's your delivery time?
Usually we will arrange the shipment in 7-15 days.
2.How about the packing?
Usually we provide the packing as 25kg/bag or carton.Of course,if you have special requirements on them,we will according to you.
3.How about the validity of the products?
According to the products you ordered.