Lipoic acid was isolated from pig liver by Reed et al. in 1950, and it can be obtained by synthetic method today. Lipoic acid is an essential nutrient, and the human body can also synthesize part of lipoic acid from fatty acids and cysteine, but it is far from meeting the needs, and with the increase of age, the ability of the human body to synthesize lipoic acid will also decline. So it needs to be supplemented with food. The highest content of lipoic acid in plants is spinach, followed by broccoli and tomatoes, and the highest content in animals is the kidney and liver of animals.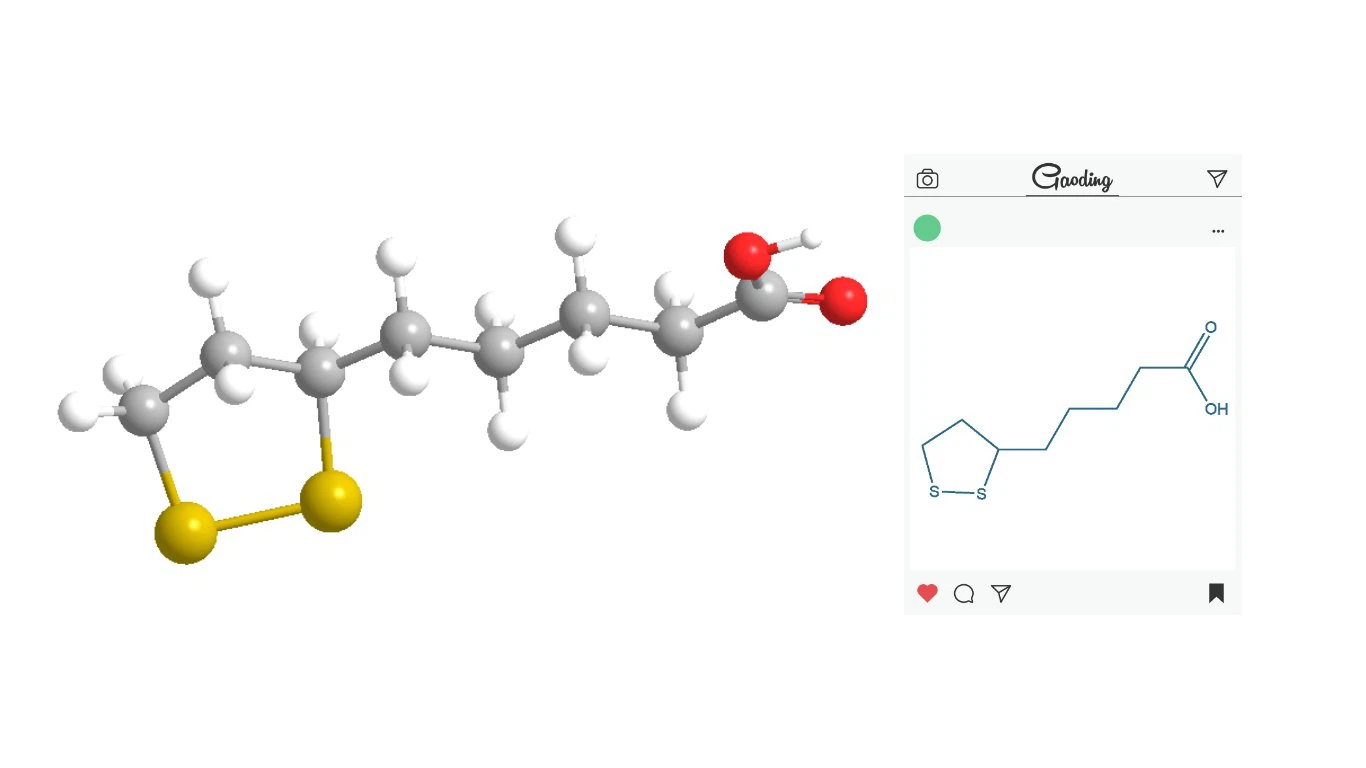 α-Lipoic Acid(C8H14O2S2)

CAS

1077-28-7

Appearance

Light yellow crystalline powder

Assay

≥98.0%

Loss on drying

Not more than 0.2%

Heavy Metal

Not more than 10ppm

Application

Raw material、medicine

Shelf Life

24 months when properly stored.
Studies have found that lipoic acid has a strong antioxidant function, and it is the only known substance that can exert antioxidant capacity in both fat-soluble and water-soluble environments. Lipoic acid can play a powerful anti-oxidative stress role in the body by directly scavenging reactive oxygen radicals, chelating with free metal ions, and promoting the regeneration of endogenous antioxidants, and oxidative stress is precisely the pathological basis of many diseases. , such as diabetes, cardiovascular disease, liver disease and tumors, etc., so lipoic acid can play a preventive and therapeutic role in multiple clinical system diseases.
Clinical application of lipoic acid
1. Cardiovascular disease
Lipoic acid can increase the activity of acetaldehyde dehydrogenase 2 in cardiomyocytes, reduce the production of end products of peroxidation, and improve the blood supply of cardiomyocytes, thereby preventing ischemic injury of cardiomyocytes caused by coronary heart disease and improving cardiac function in patients with chronic heart failure.
2. Diabetes
Lipoic acid can improve oxidative damage of vascular endothelium, increase superoxidase and glutathione peroxidase activities, improve gastroparesis caused by diabetic autonomic dysfunction, and can also treat diabetic peripheral neuropathy.
3. Other diseases
Lipoic acid also has various effects such as reducing the degree of acute liver injury, inhibiting the growth of various tumor cells and inducing tumor cell apoptosis, and regulating the immune function of the body.