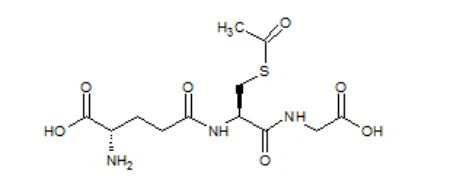 S-acetyl l-glutathione vs liposomal glutathione is currently the most effective glutathione variant on the market. Glutathione is one of the most effective antioxidants naturally produced by the human body (and the only antioxidant in the cell). It has been proven to neutralize free radicals, detoxify the liver and improve the function of the immune system.
Function
Application:
A. Daily nutraceuticals & Dietary supplement --(food /cosmetic grade)
1) Anti-aging, antioxidant, maintain skin vigor and luster.
2) Whitening skin: restraining the melanin
3) Improve immunity: enhance immune cells function effectively prevent viruses.
B. Drug treatment and prevention--(pharmaceutical grade)
1) Protect liver: prevention & treatment of liver diseases.
2) Detoxification: drugs and other kinds of poisoning auxiliary treatments,helpful for excreting toxins.
3) Prevention and treatment of eye diseases.
4) Auxiliary treatment of diabetes.
Application
1. S-acetyl l-glutathione jarrow is the main endogenous antioxidant produced by cells, it directly participates in the neutralization of free radicals and reactive oxygen compounds, and maintains the reduced (active) form of exogenous antioxidants such as vitamin C and E.
2. Through direct combination, many organic and inorganic xenobiotics (foreign compounds) and carcinogens can be eliminated. These include heavy metals such as mercury, lead and arsenic.
3. SAG is vital to its full potential. For example, (1) regulate the presentation of antigens to lymphocytes, thereby affecting the production of cytokines and the type of response (cells or body fluids); (2) Enhance the proliferation of lymphocytes, thereby increasing the magnitude of the response; (3) Enhance the killing activity of cytotoxic T cells and NK cells; (4) Regulate cell apoptosis, thereby maintaining control of the immune response.
4. It plays an important role in many metabolic and biochemical reactions, such as DNA synthesis and repair, protein synthesis, prostaglandin synthesis, amino acid transport and enzyme activation. Therefore, every system in the human body will be affected by the state of the glutathione system, especially the immune system, nervous system, gastrointestinal system and lungs.
Product Properties
CAS No.: 3054-47-5
Formula: C12H19N3O7S
Appearance: White powder
Heavy metals: Not more than 10ppm
Purity ( HPLC ): 98.0% ~ 101.0%
Loss on drying: Not more than 0.5%