Glutathione is a tripeptide containing γ-amide bonds and sulfhydryl groups, composed of glutamic acid, cysteine and glycine. Glutathione plays a role in biological oxidation, amino acid transport, poison detoxification, and protection of hemoglobin.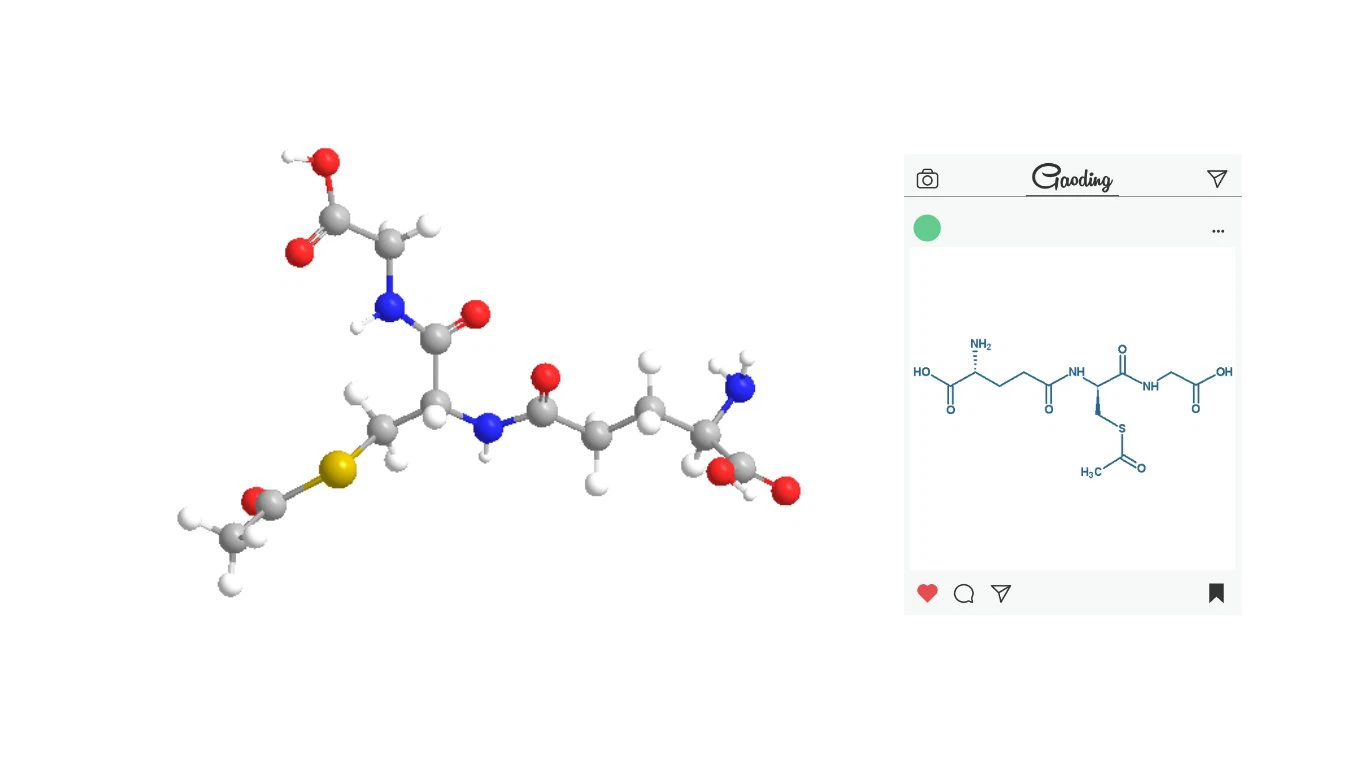 S-Acetyl-L-Glutathione(C12H19N3O7S)

CAS

3054-47-5

Appearance

White or almost white, crystalline powder

Assay

≥98.0%

Heavy metals

Not more than 10 ppm

Sulfated ash

Not more than 0.2%

Loss on drying

Not more than 0.5%

Application

Raw material、medicine

Shelf Life

24 months when properly stored.
Glutathione can inhibit cell oxidation, quickly decompose melanin and yellow pigment in human skin, repair damaged cells, supplement and activate whitening factors to renew the cells of whole body whitening factors, thus effectively solving various skin problems. Current research has also shown that glutathione can prevent skin pigmentation by affecting the activity of skin cell tyrosinase and inhibiting melanin production. In addition, it also has the effect of anti-oxidation, which can remove free radicals in the body, accelerate the metabolism of cells, and promote the formation of new cells. At the same time, it can protect liver cells and accelerate the degradation of toxic substances such as heavy metals or organic solvents in the body, thereby achieving the effect of detoxification and beauty.
At present, glutathione is widely used, and the more recognized effects in skin care products are simply classified as follows:
1. Lighten spots, remove spots, remove wrinkles
The precipitation of melanin is an important cause of skin spots. Glutathione comprehensively inhibits the production of melanin, decomposes existing melanin, prevents the precipitation of melanin that is forming, and comprehensively fights melanin, thereby preventing the generation of spots and gradually removing the original color. spot.
2. Enhance skin elasticity
Continuous supplementation of glutathione can provide a good growth environment for new muscle cells. Therefore, the proportion of new muscle cells in skin epidermal cells is increased, which has a good comprehensive moisturizing effect and makes muscle cells healthier. After drinking enough water, the skin will become smoother and more elastic after getting rid of yellow gas.
3. Comprehensive anti-aging
Glutathione can effectively delay cell aging and accelerate cell regeneration. Free radicals can cause premature aging, and glutathione can fight and destroy these free radicals before they can cause damage to health. Thereby delaying the aging process of the whole body. Supplementing glutathione can increase or promote the secretion of human growth hormone (interkines), which can regulate and slow down the shortening of telomeres, prolong the lifespan of cells, and effectively anti-aging.
We has always adhered to green environmental protection, technological innovation and global layout. The company is equipped with advanced scientific research equipment and an experienced scientific research team. The enzymatic technology developed by the company has obtained a number of national patents.
Anhui GSH Bio-Technology Co.,LTD. is committed to innovative research and development of high value-added APIs, important pharmaceutical intermediates and cosmetic raw materials, realizing commercial production, and stably and continuously serving global customers.
Why Choose us
1.OEM service professional design team
2.Professionally supplying natural food and cosmetics ingredients products
3.100% inspection before delivery
4.Inventory 24 hour delivery
5.Complete documentary system
Packing and transportation
Packing
25KG/Cardboard Durm,Inner by double plastic bag or Customized
Storage
Keep in cool and dry place, keep away from from strong light
Shelf Life
2 Years
Shipping

Abt 3 days By Express (DHL or FedEx)

Abt 7-10 days By Air From China Airport

Abt 10-15 days By Sea From China Seapot

Payment term
100% T/T ADVANCE