Glutathione (GSH) is a small peptide molecule (gamma-glutamylcysteine-glycine) composed of cysteine, glutamic acid and glycine, synthesized in the body by the liver. It is the primary antioxidant in the liver and is present in small amounts in other tissue cells of the body.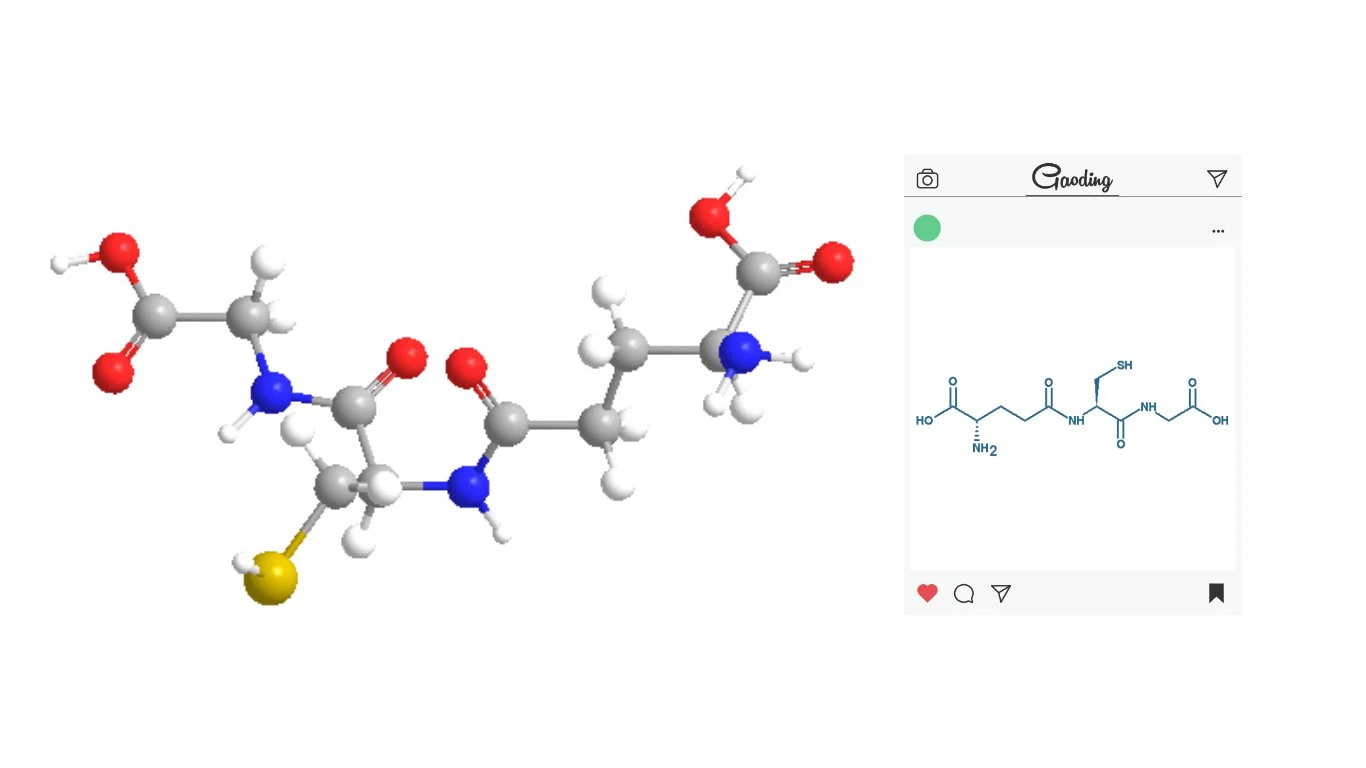 Product description of Glutathione Raw Powder:
L-Glutathione Reduced(C10H17N3O6S)

CAS NO.

70-18-8

Appearance

White or almost white powder

Assay

99% min

Chlorides

Not more than 200 ppm

Sulfates

Not more than 300 ppm

Ammonium

Not more than 200 ppm

Iron

Not more than 10 ppm

Arsenic

Not more than 2 ppm

Heavy metals

Not more than 10 ppm

Cadmium (Cd)

Not more than 1 ppm

Lead (Pb)

Not more than 3 ppm

Mercury (Hg)

Not more than 1 ppm

Sulfated ash

Not more than 0.1%

Loss on drying

Not more than 0.5%

Shelf Life

Two years when properly stored.
Important vital functions of glutathione:
1. Detoxification: combine with poisons or drugs to eliminate their toxic effects and achieve the effect of protecting the liver.
2. Participate in redox reactions: As an important reducing agent, it participates in various redox reactions in the body.
3. Protect the activity of thiol enzymes: keep the active group of thiol enzymes—SH in a reduced state.
4. Maintain the stability of the membrane structure of red blood cells: eliminate the destructive effect of oxidants on the membrane structure of red blood cells.
5. Maintain balance: correct the imbalance of acetylcholine and cholinesterase, and play an anti-allergic effect.
6. Anti-pigmentation: Prevent pigmentation caused by sun exposure, sweat spots, etc., and reduce the formation of melanin.
7. Improve the skin's antioxidant capacity: make the skin healthier and make the skin shiny.
Does glutathione detox the liver?
Liver detoxification needs to go through two periods to complete, namely detoxification 1 and detoxification 2. The first stage of detoxification is to release the toxins in the liver. During this process, a large number of free radicals will be released. If there is not enough antioxidants, these free radicals will directly damage cells and tissues. Glutathione is very important in this period. Importantly, it can neutralize various types of free radicals released in a timely and effective manner, and the neutralization speed is the fastest, thereby avoiding damage to the body.
The second stage of detoxification is to quickly cross-link the toxins released in the first stage with amino acids, coenzyme A, etc. to make them lose their toxicity. At the same time, the toxins are converted from water-insoluble to water-soluble, and then excreted through the digestive system and urinary system. The final cross-linking of toxins with amino acids etc. requires multiple intermediate reactions, and glutathione is an essential participant in this intermediate reaction.
The organs with the highest glutathione content are the liver and kidneys, followed by the lungs and small intestine. The liver and kidneys, the detoxification organs of the body, need high levels of glutathione to help remove toxins; the lungs need high levels of glutathione to fight off inhaled pollutants, and the small intestine needs glutathione to block harmful chemicals Absorption.
About us
GSH BIO-TECH is an innovative high-tech enterprise with enzyme catalysis technology in the field of synthetic biology as the core and cross-application of multidisciplinary technologies.The company's main products are glutathione (GSH), β-Nicotinamide Mononucleotide and Citicoline sodium (CDPC), Should you have interests in us, please don't hesitate to get in touch with us,we will be pleased to supply any further information you require.
Product Line

Our Services
1. Good knowledge on different market can meet special requirements.
2. Real manufacturer with our own factory located in Anhui,China
3. Strong professional technical team ensure to produce the top quality products.
4. Special cost control system ensure to provide the most favorable price.
5. Rich experience in active pharmaceutical ingredients field.
FAQ
Q:Can we print our own logo?
A:Yes,we offer OEM service.
Q: Do you provide sample?
A:Yes,we provide free sample but we don't bear the shipping cost.
Q:What's your products?
A:active pharmaceutical ingredients.
Q:What's the MOQ for your products?
A:Usually 5KG.
Q:What's the payment terms?
A: 100% T/T in advance.