Glutathione is a tripeptide, which is composed of glutamic acid, cysteine and glycine, and contains a γ-amide bond and a thiol group. It is widely distributed in mammalian, plant and microbial cells, and is used in production and life. The more widely used is reduced glutathione.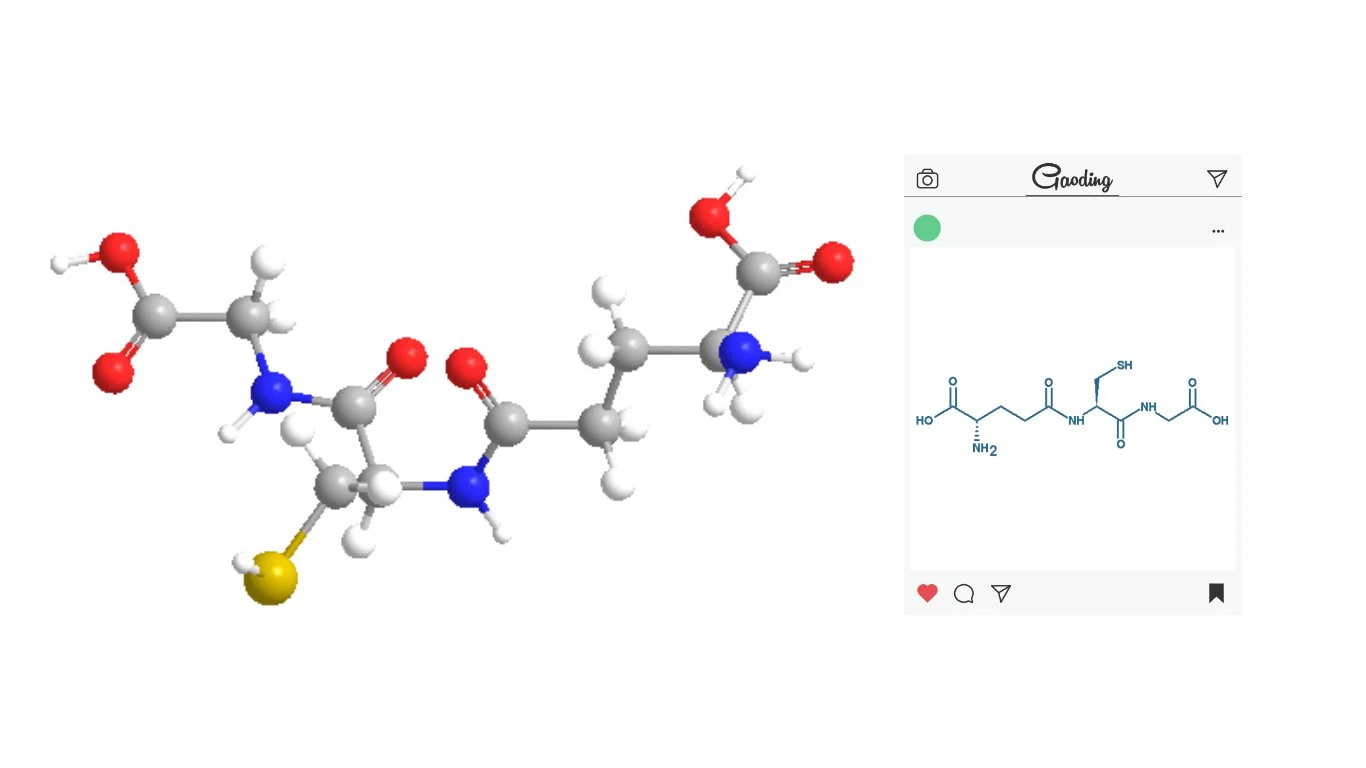 High Quality Pure Glutathione Product Details:
L-Glutathione Reduced(C10H17N3O6S)

CAS NO.

70-18-8

Appearance

White or almost white powder

Assay

99% min

Chlorides

Not more than 200 ppm

Sulfates

Not more than 300 ppm

Ammonium

Not more than 200 ppm

Iron

Not more than 10 ppm

Arsenic

Not more than 2 ppm

Heavy metals

Not more than 10 ppm

Cadmium (Cd)

Not more than 1 ppm

Lead (Pb)

Not more than 3 ppm

Mercury (Hg)

Not more than 1 ppm

Sulfated ash

Not more than 0.1%

Loss on drying

Not more than 0.5%

Shelf Life

Two years when properly stored.
Is glutathione worth taking?
Glutathione is ubiquitously present in cells and tissue fluid, and its content in the body is the same as that of glucose, potassium and cholesterol. Glutathione exists in such a large amount inside and outside cells, which explains the huge demand for it by the body. The health of the body cannot lack glutathione, it protects every cell in the body, especially the mitochondria in the cells cannot lack glutathione. Glutathione supplementation can help increase glutathione levels in certain conditions associated with low glutathione states, including obesity, type 2 diabetes, capillary disease, kidney disease, Parkinson's disease, lung disease, AIDS, and Other illnesses, smoking, heavy alcohol use, heavy use of prescription and over-the-counter drugs, radiation therapy, chemotherapy, etc.
Important vital functions of glutathione:
1. Directly neutralize various types of free radicals, including singlet oxygen, hydroxyl radicals, superoxide radicals, nitrogen free radicals, and carbon free radicals
2. Remove cancer-causing chemicals from the body
3. Liver detoxification
4. Clears Mercury from Cells and Brain
5. Supports the immune system
6. Regulating the balance of cell proliferation and self-apoptosis
7. Mitochondrial health depends on glutathione
About us
GSH BIO-TECH is an innovative high-tech enterprise with enzyme catalysis technology in the field of synthetic biology as the core and cross-application of multidisciplinary technologies.The company's main products are glutathione (GSH), β-Nicotinamide Mononucleotide and Citicoline sodium (CDPC), Should you have interests in us, please don't hesitate to get in touch with us,we will be pleased to supply any further information you require.
Product Line

why choose us
Factory direct sales: source manufacturers, high-quality products
Advanced equipment: advanced equipment professional production management
Support customization: multi-category customization to meet various needs
Fast delivery: many logistics companies cooperate with each other, and deliver quickly
Professional service: special person docking, full follow-up
FAQ
Q: Are you trading company or manufacturer? A: We are professional manufacturer specialized in active pharmaceutical ingredients products. And we trade our products with our clients directly.
Q: Can you do OEM and ODM?
A: Yes, OEM and ODM are both acceptable. The purity, mesh, packing can be customized, the basic quantity we will advise after we discuss.
Q: Can we use our own logo?
A: Yes, we can print your private logo according to your request.
Q: What is your term of payment?
A: 100% T/T in advance.
Q: Which payment form you can accept?
A: T/T, Western Union, PayPal etc. We accept any convenient and swift payment term.
Q: Which certificate do you have?
A: BRC, ISO9001, HALAL, Kosher, FSSC, HACCP, FDA.